Top Senate Candidate Opens Up about Special-Needs Son
In an interview with National Journal, Maggie Hassan says her son has shaped how she sees public service.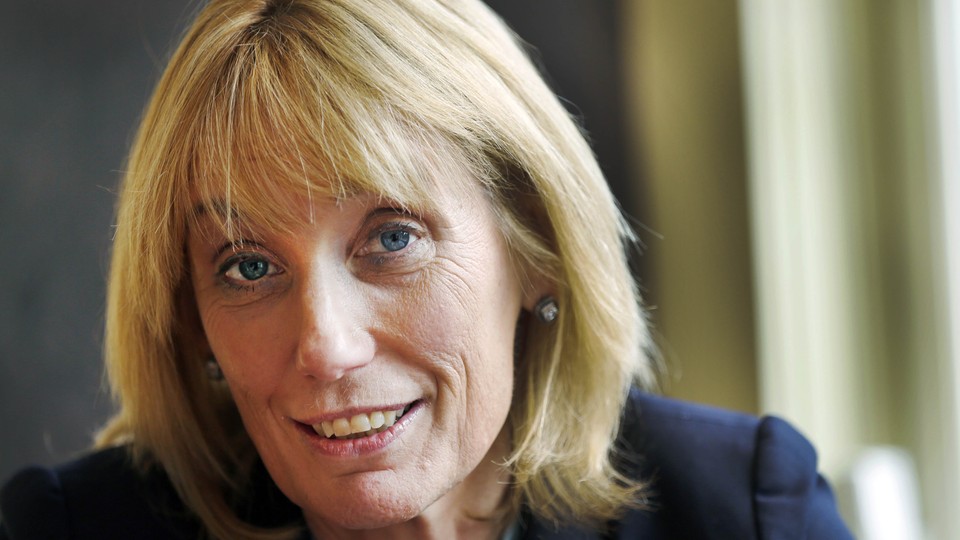 New Hampshire Gov. Maggie Hassan's 27-year-old son, Ben, has cerebral palsy. He is wheelchair-bound and cannot speak or feed himself—and his condition is what motivated Hassan to first run for office.
Ben continues to shape her political perspective as she embarks on a U.S. Senate run against incumbent Republican Kelly Ayotte. It's expected to be one of the most closely contested Senate races of the 2016 cycle, and will be critical in determining which party controls the upper chamber come 2017.
In an interview with National Journal, Hassan opened up about how Ben has impacted her life, the continual pursuit of work-life balance, and the arc of her political career.
What was the early evolution of your advocacy work?
Some of it was just being involved with the planning with Ben's school about how he would be included and how his education plan would be implemented at the school level. Because it's one thing to put intentions down on paper, and it's another thing, not only to marshal the resources to support those intentions, but also to work through logistical challenges of working with educators who maybe have never dealt with somebody with the level of disability that Ben experiences. So I started really in just my role as his mom.
I gradually got more and more involved in advocating for a level of services, or better put—support—outside of the school system. So for example, when you have a child who experiences severe disability like Ben, while they are in school because of the IDEA (Individuals with Disabilities Education Improvement Act), there are a lot of experts, support givers and professionals who are working with your child. Outside of the school day, that still was very, very challenging, and on some level it still is. So if you are a parent and you need to work and you can't find an after-school program of weekend activity for your child that allows you to keep your schedule for work, that's a real financial challenge to the family.
In any of your elected roles did you continue to work on disability issues?
One of the most significant ones was state Senate Bill 138 (passed in 2013), which made it clear that people who experienced disabilities and their families actually had a right to the support that the state was promising them, so that they weren't constantly put on a waiting list for the kind of community-based integrative supports that New Hampshire has been so proud of.
But more broadly, the perspective I bring to this role is the realization that our country's story is really a story of including more and more people generation to generation. Our founders said that everybody mattered, everybody counted. But we all know that they didn't count everybody at the beginning. They did somehow have confidence that each generation of Americans would do a better job with it, and would bring more and more people in from the margins, and into the heart and soul of our democracy. That perspective of realizing what a difference inclusion has meant to my family has informed all the work I do.
What lessons have you learned from working on disability issues?
It's taught me that inclusion is really hard. It's physically demanding. It requires that people stop and slow down and think about the way they do things and change what is sometimes the easiest for them so that they can include others. They don't always see the benefit of that right away. That's hard work. When you think about the Americans with Disabilities Act, and what it takes for employers sometimes to accommodate a person with disabilities, when we talk about reasonable accommodations—it's doable, but the payoff isn't always obvious right away. One of the things being Ben's mom has taught me is that though this work is hard, it is incredibly worth doing.
Given the degree of Ben's disabilities, were his needs a factor in determining whether you would run for U.S. Senate?
Ben, while he can't speak and he can't walk, is very mentally and cognitively alert and able, and so he participates in these decisions in our family too. So that's always the framework that we have as we make decisions. Which is not only what's good for our family, but what kind of impact can we have as a family, together. And I think in that way my family has a lot in common with other families who happen to have a member who runs for office. It's a family decision about how we can best serve and how we can best impact the lives of the people we're representing or hope to represent.
Certainly, since the very first time I considered running for office, my husband and I have needed to balance a lot of different considerations. Tom has always had a very demanding job; I've practiced law and then was in the state Senate, and now I'm governor. When I first got asked to run for the state Senate, I was asked by a number of legislators I had worked with, and I thanked them and declined. And with about 24 hours to go before the filing deadline the state party chair called me and asked if I would reconsider and do it, and she said, "By the way the deadline's tomorrow afternoon."
I was in my law office at the time. I had a busy law practice. The kids I think were 9 and 13, and I called Tom and I said, "Isn't it nice, they really want me to run." But I listed all the reasons why I couldn't do it—top of the list was the kids and in particular Ben's special needs, and just not only his special needs and his need for special attention but what that does to your actual schedule. You know, medical appointments all those kinds of things. And my husband said, "You know, you'd be good at it, and we'll make it work." And we've been making it work ever since Ben was born and we've been making it work ever since that first run for state Senate. We balance a lot of things. My husband's job always involves a lot of travel too, but we both know that it's important for our family to do what makes sense for us as a family so that we can work for other families too.
With running for Senate comes the prospect of actually winning, and potentially moving to D.C. Would that be a bigger change?
I certainly don't look past the election, but what I do know is this—I travel around the state of New Hampshire a lot. I'm not home every night now. The reason I decided to run for Senate is one of my responsibilities as governor is to make sure that the voices of our people and our small businesses in New Hampshire are heard in Washington and that we continue to make the type of progress we're making here at the state level; we need that same type of response and progress in Washington. And so I see this race as an extension of my duties as governor, and I think my family understands that, and I know that we'll be able to deal with whatever logistical challenges that we have.
Given that you're running for Senate, are there any issues relating to those with disabilities that you think need more attention nationally?
One priority is dealing with the fact we are an aging society. We have more and more people who are living with chronic illness and disability, and one of the things we know we need to do is find really good integrated community supports that really allow us to continue to include people.