Three Ways ISIS Gets Its Money
"It seems to me ... that terrorist groups will do anything for money."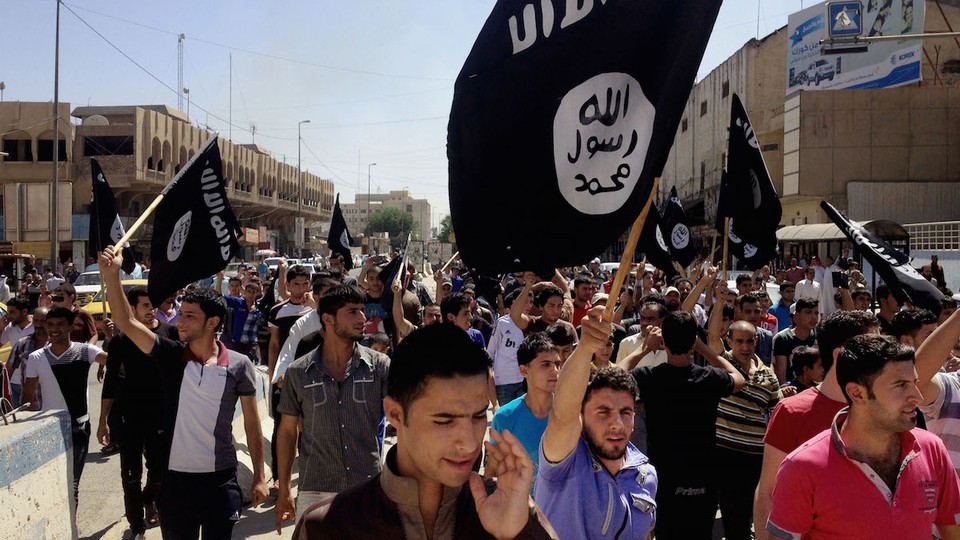 Kidnappings, antiquities trafficking, and private donations.
Those are three—though certainly not the only three—of the ways that the Islamic State, or "ISIS," the terrorist organization responsible for the attacks in Paris, funds its violent operation.
While much of its funding comes from oil sales, the group has also resorted to capturing individuals in an attempt to extract payment for their safe return. The group has kidnapped Americans and others, and in cases when payment was not made, gruesomely murdered them and released the videos on the Internet.
ISIS has kidnapped "multi-hundreds, if not thousands of victims," John Cassara, a former special agent for the U.S. Treasury Department, told lawmakers on a House Foreign Affairs panel Tuesday. The group has used kidnappings to raise around $45 million in 2014, he noted, citing a Financial Action Task Force report.
"In fact, because kidnapping and associated crime, such as extortion, has been so successful, it appears the average ransom payment is increasing," he added, describing a "vicious cycle" in which paying ransoms leads to more kidnappings, with those kidnappings in turn leading to more ransoms.
"ISIS actually makes more money off of oil sales," testified Dr. David Andrew Weinberg, a senior fellow at the Foundation for Defense of Democracies, "but ransoms have helped it and al-Qaeda conquer that territory in the first place."
The discussion of hostages, however, led lawmakers into a wrenching topic: whether it is wise for the United States to pay ransoms for kidnapped citizens.
Among the witnesses testifying before the subcommittee was Diane Foley, mother of James Foley—an American journalist beheaded by the Islamic State in 2014—and the founder of the James W. Foley Legacy Foundation. "Our son James was tortured and starved by ISIS for nearly two years, just for being an American," Foley testified. "Our family's ordeal was made worse by our incoherent and often ineffective hostage policy."
The traditional argument against paying for hostages' safety is that it will encourage further kidnappings down the line, but Diane Foley cast doubts on that line of thought. "I am told our strict adherence to this policy saves lives by decreasing the rate of capture of Americans, but no one has been able to show me the research behind our hostage policy," Foley testified.
Foley suggested that the government communicate with captors going forward: "What if we had been shrewd enough to engage with Jim's Syrian captors in the fall of 2013, to learn all we could about them, instead of ignoring them?"
Foley's presence did not deter one lawmaker from speaking out against ransoms.
"With Mrs. Foley here, I feel bad saying it—but I don't think that we should be allowing paying money and ransoms to terrorist organizations," said Rep. Brad Sherman, a Democrat from California. "From an emotional standpoint, it may get you the particular loved one back, but it's just awhile before they kill some other Americans or seize some other American hostages."
Selling History to Funding Violence
The group also works to sell artifacts and other cultural items on the black market. The territory currently controlled by ISIS contains artifacts from ancient Mesopotamia, one of humankind's earliest large-scale organized societies.
Now, experts fear that past is disappearing. Dr. Michael D. Danti of the American Schools of Oriental Research said the Syrian conflict has brought about "the worst cultural-heritage crisis since World War II."
"Over the last 16 months, ISIS has developed a highly organized approach to looting, trafficking, and selling antiquities and other cultural property for funding," said Dr. Danti. "To ISIS, antiquities are natural resource to be mined from the ground or pilfered from cultural repositories."
The actual dollar value of the antiquities controlled by ISIS is unknown, Dr. Danti said, but the group finds the revenue source "crucial" to their operations. He pushed for the United States to prioritize "reducing global market space for conflict antiquities."
Frayed Loyalties
An­oth­er source of rev­en­ue for ter­ror­ist or­gan­iz­a­tions are private dona­tions from individuals in other coun­tries. Dr. Weinberg listed four U.S. allies that "pursue problematic or even adversarial positions" over private donations to terrorist organizations: Qatar, Kuwait, Saudi Arabia, and Turkey.
"Despite promises to do so, they have failed to effectively obstruct the flow of such funds and to try punishing its practitioners," he argued, saying his written testimony—available on the subcommittee's website—includes "dozens of examples of such negligence."
Dr. Weinberg went on to argue that "the U.S. should develop a broad range of options for when our allies refuse to do the right thing versus terror financiers."
At the end of the witnesses' testimonies, Subcommittee Chairman Ted Poe commented, "It seems to me—and I may not have all of their sources of revenue—but we've heard that terrorist groups will do anything for money."