This article is from the archive of our partner

Whenever the gender pay gap ends up back in the news, it's tempting to think of it as a single, if massive, problem. But a growing body of research suggests that this inequality is actually more varied and complex than a clear-cut divide along gender lines. In reality, there seems to be more than one gender pay gap, with some factors like age and industry having a deeper impact on women than others.
New research from PayScale.com—a crowd-sourced salary database—teases out this inequity. The site surveyed over 1.4 million full-time employees between July 2013 and July 2015 in order to analyze income disparities among men and women in the U.S.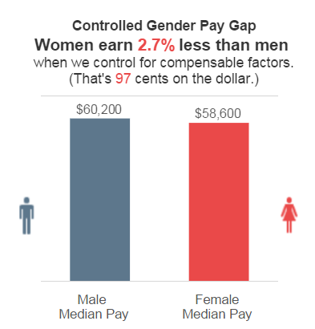 Many of these findings echo what we already know to be true: High-paying jobs are dominated by men, women are less likely to negotiate their salaries, and—most notably—women earn far less than men on average (around 78 cents for every dollar, according to the Department of Labor). But the new data also offers insights into where, when, and how women are disenfranchised the most.
The gap narrows when lifestyles and jobs are similar 
If we consider data across all jobs and industries, working women earn around 25.6 percent less than men, according to PayScale's calculations. A male manager or supervisor in the tech industry, for instance, earns around $87,400, while a woman in the same position only earns $68,300, according to this data. But after comparing men and women in similar positions with similar salaries, locations, hours, and so on, PayScale found that this gap is much smaller—around 2.7 percent, or 97 cents on the dollar.