When Minorities Demand Equal Respect
Students from Yale to the University of Missouri are protesting the one-sided equation that has excused offensive behavior for years.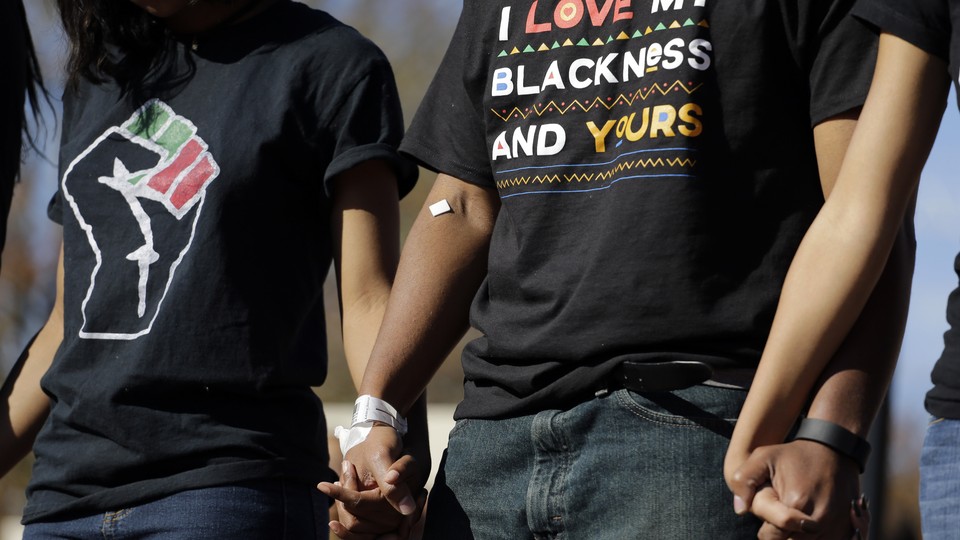 A mere century ago in America, lynchings were all too common. In 1907 alone, the journalist Ray Stannard Baker documented the reasons why black men and women were lynched:
One black man was lynched for being the father of a boy who jostled white women, another was killed for having beaten a white in a fight, a woman was put to death as the wife of a rapist and a youth was lynched for being a rapist's son, one person was lynched for protecting a fugitive from a posse, someone was lynched for talking to white girls on the telephone, and three persons died for having expressed sympathy for the mob's victims.
The term "political correctness" may be new but its foundations are not. For centuries, people of color have been expected to not offend white people—and were jailed, whipped, or murdered if they did. From the mid-19th century through the mid-20th century, African Americans were lynched by white mobs for all sorts of "reasons"—"but the biggest one of all was looking at or associating with white women."
"Political correctness" only acquired a name when, relatively recently in American history, the idea of treating others respectfully was finally extended to include how white people treat black people, how men treat women, and so on. Prior to that, the idea that some people were owed deferentially considerate treatment—even in its most extreme, vicious incarnations—didn't need a special term. It was just the way things were. If black people offended white people—however or whatever such "offense" was determined to be—black people paid dearly. In fact, they still do.
While white victims account for approximately one-half of all murder victims, they are 80 percent of the victims in capital cases. Since October 2002, 12 people have been executed in cases in which the murder victim was black and the defendant was white. But 178 people have been executed where the murder victim was white and the defendant was black.
In 1904 in Reevesville, South Carolina, a black man named General Lee was lynched for allegedly knocking on the door of a white woman's house. In 2013, a black man named Jonathan Ferrell was in a car crash near Charlotte, North Carolina. He crawled out of his car and knocked on the door of the first house he saw. When the white woman who lived there saw Ferrell, she slammed the door, hit her alarm button and called the police. Ferrell was shot 10 times by a police officer.
Those who insist the history of slavery and lynchings are too far in the past to be relevant to America's present ("But that's so long ago!") often simultaneously want to use the relative atrocities of the past to set a lower threshold of expectations for the present ("But look how far we've come!"). Yet to watch the video of a white police officer rip a black high school student out of her desk and throw her across the room, allegedly for the offense of being "disrespectful" in class, is to remember that past is always prologue. Sure it happens less now, perhaps. Or less severely, maybe. But it shouldn't happen at all.
Indeed, what students from Yale to the University of Missouri and beyond are protesting is a pervasively one-sided definition of offensive behavior that these colleges and society in general still propagate. To this point, as the historian Jelani Cobb noted in The New Yorker, "the student's reaction elicited consternation in certain quarters where the precipitating incident did not."
Consider, for instance, those in the chattering class who have readily bought into the idea that police feel under attack (as the result of the Black Lives Movement) and at the same time express deep skepticism—if not outright mockery—of people of color who feel under attack by police and by society. This divergent tendency isn't about evidentiary standards. It's about race—and the inclination to believe in the righteousness and inherent goodness of white people while perpetually doubting and demeaning people of color. As Roxane Gay wrote for The New Republic:
We cannot ignore what is truly being said by both groups of protesters: That not all students experience Yale equally, and not all students experience Mizzou equally. These conversations were happening well before these protests, and they will continue to happen until students are guaranteed equality of experience. They are still being forced, however, to first prove that it is worth opening a conversation about either.  
One of the more infuriating phenomena of the past year or so has been the rise of the accusation that black leaders and their allies are "playing the race card" when they try to expose structural racism and implicit bias in America. It's as though the possibility of being called a racist—or at least being held personally accountable for structural racism—is somehow more offensive than the instances of racism themselves. Behold the acrobatics of defensive whiteness!
Political correctness is a good thing—the idea that we should treat our fellow human beings with equal respect, despite their race or gender or sexual orientation, and the idea that we might all learn and get better at doing so because of feedback and changing norms. Whatever "force" is in this equation has generally been applied against people of color—often irrationally, often violently. And now communities of color want to end that injustice and ask white people to finally show some simple respect. Is that proposition, whatever it's called, really so offensive?