The Price of Bucking Obamacare Is About to Increase—Will People Still Pay It?
7.5 million people paid the fine for ignoring the Affordable Care Act's 2014 individual mandate. If they do it in 2016, they'll pay much more.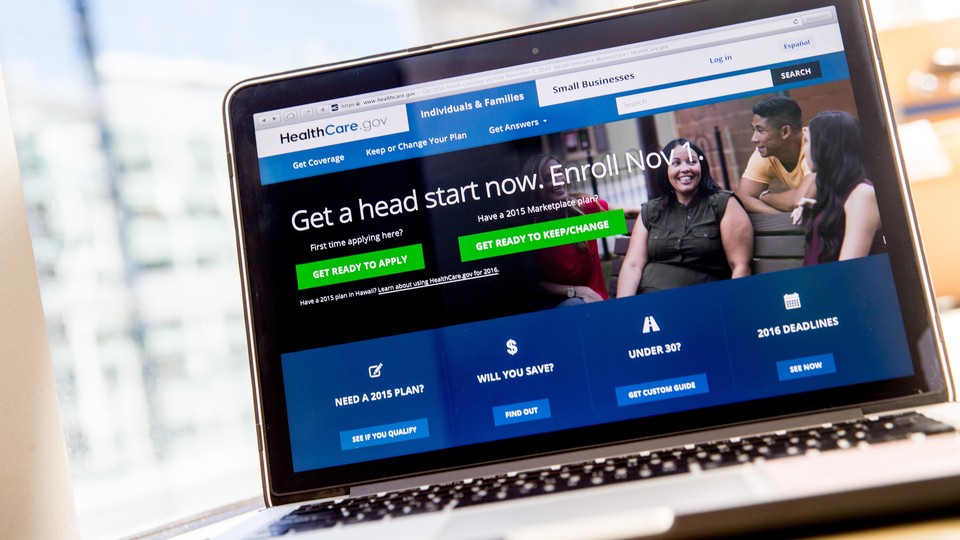 On Sunday, health in­sur­ance shop­pers began pick­ing plans, but for those still weigh­ing wheth­er to get covered, there's an Obama­care pro­vi­sion even more im­port­ant to con­sider than ever be­fore: the in­di­vidu­al man­date.
The fee levied on those who go without insurance but who can afford it sharply in­creases in 2016, a res­ult of a three-year phase-in of the pen­alty. The high­er the fee, health ex­perts say, the like­li­er it is that con­sumers will choose to get or stay covered. But there's a big caveat: It all de­pends on wheth­er or not un­in­sured Amer­ic­ans, or those think­ing about leav­ing the ex­changes, know about the in­di­vidu­al man­date and its steep fee in­crease.
"The high­er it is, ob­vi­ously the more people we ex­pect will re­spond to it—part of it is it's been a pro­cess of in­di­vidu­als even re­cog­niz­ing that the man­date was in place," said Linda Blum­berg, seni­or fel­low at the Urb­an In­sti­tute's Health Policy Cen­ter.
The fee for not hav­ing health in­sur­ance next year won't be felt un­til Amer­ic­ans file their fed­er­al taxes due April 2017. But it's much more than in the past: $695 per adult and $347.50 per child, or 2.5 per­cent of a house­hold's in­come—whichever is high­er. When tax­pay­ers file their 2015 taxes (due this April), the fee for for­go­ing in­sur­ance will be $325 per adult and $162.50 per child, or 2 per­cent of house­hold in­come if the lat­ter fig­ure is high­er.
Many health ex­perts agreed that while it's hard to an­ti­cip­ate the full ef­fect of the in­di­vidu­al man­date, the fee serves as an in­cent­ive en­roll in health cov­er­age and a dis­in­cent­ive to leave the mar­ket­place. But this part of the law is more com­plex than that. While a high­er pen­alty has a lar­ger im­pact, it's still not a "pan­acea," ac­cord­ing to Dan Mendel­son, CEO of Avalere Health, an in­de­pend­ent con­sult­ing firm. That's be­cause the range of reas­ons why con­sumers don't pur­chase a health plan vary from the be­lief that they can't af­ford it to out­right hos­til­ity to the law—and then there are those who don't know or un­der­stand enough about the ex­changes.
A Kais­er Fam­ily Found­a­tion poll re­leased last week showed that only 15 percent of uninsured Americans knew when open en­roll­ment was, com­pared to just 17 per­cent of the gen­er­al pub­lic. This points to the oth­er big chal­lenge: en­sur­ing people know when they should be sign­ing up for cov­er­age and fully un­der­stand the Af­ford­able Care Act's in­tric­a­cies.
Wheth­er or not a pen­alty drastic­ally big­ger than in 2015 will drive Amer­ic­ans to pur­chase health in­sur­ance partly de­pends on how know­ledge­able they are about the law, ac­cord­ing to Jon Ga­bel, a seni­or fel­low with NORC at the Uni­versity of Chica­go, be­cause the in­di­vidu­al man­date is a "strong in­cent­ive" if Amer­ic­ans un­der­stand both Obama­care and its fee for go­ing un­in­sured. In an ef­fort to spread the word about open en­roll­ment, the Health and Human Services Department is part­ner­ing with loc­al health care pro­viders, busi­nesses, and non­profits.
The in­di­vidu­al man­date first came to life for those who didn't have health cov­er­age in 2014. It was a com­par­at­ively mea­ger price—$95 per adult and $47.50 per child, or 1 per­cent of a house­hold's in­come (again, the high­er of the two).
In mid-July, IRS Commissioner John Koskinen sent a letter to members of Congress detailing the preliminary results of the first tax season with the individual mandate: About 7.5 million taxpayers paid a total of $1.5 billion for not having health coverage. This was higher than the Treasury Department estimate that 3 to 6 million taxpayers would pay the fee. (12 million Americans without insurance were exempted due to certain hardships, financial status, and life events).
The in­aug­ur­al fee "was just kind of a tap on the shoulder to say, 'Hey, pay at­ten­tion here,'" said Timothy Jost, a Wash­ing­ton and Lee Uni­versity pro­fess­or emer­it­us who has writ­ten book chapters and art­icles on health care reg­u­la­tion. "The $695 is a pretty big tap on the shoulder—it's shout­ing in some­body's ear."
When it comes down to merely look­ing at the num­bers, for some it still might be cheap­er to pay the fee, even for 2016, said Kar­en Pol­litz, a Kais­er Fam­ily Found­a­tion seni­or fel­low. But that would mean pay­ing to play with fire. Be­cause if a med­ic­al emer­gency oc­curred, the un­in­sured in­di­vidu­al would be on the hook to pay the cost in ad­di­tion to the in­di­vidu­al-man­date pen­alty. "How people will weigh this is any­body's guess," Pol­litz said, "but the ex­pect­a­tion is that this pen­alty will get people's at­ten­tion."
Yet, open enrollment closes before Americans have to check a box on their tax forms indicating they had qualifying health coverage during the year. In February, the Centers for Medicare and Medicaid Services announced a special enrollment period from March 15 to April 30 for those who did not have health coverage, so they could sign up and avoid the fee for 2015. But there is no guarantee that will happen again.
"Our in­ten­tion," CMS Act­ing Ad­min­is­trat­or Andy Slavitt said in a Feb­ru­ary press call, "is that this is one-year-only for people who have not been in the com­mu­nic­a­tion loop around the tax pen­alty and whose first time learn­ing of it will be filling out their taxes this year."
In a sense, the high­er fee for 2016 might not have an im­me­di­ate im­pact, as open en­roll­ment for 2016 starts and ends be­fore Amer­ic­ans even see the smal­ler 2015 fee (that comes when they file their 2015 taxes). That means, there may be a bit of lag time in terms of the in­di­vidu­al man­date's full ef­fect, Blum­berg said, though she still be­lieves it will im­pact con­sumer be­ha­vi­or.
"The more money you're throw­ing away for noth­ing, the more likely you are to change your be­ha­vi­or," Blum­berg said. "You'd rather put more money to­ward get­ting something than throw away this amount of money for get­ting noth­ing."