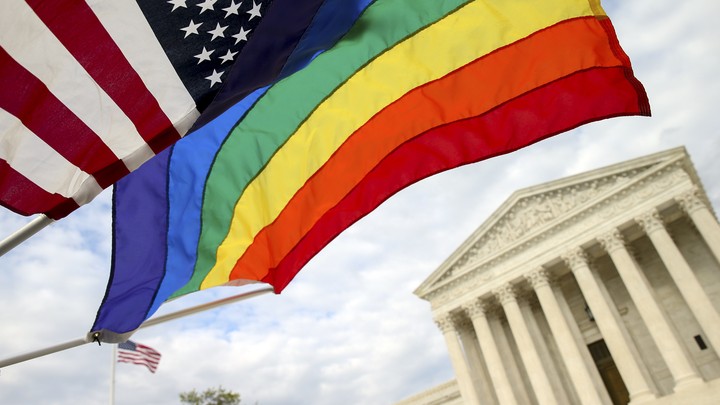 As it did in 2012, an endorsement from President Obama on gay rights could have a major impact on the movement.
The White House on Tuesday announced that it "strongly supports" legislation that would open up the 1964 Civil Rights Act to include protections for LGBT Americans. After reviewing the bill for "several weeks," press secretary Josh Earnest told reporters Tuesday, the administration determined it contained "bedrock principles of civil rights.
"That bill is historic legislation that would advance the cause of equality for millions of Americans," Earnest said. "We certainly are pleased with the many legislators in Congress that have stepped forward to try to advance a bill that would deliver comprehensive equal rights for LGBT Americans."
First introduced in July by Democratic Sens. Cory Booker of New Jersey, Tammy Baldwin of Wisconsin, Jeff Merkley of Oregon, and Rep. David Cicilline of Rhode Island, the legislation would ban discrimination for one's sexual orientation or gender identity.
In the Republican-controlled Congress, the president's endorsement won't do much to boost the chances of the legislation actually passing the Senate, let alone the House. But it sheds light on the fact that Americans aren't protected against discrimination—and that impact, advocates say, is immeasurable.
"While it is certainly true that we're not looking at congressional passage of this bill in the next year, we are trying to lay down a foundation of support for the bill that will give it good momentum over the long run," says ACLU legislative representative Ian Thompson. Obama weighing in, he says, is an "important milestone for these efforts."
Most Americans, including a majority of Republicans, support nondiscrimination protections for LGBT people; since May, support has hovered around 68 percent, according to polling from the Public Religion Research Institute. The problem, says Human Rights Campaign spokesman Brandon Lorenz, is that many people think these protections are already in place. The president's endorsement, he says, furthers the "education campaign.
"One of the ways this helps the ongoing education campaign is [explaining] that no, it's not" federal law, Lorenz says. "In fact, in a majority of states across the country, you can now get married but be at risk for being fired, can be at risk for being denied an apartment, denied service at a business because of who you are, who you love."
Obama's support also coalesces the broader civil rights community around the goal of getting LGBT protections into the Civil Rights Act. While leaders at the NAACP and the Leadership Conference on Civil and Human Rights have been supportive of the objectives of the bill, Thompson says, they haven't explicitly thrown their support behind it.
A presidential endorsement has moved the needle on gay rights before. After Obama publicly endorsed same-sex marriage in 2012, momentum grew, culminating in the Supreme Court decision legalizing gay marriage across the country earlier this year. That could happen again.
"The president, whoever he or she is, always has a very loud megaphone. And when they express a view on a particular issue, that carries a lot of weight," Thompson says. "President Obama's support for the freedom to marry was tremendously significant, and, I think, very helpful in building public support over the 50 percent mark. Likewise, I think it is very helpful to have him on the record specifically talking about the need to protect all Americans, including LGBT people, from discrimination."
Right now, it may be only a symbolic gesture. But it could lead to real change.
This story has been updated to include Rep. Cicilline's sponsorship of the Equality Act in the House.
We want to hear what you think about this article. Submit a letter to the editor or write to letters@theatlantic.com.
Rebecca Nelson
is a staff correspondent for
National Journal
. Her work has appeared in
TIME
,
Chicago
,
Ms.,
and
Washingtonian.