The Most Important Case for Civilian Police Oversight: Protecting Children
The DOJ's civil rights chief addresses aggressive police actions aimed at one of the nation's most vulnerable populations.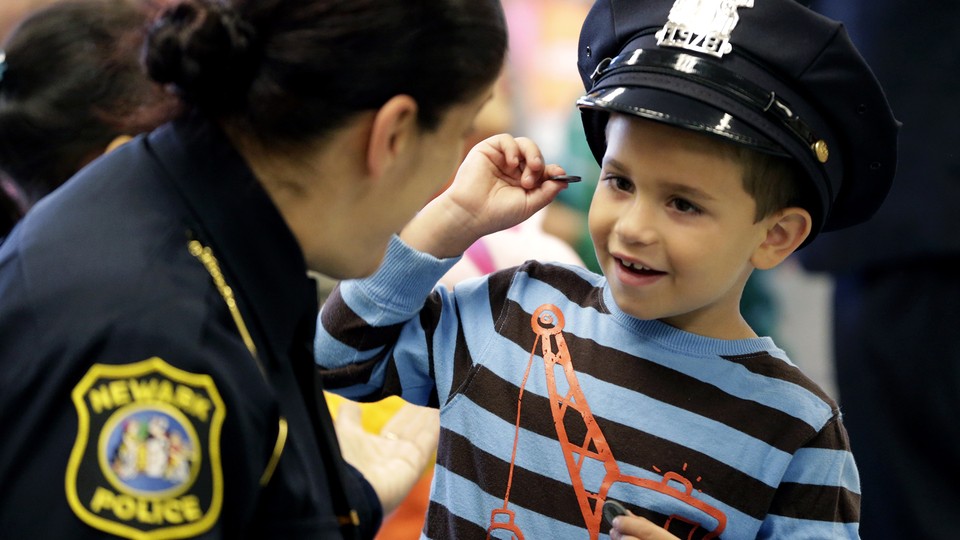 This article is from the archive of our partner

Vanita Gupta, assistant attorney general and head of the U.S. Department of Justice's Civil Rights Division, brought up an often overlooked issue in her address to the National Association of Civilian Oversight of Law Enforcementthis week: Police are bad at dealing with children.
Said Gupta at the organization's 21st annual conference two days ago:
"Over the past year, this job has taken me to cities across the country.  I have sat down with those who have lost children in officer-involved shootings—their pain is real and profound. I have spoken with young people who tell me they have lost faith in our justice system. Many of them see police as preying on rather than protecting them. They complain that the police don't value their rights, or indeed, their lives. They speak of the frequent humiliation in encounters with the police. They talk about being tired of being viewed as criminals first, human beings second."
The National Association of Civilian Oversight of Law Enforcement, or NACOLE, is a non-profit that focuses on police accountability reforms through assisting citizen police-review boards and independent police monitors. The association is currently embroiled in the fight in New Orleans over how independent the civilian police monitor's office should be.
Gupta's speech arrives right at the moment when a number of cities are struggling with the question of how much autonomy should be granted to those conducting civilian police oversight. By invoking the chilling effect of bellicose police activities on children, Gupta illuminated perhaps the most dire impetus for police monitoring.
You get a morbid sense of what that chill looks like from reading the New Orleans Independent Police Monitor's report recently issued on the 2012 police killing of Wendell Allen.  A narcotics squad barged into Allen's home without first announcing themselves and almost instantly shot 20-year-old Allen, who was unarmed and barely clothed, while six of his younger siblings and family members (aged 1 to 14) were in the house. The officer who killed Allen pled guilty to manslaughter and is currently serving a four-year sentence.
According to the independent monitor's report, police took the children and shuffled them between locations—including a stop at the police department's Child Abuse Unit—without their parents' knowledge, and held them until almost midnight. According to the report, police "aggressively" interrogated Allen's 19-year-old brother after the shooting, and treated him like a suspect when he was upset about his brother laying dead on the floor.
Even more chilling: Allen's 5-year-old-sister was grilled by investigators, according to the report, who continued questioning her after she asked them to stop. The police used the 5-year-old's statements to obtain another search warrant for Allen's house, which they used to go back inside to find a hidden gun. The independent monitor argued in its report that the police's treatment of the children were potential violations of both federal and Louisiana state constitutional rights:
If it removes children from the scene of an incident, the [New Orleans Police Department] should notify parents and legal guardians of their children's whereabouts in a timely and accurate manner. Children have the same, if not more, constitutional protections as adults while in custody. Due to their parents' constitutional right of care, custody, and management over their children, juveniles are doubly protected. The NOPD should request consent from parents and guardians to interview their children, particularly if the parents and guardians are not permitted in the room during their children's interviews. These Fifth and Fourteenth Amendment protections cannot be curtailed, regardless of the identity of the interrogator, if that interrogator was acting as an agent of law enforcement.
New Orleans police disputed the monitor's charges that they mishandled the children in their investigation. But the monitor stayed steady on the matter, writing in a follow-up letter responding to the New Orleans Police Department's counterclaims:
[T]he five-year-old … was improperly seized by the NOPD and permission was never obtained by the NOPD from her parents or guardians, in contradiction to the [her] constitutional rights. This was a five-year-old child who just heard if not just saw the shooting death of a loved one. This five-year-old had been separated from any adult member of her family. This five-year-old informed her interviewer that she wished to end the interview, a wish which was not honored.

The NOPD should notify parents and legal guardians of their children's whereabouts (even if the child is not injured) if they remove children from the scene of an incident, as long as such notification does not put the child in danger. This should be the rule even if the NOPD determines the children to be a suspect or a witness. The NOPD should request consent from parents and guardians to interview their children. Parental or guardian permission should be sought if NOPD conducts child interviews or if NOPD directs other agents to conduct child interviews on behalf of the NOPD.
That the police needed to be told that it's beyond irresponsible to pepper a preschooler with questions after she had just witnessed her brother get shot to death seems like a convincing argument for rigorous police oversight. And yet the independent police monitor's job is currently in jeopardy, in part because of their unsparing reporting behavior on police misconduct. The monitor's job insecurity has not apparently made them gun-shy, though.
Monday, the office sent a letter to New Orleans police telling the department that it needs additional training on de-escalating heated entanglements with civilians. It was written in response to an incident in June, where a police officer was caught on video violently handling a mentally ill 16-year-old girl. The officer was fired for using excessive force against the teen.
Susan Hutson, the city's chief independent police monitor, summed up her office's travails in a recent interview with The New Orleans Tribune, a local newspaper, saying: "Independence is really at the forefront. I really feel that we are at a breaking point right now, where either we are going to succeed or be beaten down into some auxiliary role. Are we going to be an independent, strong entity or not? A decision needs to be made."
This article is from the archive of our partner CityLab.