The Issue That Could Finally Unite Republicans
The GOP has been divided over what should go in an omnibus spending bill. Could blocking Syrian refugees bring them together?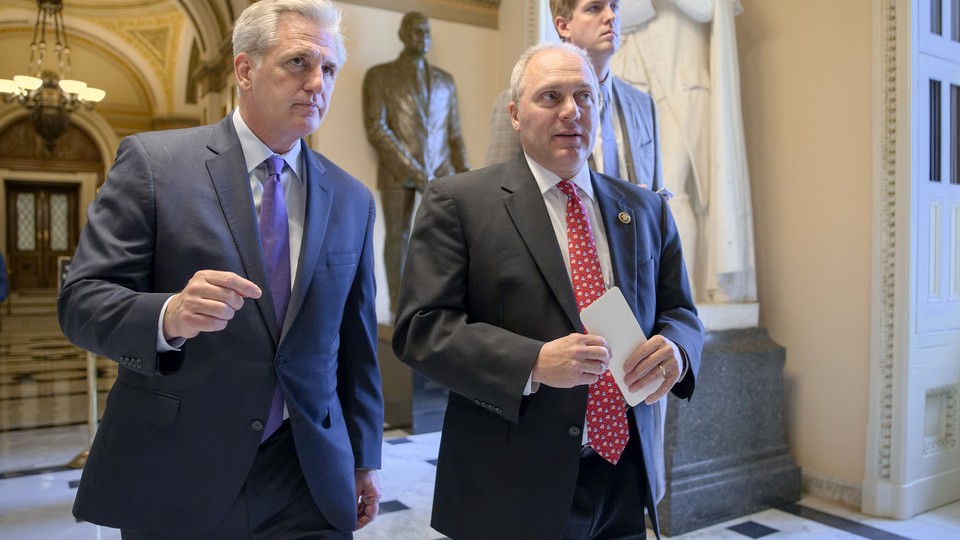 House Republicans have struggled to unite around spending bills in recent years, but in the effort to block Syrian refugees from coming to America, they may have found their adhesive.
House GOP leadership is already looking ahead, past Thursday's vote on a limited, freestanding bill to halt refugee entries until the FBI, Homeland Security Department, and Director of National Intelligence can implement an updated vetting regimen.
The Obama administration is strongly opposed to Thursday's bill, issuing a clear veto threat against it Wednesday. But with constituents pushing for action in the wake of the ISIS attacks on Paris last week, Speaker Paul Ryan is under pressure to include language in an upcoming omnibus spending bill to block funding for the resettlement of Syrian refugees.
What that language would look like has not yet been decided, but leaders and the Appropriations Committee have been holding listening sessions with members to discuss the omnibus. Members of all stripes, even those who have not usually endorsed such all-or-nothing tactics, are pushing leadership to include the measure in the spending bill.
Even the House Freedom Caucus, which includes many members who routinely vote against omnibus spending bills, is considering endorsing massive legislation that would fund Obamacare, Planned Parenthood, and Obama's immigration policies if it would block Syrian refugees from coming into the country.
Rep. Matt Salmon said he will support the freestanding bill Thursday because he has been told by leadership that it is just the first step. He said the Freedom Caucus is discussing whether an omnibus with anti-refugee language would warrant their support, even if it includes measures with which they disagree. If 80 percent of the group votes to endorse legislation, doing so becomes the group's official position, and with few exceptions, the 30- to 40-strong caucus will vote together.
"That's something we're trying to work out right now as a group, and we're going to vote as a bloc," he said. "That one is front and center, obviously, and I think the public's on our side on that one. We'd be pretty foolish not to at least open that door."
Rep. Jeff Duncan, another Freedom Caucus member, said he too was wrestling with the idea of voting for an omnibus bill that would block Syrian refugees even if it included funding for other proposals that he has singled out in the past as reasons to vote against funding bills.
"One of the powers of the House of Representatives is the power of the purse, so if we can use that to restrict some of the funding that the State Department gets for the Syrian side of the refugee resettlement, then we should use that," he said. "If that's a big-enough sweetener, I'm not sure yet."
Duncan, Salmon, and scores of their colleagues signed a letter to leadership spearheaded by Rep. Brian Babin asking that they limit funding in an omnibus for refugee resettlement.
Meanwhile, Republicans who have been critical of using hard-line tactics such as blocking funding for certain programs and threatening a government shutdown have said they are open to the idea now. Appropriations Committee Chairman Harold Rogers, who sits on the GOP task force looking at the refugee issue, said he doesn't "have a real preference." Intelligence Committee Chairman Devin Nunes, who also sits on the task force, said it could be a worthy pursuit this time.
"Possibly," Nunes said. "This is a real issue. It's a real issue that the American people understand, that the American people are on our side. Something has got to be done and the president's strategy is not working."
Indeed, Republicans are bolstered by poll numbers, such as a recent Bloomberg poll, showing that a majority of the American public favor halting the resettlement of Syrian refugees. They are also buoyed by some Democratic support on the issue. Rep. David Scott, for instance, is likely to be one of several Democrats who will support the Thursday measure.
"We are definitely not prepared, nor do we have enough evidence to know that we are prepared, to allow these refugees from Syria to come into this country now without the possibility that one or two may come in from ISIS and cause tremendous damage," Scott said.
Still, House Democrats are mostly expected to vote against the bill, with leadership opposing its passage. Even before the bill was put forward, many high-profile Democrats condemned the GOP's rhetoric on the issue and said blocking entrants from the Middle East is not the answer.
"If we stop the flow of people who are seeking asylum, refugees to come, it plays right into the ISIL narrative, and that's something that I don't want to be a part of," said Rep. Bennie Thompson, ranking member on the Homeland Security Committee. "As we see it, this would basically kill the opportunity for Syrian or Iraqi people seeking asylum to come to the United States."
If conservatives decide they cannot support the sweeping omnibus bill anyway, GOP leaders would not likely be able to forge ahead because the anti-refugee language would jeopardize the Democratic support necessary to pass the omnibus. If, on the other hand, House Republicans can stick together, it would bolster their leverage to work some refugee language into a final omnibus with the Senate.
The upper chamber could take up the House bill in one of the packages before it breaks for Christmas, said Sen. John Cornyn, the GOP whip. "Stand-alones are hard to deal with in the Senate because it takes so much time," he noted.
But senators exiting an all-member briefing with senior administration officials indicated that the conversation could turn from the refugee resettlement process to potential security risks in the faster and larger visa waiver process. Sens. Bob Corker and Richard Burr—the top Republican members on the Foreign Relations and Intelligence committees—have reportedly called this the greater threat. In an interview Wednesday, Cornyn said that he asked in the briefing how many people go from visa waiver countries to Iraq and Syria and then return. "I think it represents a potential vulnerability that we need to pay attention to and we need to get better, more complete answers to," he said.
This article has been updated.
---
Alex Brown and Alex Rogers contributed to this article