The Insider Running Ben Carson's Outsider Campaign
One has never run a political campaign—the other has worked for more than he can remember.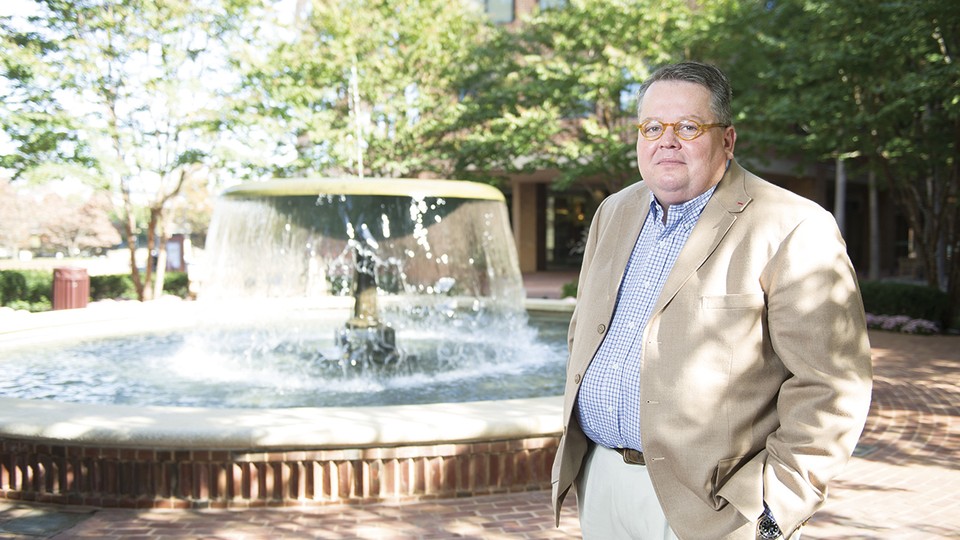 It's a sunny Thursday in late October, and outside the nondescript office building in Alexandria, Virginia, across from the King Street metro stop, there's no evidence that a presidential campaign is being run within. No colorful signs or banners decorate the exterior or press up against the windows overlooking the street. But inside, the office hums. Opposite a column festooned with fan mail stretches a bullpen containing a half-dozen busy campaign workers. In another room, a separate group pores over a tally of delegates in various states. Overseeing them all—and everything else—is Barry Bennett, who officially signed on as Ben Carson's campaign manager in March, brought in to professionalize the pediatric brain surgeon's outsider bid for the White House.
Indeed, one of the things Bennett likes about Carson, he tells me, is that the candidate is smart enough to know when to call in an expert. When doctors "come upon a problem they don't know the answer to, they are trained to call someone else. They're ready, willing, and able to surround themselves with the smartest people they can find. Any candidate who tells you they're the best at everything?" he says. "Run!"
Bennett, who has been in and out of campaign politics for three decades, says he always wanted to lead a presidential campaign, but, at 52, he thought his "time had passed." Then, in December, he got the call from Carson's people, and he went down to Palm Beach, Florida, to meet the candidate. "He's an amazing guy with an amazing story, a hundred percent genuine. I fell in love with him," Bennett says. (So, it seems, has a good chunk of the Republican electorate: After starting out as a long shot, Carson has taken a narrow lead in Iowa and, according to some polls, nationally.)
Bennett's own story begins in Minford, Ohio, a poor part of southern Appalachia where his ancestors fought in the Revolutionary War. ("I don't know what the opposite of nomadic is, but that's what my family is," he jokes.) His father was a steelworker, and his mother did hair. While in school at Ohio State, Bennett got a part-time job on Ronald Reagan's 1984 campaign. ("I'd never been involved in politics; I just needed a job.") His next gig was as a page for state Senator Paul Pfeifer. Bennett later became a legislative aide and then the assistant sergeant at arms for the Ohio State Senate—his first real salaried position.
It was the start of a diverse, peripatetic career. Bennett has worked on campaigns ranging from the 1991 Columbus mayor's race to Mike DeWine's successful 1994 U.S. Senate bid. He has been a staffer to Ohio Reps. Frank Creamens and Jean Schmidt, and to Rob Portman when Portman was still in the House. He co-founded and later sold a media-buying firm and chaired the corporate practice at the public-relations consulting firm Greener and Hook. He served as communications director for the G-8 summit under President George W. Bush, and in 2009, he started a business with Mary Cheney, whom he met through his wife. Amid it all, Bennett was diagnosed with colon cancer and took a year off to battle the disease.
In recent times, in addition to his work with Cheney, Bennett has returned to campaign politics; his forays have included coordinating outside-group spending for the GOP effort to take back the House in 2010 and starting a super PAC for Texas Governor Rick Perry in 2012. (He was also the executive producer for King of Bain, the 2012 Romney takedown sponsored by Newt Gingrich's super PAC.)
He describes his current portfolio as "everything," which includes working closely with the campaign's analytics firm to generate a "personality score" that reflects not only where a given voter stands on an issue but why. "Let's say Bob here, I know that he supports guns, he loves guns, but I could look at his personality score and decide how I'm going to talk to him about guns," Bennett explains. "Is he susceptible to fear-based advertising—so it's the picture of the guy breaking in the door with the mom and the kids huddled in the kitchen corner that we've all seen a thousand times? Or is it a hunting thing?"
Bennett is "a really creative political thinker, who is constantly coming up with very clever and smart ideas on politics," says Matt Schlapp, the chairman of the American Conservative Union, and a longtime friend. "He is very unique with this among political operatives, because for many of them it's plug and chug—run the same campaign every time. … He doesn't ask for permission; he hasn't always been in the preferred crowd. He's done what he thinks would be smart."