The Greening of Kelly Ayotte
The vulnerable Republican supports President Obama's big climate rule. Is that enough to ward off green groups' attacks?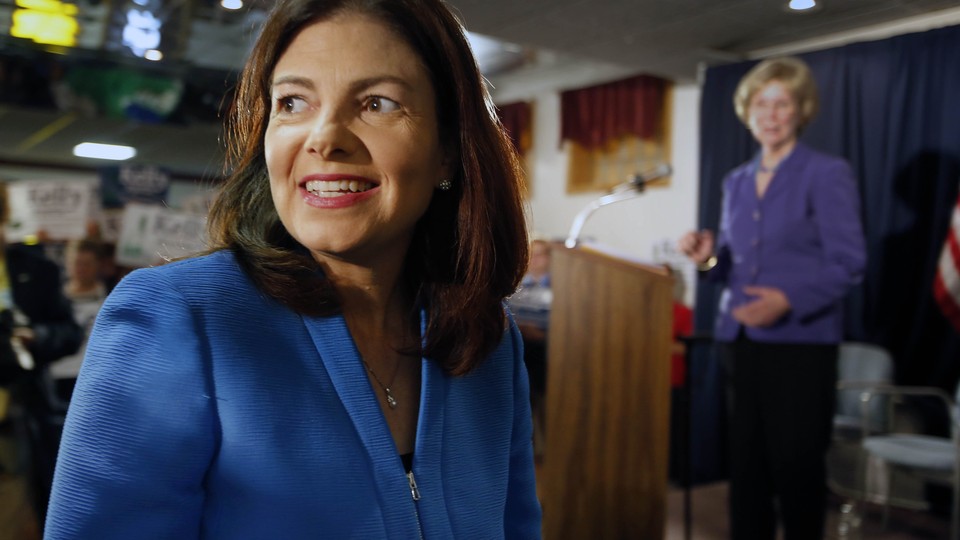 Sen. Kelly Ayotte says polit­ics has noth­ing to do with her sup­port for Pres­id­ent Obama's sweep­ing cli­mate-change plan.
"I took the po­s­i­tion look­ing at the im­pact on New Hamp­shire, and that's my fo­cus. The is­sues in terms of the bal­lot box—oth­er people can ana­lyze that that are polit­ic­al pun­dits," the New Hamp­shire Re­pub­lic­an said in the Cap­it­ol on Tues­day.
Ayotte, one of the most vul­ner­able GOP mem­bers up for reelec­tion next year, was an­swer­ing a ques­tion about the polit­ics of her recently announced back­ing of En­vir­on­ment­al Pro­tec­tion Agency rules man­dat­ing cuts in car­bon-di­ox­ide emis­sions from the na­tion's power plants.
She's the first (and thus far only) GOP sen­at­or to back the rules, a stance that drew ap­plause from sev­er­al green groups but puts her starkly at odds with her party's main White House hope­fuls and Cap­it­ol Hill lead­er­ship, who are push­ing to block the reg­u­la­tions.
But while Ayotte says her mo­tiv­a­tions are un­re­lated to the 2016 elec­tions, her back­ing of the EPA ini­ti­at­ive could af­fect her race against Demo­crat­ic Gov. Mag­gie Has­san (a con­test that Na­tion­al Journ­al polit­ic­al ana­lyst Charlie Cook calls a "toss-up").
And it's a race that will help de­cide the bal­ance of power in the Sen­ate, as Re­pub­lic­ans de­fend a num­ber of vul­ner­able seats in a cycle that has Demo­crats hop­ing to re­gain con­trol of the cham­ber.
"New Hamp­shire Re­pub­lic­ans have more mod­er­ate opin­ions on cli­mate change and en­vir­on­ment­al reg­u­la­tion than you will find among Re­pub­lic­ans else­where," said Dante Scala, a polit­ic­al sci­ence pro­fess­or at the Uni­versity of New Hamp­shire. "I think what she is hop­ing to do is to shore up her stand­ing among in­de­pend­ent voters here, which is net fa­vor­able, and I think she does so without fear of los­ing too many Re­pub­lic­ans."
Scala sees Ayotte seek­ing to take cli­mate change and the en­vir­on­ment "off the front burn­er" in the race.
The power-plant reg­u­la­tions are the cent­ral pil­lar of Obama's second-term cli­mate agenda, and they're a top pri­or­ity for en­vir­on­ment­al­ists, in­clud­ing the groups that are most act­ive in elect­or­al polit­ics.
The two groups with the biggest polit­ic­al op­er­a­tions—the League of Con­ser­va­tion Voters and the Si­erra Club—both en­dorsed Ayotte's Demo­crat­ic op­pon­ent, Paul Hodes, in the 2010 race for the open seat that former Sen. Judd Gregg was va­cat­ing.
But the groups say they have not made any de­cisions about get­ting in­volved in the 2016 New Hamp­shire con­test.
"It is a long way off in terms of LCV's con­sid­er­a­tion of this race," said Rob Wern­er, LCV's New Hamp­shire state dir­ect­or. He called Ayotte's stance on the cli­mate plan "highly sig­ni­fic­ant," but ad­ded that LCV won't make a de­cision on in­volve­ment in the race un­til some­time next year.
In 2010, the group spent at least $115,000 try­ing un­suc­cess­fully to elect Hodes in his race against Ayotte, ac­cord­ing to Fed­er­al Elec­tion Com­mis­sion fig­ures com­piled by the Cen­ter for Re­spons­ive Polit­ics.
While the Si­erra Club wel­comes Ayotte's stance on the power-plant rule, the group says its pro­cess will ex­am­ine Ayotte's re­cord more broadly.
"Our en­dorse­ments ori­gin­ate from the ground up, and that pro­cess has not yet be­gun for this race. Dur­ing the course of any en­dorse­ment con­sid­er­a­tion, mul­tiple factors are taken in­to ac­count, in­clud­ing a can­did­ate's vot­ing re­cord on policies de­signed to en­sure that all Amer­ic­an fam­il­ies have clean air, clean wa­ter, and a safe cli­mate," said Khal­id Pitts, the group's polit­ic­al dir­ect­or, in a state­ment to Na­tion­al Journ­al.
Sim­il­arly, an aide to Cali­for­nia bil­lion­aire and cli­mate act­iv­ist Tom Stey­er, who poured $74 mil­lion in­to vari­ous 2014 con­tests with mixed res­ults and plans to get in­volved in mul­tiple 2016 races, did not say wheth­er he would spend money on the New Hamp­shire con­test.
Ayotte's cam­paign spokes­wo­man did not re­spond to an in­quiry about wheth­er she would seek the en­dorse­ment of en­vir­on­ment­al groups or is at least hop­ing they do not work against her in next year's elec­tion.
Scala, the New Hamp­shire polit­ics ex­pert, said that keep­ing green groups act­ive in elec­tions away from her race would be a vic­tory. "Surely, she would hope to keep a group like that on the side­lines in New Hamp­shire," he said of Stey­er's op­er­a­tion.
Ayotte, whose ca­reer rank­ing on LCV's score­card is just 23 per­cent, re­mains on the oth­er side of green groups on mul­tiple is­sues they pri­or­it­ize, in­clud­ing the Key­stone XL oil-sands pipeline.
And on Tues­day, she voted in fa­vor of GOP-led bills to over­turn an­oth­er green-move­ment pri­or­ity: new EPA reg­u­la­tions aimed at en­sur­ing Clean Wa­ter Act pro­tec­tions for streams and wet­lands. Ma­jor busi­ness groups and Re­pub­lic­ans call the rules an over­reach. One of them ad­vanced but has already drawn a White House veto threat.
Still, Ayotte has in­creas­ingly been em­phas­iz­ing cli­mate change, the biggest is­sue over­all for the en­vir­on­ment­al move­ment.
Late last week, she and three oth­er GOP sen­at­ors—Lind­sey Gra­ham, Mark Kirk, and Lamar Al­ex­an­der—an­nounced a "Sen­ate En­ergy and En­vir­on­ment Work­ing Group that will fo­cus on ways we can pro­tect our en­vir­on­ment and cli­mate while also bol­ster­ing clean en­ergy in­nov­a­tion that helps drive job cre­ation."
The group will "meet peri­od­ic­ally to dis­cuss gen­er­al en­ergy and en­vir­on­ment­al is­sues and ex­change ideas about po­ten­tial le­gis­la­tion," the Oct. 29 an­nounce­ment stated.
And one ma­jor en­vir­on­ment­al group is already spend­ing money to high­light Ayotte's stance on the car­bon-emis­sions rules for power plants. In late Oc­to­ber, the En­vir­on­ment­al De­fense Fund an­nounced it had be­gun a weeklong di­git­al-ad cam­paign thank­ing Ayotte for her stance on the Obama ad­min­is­tra­tion rule, which is known as the Clean Power Plan.
"Sen­at­or Ayotte's sup­port for the Clean Power Plan demon­strates real lead­er­ship on cli­mate change and breaks with those in her own caucus who have sided with pol­luters and con­tin­ue at­tempts to block clean air pro­tec­tions at every turn," the group said in rolling out the cam­paign.