The Economic Case for Undocumented Immigrants
A comprehensive reform bill could generate $2.2 billion in local tax revenue.
This article is from the archive of our partner

After being elected speaker of the House, Paul Ryan made it pretty clear that he was unwilling to work with the White House on immigration reform. According to the Wisconsin Republican, President Obama was "circumventing the legislative process" through his 2014 executive order that aimed to put millions of unauthorized immigrants on the path to legal citizenship. (The order is currently languishing in court.)
"I think it would be a ridiculous notion to try and work on an issue like this with a president we simply cannot trust on this issue," Ryan said in an interview on CBS's Face the Nation. "So, that is not in the cards."
Never mind that similar executive orders on immigration have been enacted by both Democrat and Republican presidents in the past. Delays in addressing the country's broken immigration system have negative economic consequences, too. According to a new report released by the Center on Budget and Policy Priorities, federal and state policies that allow unauthorized immigrants to live and work in the country, and that help improve their earning potential, can significantly raise their contributions to state and local tax revenue.
"They work, pay many taxes—in fact, they pay a larger share of their income in state and local taxes than the top 1 percent of taxpayers do—and buy goods and services from businesses across a state," the authors write in the report.
President Obama's 2014 executive action would expand the Deferred Action for Childhood Arrivals program that allows those who came to the United States as children to legally stay and work in the country. It also would aim to shield undocumented parents of U.S.-born children from deportation. The order would generate an estimate another $845 million in state and local taxes—on top of the $12 billion that undocumented immigrants already pay, as per a 2012 revenue analysis cited by the report (chart on left). A more comprehensive bill—such as this 2013 senate bill that proposed a citizenship pipeline for most undocumented workers—might mean a $2.2 billion increase in revenue.
While the legal system sorts out Obama's executive order, comprehensive reform might not see the light of day until the next president takes office. Nevertheless, state- and city-level policies that protect unauthorized immigrants from wage theft, allow them to apply for driver's licenses, help them access higher education, and can help improve their earnings, all of which can lead to greater local and state tax revenue.
Here's how the CBPP report sums it up:
"Rather than pursue immigration-enforcement measures that are better left to the federal government, such as mandating immigration-status checks during law-enforcement stops, states should look to policies that better integrate immigrants into the mainstream economy."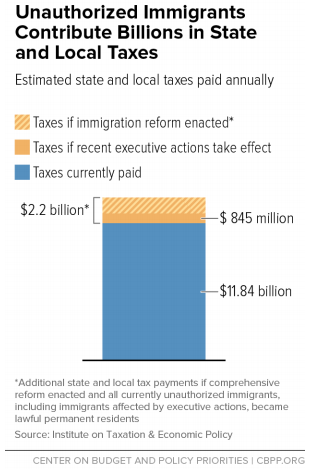 This article is from the archive of our partner CityLab.