The Christie Comeback Continued in Milwaukee
The New Jersey governor's focus on Clinton, and his humor, won over many Republicans.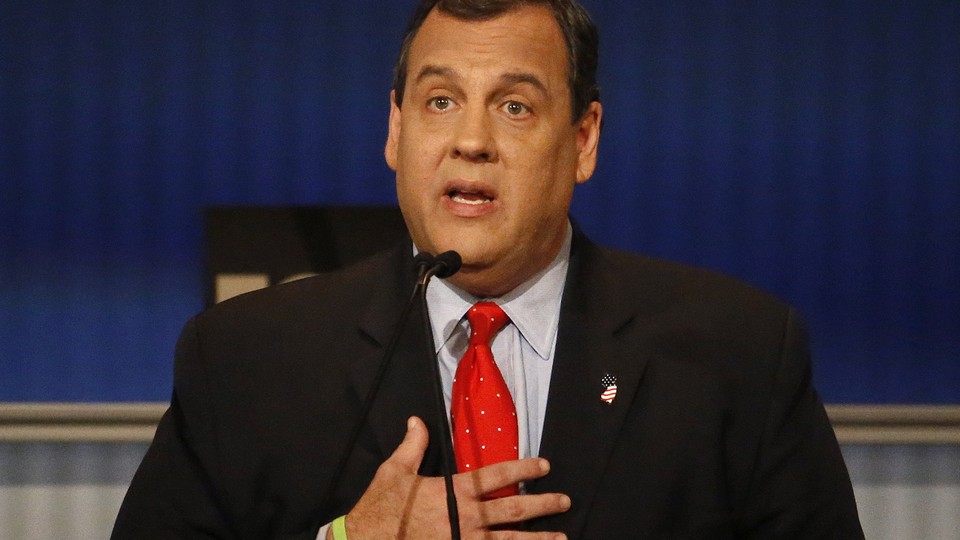 Chris Christie delivered another strong debate performance Tuesday, rekindling hope that despite a demotion to the undercard event, the New Jersey governor's natural charisma and blunt style is giving the long-shot campaign a chance to build momentum as the GOP presidential primary heats up.
Christie didn't dominate a debate in which his trio of foes—Mike Huckabee, Bobby Jindal, and Rick Santorum—each had a handful of impressive moments during the hour-long event in Milwaukee. But his humor, firm grip on the issues, and—above all—unrelenting focus on likely Democratic presidential nominee Hillary Clinton helped him rise above the fray.
He was at his best when his opponents, most notably the Louisiana Governor Jindal, tried to criticize his record as governor of the Garden State, deflecting the barbs to tell the voters watching at home who the real enemy is.
"Hillary Clinton is coming for your wallet, everybody," Christie said. "Don't worry about Huckabee or Jindal, worry about her."
When Jindal tried to pick another fight with Christie, he deflected the fellow governor with a dose of humor. Christie pointed out that he had actually complimented Jindal's record.
"Imagine how much time he'd want if I actually criticized him," drawing laughs from the audience.
It was a veteran move from Christie, making him look both focused on the big picture and above the kind of petty attacks that often alienate voters of all stripes. He showed his experience again early on, when he addressed his responses not to the Fox Business moderators but the GOP voters watching the debate at home.
"We need to get the government the hell out of the way and let the American people win once again," Christie said, looking straight ahead into the camera.
Christie remains a long shot to win the GOP nomination, and while he performed well Tuesday, he did so during an undercard debate that will likely be viewed by many fewer million people than the main event.
But his strong performance comes on the heels of what might have been the best few weeks of Christie's candidacy. Last month, his denunciation of a fantasy-football-related question during last month's debate in Colorado capped a standout performance. After months of intense retail politicking there, he finally saw a measurable bounce in support in New Hampshire, a state he likely must win.
Video of an emotional Christie explaining how drug addiction ruined the life of a close friend went viral—at last count, nearly 8 million people had watched it on Facebook—and showed an empathetic side of a man often compared to a bully.
For a candidate many in the media deemed nonessential this summer, it seemed as if the comeback was underway. And then, Fox Business Channel announced the participants of Tuesday night's debate, and he was relegated to the undercard alongside long shots like Santorum and Jindal. The governor failed to meet the threshold of a 2.5 percent polling average in the latest round of national polls.
That might have been a blessing in disguise. The presence of only four candidates on stage—six fewer than the 10 on stage during his previous three debates—let Christie be the center of attention. He touted his successful record in a blue state and his ability, as a former U.S. attorney, to prosecute the case against Clinton as to why she shouldn't become the next president.
And when he did explain his agenda in depth, he punctuated his remarks with lines sure to break through to Republicans watching at home—as he did after explaining his proposal for simplifying the tax code.
"The good thing? I'll be able to fire a whole bunch of IRS agents once we do that," he said.
He also might have struck a chord on law and order issues, blasting the president for, in his words, not standing up for police amid rising tensions between law enforcement and minority communities.
"When President Christie is in the Oval Office, I'll have your back," he said, addressing police.
Deep questions about the viability of Christie's candidacy remain. Conservatives remain mistrustful of the candidate who, the day before the 2012 election, memorably hugged President Obama. His centrist tone on many social issues alienates many evangelicals, which complicates his campaign in Iowa and South Carolina.
And the public's lingering memory of "Bridgegate," which sank the governor's poll numbers, raise questions about his strength as a general-election candidate.
But during one debate, Christie offered a reminder for why he can't be counted out in the Republican primary.