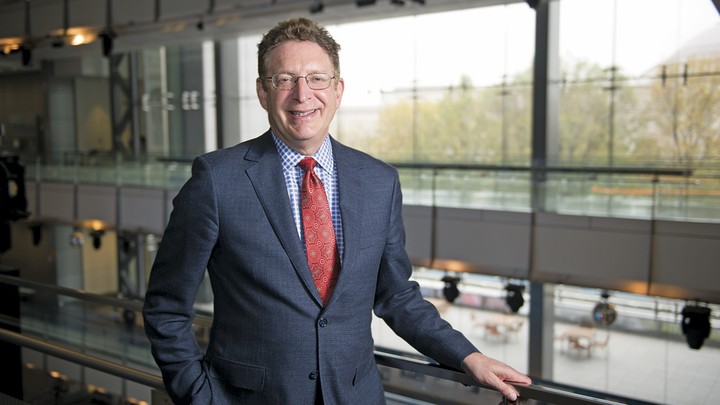 It's like asking which of your children do you love best!" Jeffrey Herbst says when I ask him to name his favorite display at the Newseum. Herbst, 54, is the new president and CEO of the nine-level museum of news and journalism, and on this chilly fall day in late October, he is giving me the grand tour. One of the first stops is "Reporting Vietnam," a temporary exhibit about the role of journalism, and in particular television, during the Vietnam War. It features newspapers and magazines and footage from broadcasts of the day, including scenes from the jungle interspersed with shots of Walter Cronkite telling CBS viewers: "The only rational way out will be as negotiators, not as victors."
"Nobody had ever seen something like this before," Herbst tells me of those wartime broadcasts. "Suddenly it was like war was in the living room."
The disruptive role of technology is something that has long interested Herbst. Before starting at the Newseum in August, he was president of Colgate University, where, beyond his administrative duties, he focused on the larger question of how technological change was going to "disrupt" college and university education, including whether students would even continue to attend brick-and-mortar institutions. His current job offers him a new perspective. "I was very interested to come here," Herbst tells me, "because, of course, technological disruption of the media is already occurring."
At the Newseum, Herbst works with senior staff to make exhibits "as compelling as possible" (which includes helping to raise the money for them); he consults outside advisers on the Newseum's "place in Washington and national debates" and on "how we can play a constructive role" in those conversations; and he travels to build relationships outside of Washington, especially with the companies out in Silicon Valley that have changed the way news is delivered and are likely to continue to do so.
A native of Peekskill, New York, Herbst says he always knew he wanted to be an academic, and he wasted no time pursuing that dream. After earning his bachelor's degree in public policy from Princeton in 1983, he immediately went for a master's, and then a Ph.D., in political science at Yale. For his doctoral thesis on economic decision-making in post-independent Zimbabwe, Herbst spent 18 months doing research in that country, sparking a lifelong interest in sub-Saharan Africa. Upon graduating in 1987, Herbst took a job teaching politics at Princeton; he spent the next 18 years there, the last five of them as chair of the politics department. That leadership role paved the way for his transition to academic administration, he says, and got him interested in the question of "how universities could educate students as well as possible for the 21st century."
From there, Herbst did a stint as provost at Miami University in Ohio before landing at Colgate, where he also taught two courses, one of which was on how technology has disrupted different sectors. "If you spend any time with Jeff, you see he's always asking about the big picture, about the strategy and the 'what if' questions," says Doug Hicks, who spent three years as Herbst's provost at Colgate.
Right now, Herbst is trying to make sure that visitors to the Newseum come away with a sense of the big picture as well. He shows me a display that maps the current state of press freedom all across the world, and glass panels inscribed with the names of journalists who have died in the line of duty. The museum's gallery of Pulitzer Prize–winning photographs, which currently extends only to 2002, is being updated in anticipation of the prize's upcoming 100th anniversary, and Herbst tells me he plans to mark the occasion by inviting past winners to the Newseum. Such expert gatherings are something of a highlight for him, perhaps because they're a throwback to his time in the ivory tower. Asked if he ever misses it, though, he demurs: "I'd been going to school every September for almost 50 years. I thought, therefore, I could make a transition."
We want to hear what you think about this article. Submit a letter to the editor or write to letters@theatlantic.com.