Thanksgiving From the White House Kitchen
Known for its culinary prowess, the White House kitchen serves more than just turkey on Thanksgiving.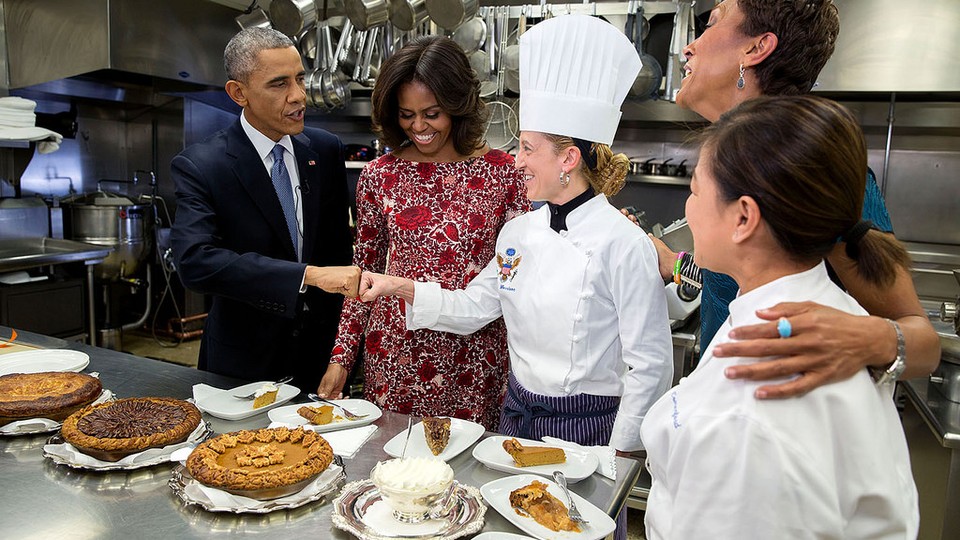 The White House, and its kitchen, has undergone numerous changes over time, but eating a turkey on Thanksgiving remains a time-honored tradition.
Each presidential family puts their own spin on a Thanksgiving dinner. While gourmet spreads are common at formal affairs such as state dinners, recent first families have requested simple Thanksgiving meals that remind them of time spent in more traditional settings.
In a 2012 Washington Post interview, former White House Chef Walter Scheib spoke of how personal holiday meals are to the president's family. "In most cases they have their roots back in the childhood home."
This desire to recreate simpler times means that each family has a unique contribution to the Thanksgiving table. The two recipes below from the Obama's 2014 Thanksgiving dinner were lighter than traditional dishes and used vegetables from the White House garden, a trademark of Michelle Obama's "Let's Move!" initiative.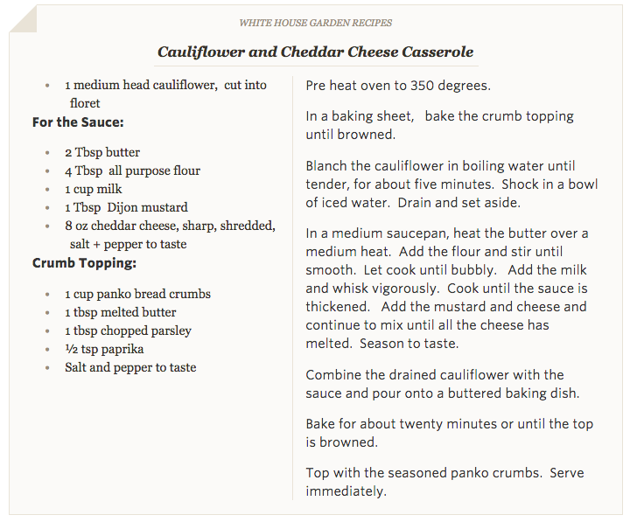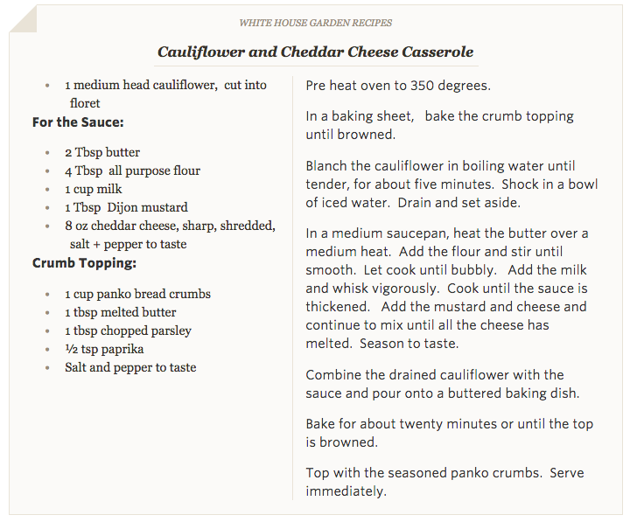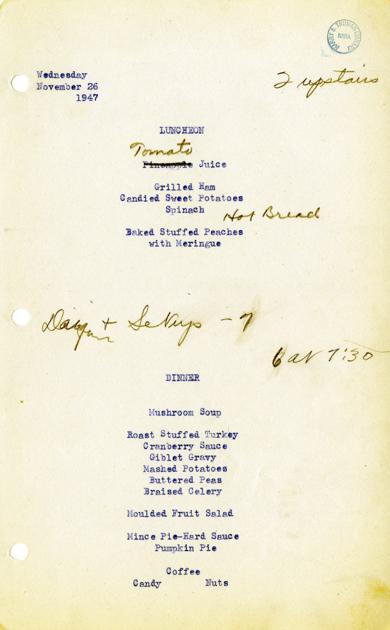 Each White House meal may be different, but a turkey for dinner is a tradition that stood the test of time. Harry Truman's Thanksgiving Day in 1947 consisted of two large meals: ham for lunch and turkey for dinner.
The menu was as much crafted from personal tastes as it was a reflection of food popular in the late 1940s. Some dishes, such as moulded fruit pies, have become less popular, while mashed potatoes and cranberry sauce remain favorite side dishes.
It was during Truman's time in office that the poultry industry became the official supplier of White House turkeys. Truman was in office as World War II was coming to an end and, with food conservation in mind, refrained from eating poultry on Thursdays, a decision poultry farmers effectively reversed with annual turkey presentations and eventual pardons.
The following recipes from the National Archives were favorite dishes on the tables of past White House occupants.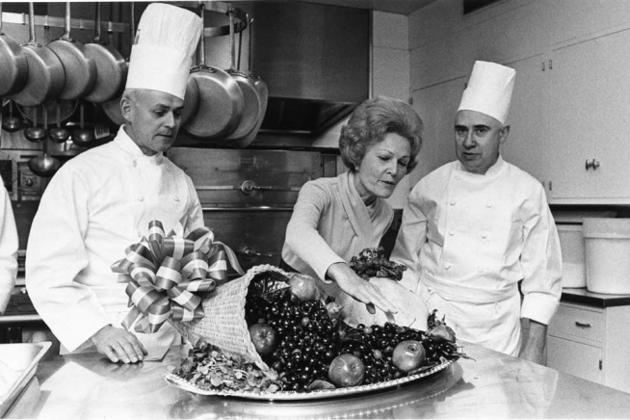 Bill and Hillary Clinton's Roasted Rack of Lamb with a Pumpkin Thyme Crust
2 Frenched racks of lamb
1 cup pumpkin purée
2 teaspoon chopped fresh thyme
1 cup bread crumbs from good bread
3 teaspoon olive oil
Remove excess fat from lamb. Salt and pepper the meat and sear on all sides in a saucepan with a little vegetable oil. Place in a 375-degree oven for about 20 minutes depending on the size of the rack. Cook three-quarters of the way from your desired doneness. Let the rack sit on your counter and rest 20-30 minutes. When slightly chilled, spread pumpkin puree on the back and top of the lamb. Mix bread crumbs with salt, pepper, thyme and olive oil. Roll the rack of lamb in the bread crumbs. Put back in the oven to brown and finish. When done, cut chops and serve.
George and Laura Bush's Deviled Eggs
12 large eggs, boiled hard and peeled
1 tablespoon (plus) soft butter
1 tablespoon (plus) mayonnaise
1 tablespoon Dijon mustard
1/2 teaspoon Yucatan Sunshine Habanero sauce
Salt to taste
Cut eggs in half and set aside. Put egg yolks in food processor and add all ingredients. Process for 20 seconds or until mixture has blended. Check for taste and increase mustard, salt or Habanero sauce if desired.  Place mixture in piping bag with star tip and pipe into egg halves. Sprinkle with paprika and chopped parsley. Chill for about an hour before serving.
Note about Yucatan Sunshine Habanero sauce: Habanero sauce can be substituted with Tabasco sauce. Yucatan Sunshine and other brands of the sauce can be purchased at most local supermarkets nationwide. The Bushes used the Yucatan Sunshine Habanero when living in Texas, and their White House chef used the sauce in a variety of recipes.
Herbert and Lou Hoover's Marshmallow Sweet Potatoes
6 sweet potatoes
2 tablespoon butter
2 cups chopped walnuts
nutmeg
salt
cream
marshmallows
Boil the sweet potatoes, then mash with a potato masher to remove all strings. Add butter. Add nutmeg and salt to taste (try small amounts the first time!) Add cream enough to make a soft consistency. Fold in walnuts. Put into baking dish and bake for 10 minutes. Cover the top with marshmallows and bake until lightly browned on top.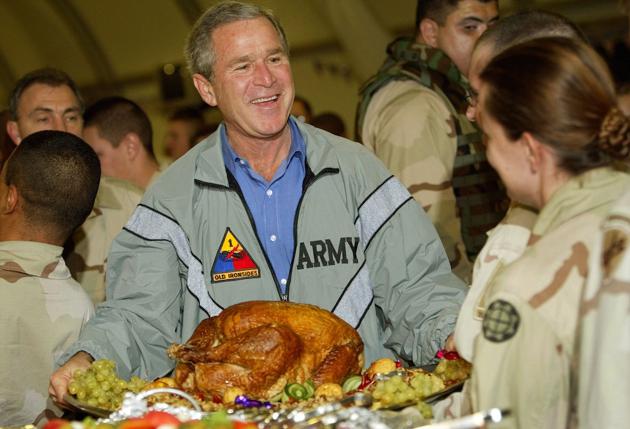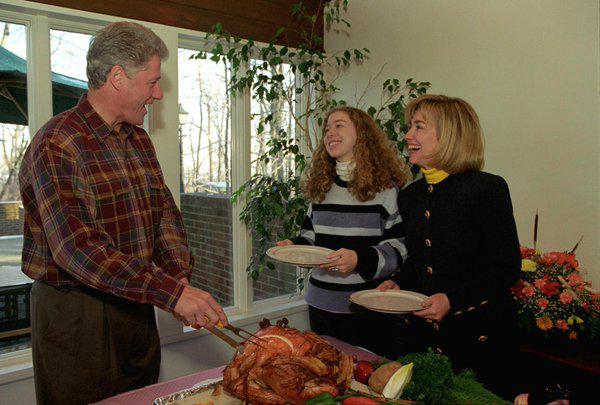 Richard and Pat Nixon's Corn Soufflé (A Nixon Family Favorite)
3 cubes of melted butter (about 3/4 pound)
1 cup flour (scant)
3 tablespoons sugar
1 teaspoon salt
1/4 teaspoon pepper
2 cups half and half cream
3 cans cream of style corn
8 eggs, separated into yolks and whites
Combine all ingredients except corn and eggs, and cook until it thickens. Add 3 cans of cream-style corn. Cool to lukewarm. Add 8 beaten egg yolks and 8 beaten egg whites. Pour into a 3 quart buttered Pyrex dish and set in a pan of water to bake. Bake at 350 degrees for about 1 hour or until knife inserted comes out clean. Pour some melted butter over the top. Makes 12 servings.
Gerald and Betty Ford's Celery Stuffing
About 8 servings
1 medium onion, chopped
1 stalk celery with leaves, chopped
1/3 cup butter
2 teaspoons poultry seasoning
2 tablespoon chopped parsley
1 teaspoon salt
Pinch white pepper
5 cups diced stale bread
1 cup giblet broth
2 eggs, beaten
Sauté the onions and celery in the butter until tender but not brown. Combine the seasoning and the bread and mix together with the onion and celery mixture. Combine giblet broth and eggs. Add to stuffing. Mix well.
Mike and Mamie Eisenhower's Deep Dish Apple Pie 
6 tart apples
1/2 cup sugar
1/2 cup brown sugar
1/2 teaspoon nutmeg
Grated rind of 1 lemon
Grated rind of 1 orange
3 tablespoons butter or margarine
1/2 pastry recipe (below)
Pare and core apples; cut into eights. Place in deep, greased baking dish. Combine sugar, brown sugar, nutmeg, lemon rind and orange rind. Sprinkle over apples. Dot with butter or margarine. Top with thin sheet of pastry, pricked in a design. Bake in hot oven at 425 degrees. Serves six.
Pastry:
2 cups flour
3/4 teaspoon salt
2/3 cup shortening
cold water
Sift flour; measure. Mix and sift flour and salt. Cut in shortening with 2 knives or pastry blender until flour shortening particles are about the size of small peas. Sprinkle 1 tablespoon cold water over mixture and mix in lightly with a fork. Continue adding water in this fashion until pastry gathers around fork in a soft ball. Divide pastry in half and roll each half separately on lightly floured board to 1/8-inch thickness. Handle rolling pin very lightly. Makes enough for two-crust 9-inch pie.
Note: Make ½ this recipe for deep dish or one crust pies.
Jimmy and Rosalynn Carter's Peanut Brittle
3 cups granulated sugar
1 1/2 cups water
1 cup white corn syrup
3 cups raw peanuts
2 tablespoons soda
1/2 stick butter
1 teaspoon vanilla
Boil sugar, water and syrup until spins thread; add peanuts. After adding peanuts, stir continually until syrup turns golden brown. Remove from heat. Add remaining ingredients; stir until butter melts. Pour quickly on 2 cookie sheets with sides. As mixture begins to harden around edges, pull until thin.
Ronald and Nancy Reagan's Pumpkin Pecan Pie
4 slightly beaten eggs
2 cups canned or mashed cooked pumpkin
1 cup sugar
1/2 cup dark corn syrup
1 teaspoon vanilla
1/2 teaspoon cinnamon
1/4 teaspoon salt
1 unbaked 9-inch pie shell
1 cup chopped pecans
Combine the ingredients except pecans. Pour into pie shell. Top with pecans. Bake at 350 degrees for 40 minutes, or until set.
For an even more festive Thanksgiving holiday, try one of the White House's two secret beer recipes found here.