Ted Cruz's Campaign, Super PAC Beat Steve King to the Punch on Endorsement
Team Cruz tweeted out word of King's support before the congressman's press conference.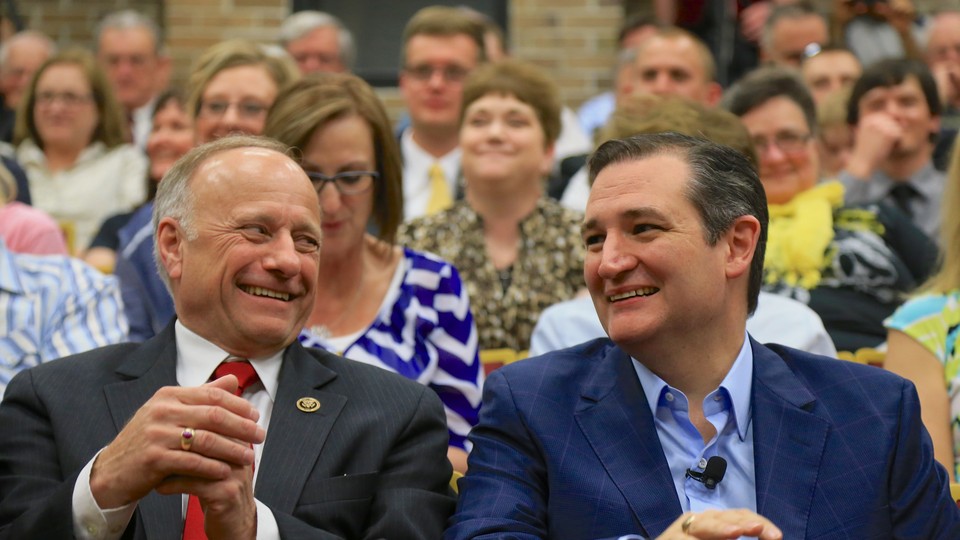 Ted Cruz's team just couldn't hold back its excitement.
When Rep. Steve King of Iowa sent out a press release Sunday afternoon that he would be making a "major announcement" regarding the 2016 Iowa Republican caucuses the following day, most expected the congressman throw his support behind a presidential candidate. And most expected that support to go to Cruz, who has built a strong relationship with the congressman since arriving in Washington. But nothing official leaked overnight.
That changed Monday morning, when Keep the Promise 1, one of the super PACs supporting Cruz's campaign, tweeted this out at 10:36 eastern time, just as King took the podium at a hotel in Des Moines.
How did the super PAC, which isn't allowed to coordinate with the campaign, know about the endorsement before it was made public? Kristina Hernandez, a spokeswoman for Keep the Promise, said the group received the information from someone in the room where the press conference was happening, but declined to say who that person was. "We have an operation of our own on the ground in Iowa, independent of the Cruz campaign obviously," she said. King's son, Jeff, also signed on as a consultant for the group this past summer.
Once King began speaking, though, he opened with broader criticisms of President Obama and Washington rather than immediately diving into the presidential race. The Cruz campaign apparently got antsy, and posted a video of King endorsing Cruz on Twitter at 10:43, as the congressman was still delivering his remarks in Des Moines.
Cruz's campaign then followed with a press release announcing the endorsement, which hit reporters' inboxes at 10:45 a.m. Still nothing from King himself over in Iowa.
Then at about 10:48 a.m., King finally mentioned Cruz for the first time at his press conference, making his long-anticipated endorsement of the Texas senator official. For the third time.