Ted Cruz Catches Up
The Texas senator, known for attention-grabbing stunts, has quietly caught up to Trump in Iowa.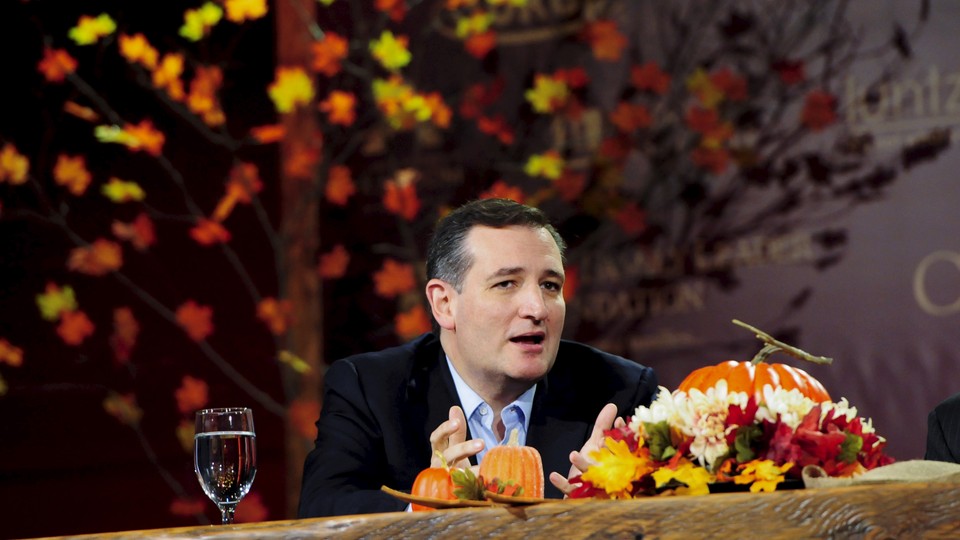 As a senator, Ted Cruz has been more of a hare than a tortoise. Promptly upon arriving in Washington, he began a noisy tenure—delivering a Green Eggs and Ham-enhanced faux-libuster against Obamacare, refusing to endorse fellow Texas Senator John Cornyn in a primary, and generally alienating as many of his colleagues as he could as quickly as he could. Cruz has become such an irritant to Washington Republicans and Democrats alike that it's almost hard to believe he only arrived in January 2013.
That makes the Cruz presidential campaign all the more interesting—what seems like a textbook tortoise run. (Sorry, Jeb Bush.) Ruled out as an unlikely winner by much of the commentariat months ago, Cruz has been quietly plodding along, and he's catching up to the frontrunners. A new Quinnipiac poll shows Cruz just two points behind Donald Trump in Iowa, practically a tie. A CBS/YouGov poll last week had Cruz farther back, but also placing second. Nationally, he's seen his standing nearly double over the last month.
Cruz has been positioning himself as the man who will inherit Trump's voters when Trump implodes. (It has long been an article of faith among pundits that Trump will implode. At the moment, Trump is coasting right along.) Instead, he seems to have gained his recent popularity at the expense of Ben Carson, who as I pointed out last week, is losing altitude both nationally and in Iowa. Carson and Cruz seem to appeal to similar tranche of voters, especially evangelicals. In the Quinnipiac poll, Cruz is cleaning up in all the demographics where Carson has dropped. Cruz and Trump now combine for nearly 50 percent of the total Republican vote in Iowa, a remarkable milestone.
Cruz recently picked up the endorsement of Representative Steve King, the outspoken Iowa Republican and hardcore conservative. He's also rumored to be close to clinching the endorsement of influential evangelical leader Bob Vander Plaats.
Iowa has a tendency to elect more conservative and more religious candidates, which makes it ideal Cruz country. It's getting increasingly easy to imagine that Cruz wins the Iowa caucuses (now just 69 days away!). If Cruz continues to gain, or if Trump finally does begin to slide, he could pull out a victory. So let's say Cruz walks out of Iowa on February 1 with a win. That puts him in the elite company of such future nominees also-rans as Mike Huckabee (2008) and Rick Santorum (2012), right? While those two came in third and second for the nomination, respectively, neither was a serious threat. (Believe it or not, they are both ostensibly still candidates for 2016, too.)
In part, that's because after winning in Iowa they ran into New Hampshire, which tends to be less fond of evangelicals. Both sank in those primaries. Cruz is placing a solid third in New Hampshire polls right now, behind Marco Rubio and well behind Trump. After that comes South Carolina, where Cruz is a solid fourth, behind Trump, Carson, and Rubio. That's less promising for the Texan, but it's also only so useful to compare him to Huckabee and Santorum.
Santorum limped out of Iowa with a cash-strapped campaign. (He also got very unlucky with media coverage: Preliminary results showed him losing the Hawkeye State caucus, only to be crowned the winner later, by 34 votes.) The former Pennsylvania senator never had much funding. Santorum was running a shoe-string campaign and was buoyed by impressive legwork—he crisscrossed the state obsessively—and the fact that no one was excited about weak frontrunner Mitt Romney. Huckabee has also struggled with fundraising throughout his career.
Cruz, by contrast, is a different sort of candidate. As Andrew Romano writes in a profile today—and as Cruz's come-from-behind win in the 2012 Texas Senate primary showed—he's always playing a long game. For one thing, Cruz isn't lacking for cash. He raised the third-most of any candidate in the third quarter, and if you count the huge sums raised by several super PACs on his behalf, he trails only Jeb Bush and Hillary Clinton in total fundraising. As Bush has discovered, the fact that a super PAC has a lot of cash doesn't necessarily mean everything is copacetic; super PACs are legally barred from cooperating with candidates. Cruz aides have even criticized the Cruz-supporting super PACs for not spending more so far. Either way, the money isn't going to run out soon. (One, Keep the Promise, also just announced a big hiring spree in South Carolina.)
Cruz is also running a far more elaborate operation than Huckabee or Santorum—what Dan Pfeiffer, President Obama's former communications director, calls "the best campaign" on the Republican side. Just as Barack Obama won the 2008 primary in large part because of smart, careful planning of how to win delegates, Cruz's campaign has put together a plan that includes a strong showing the March 1 "SEC primary" and picking off delegates in little-noticed territories like Guam and American Samoa.
If that's all good reason not to dismiss Cruz as the second coming of Santorum, it also doesn't prove that he's a lock for the nomination. He still has plenty of weaknesses, like a deeply negative favorability rating. And voters' opinions pale in comparison to those of fellow elected officials. Not unlike Santorum, who ended up alienating many of his fellow senators, Cruz is deeply unpopular among Republican officials and officeholders. Endorsements from party leaders turn out to be a surprisingly effective predictor of the eventual nominee. In FiveThirtyEight's running tally of endorsement "points," Cruz trails even Rand Paul and John Kasich.
Cruz's deep unpopularity might also help Marco Rubio, who is working to consolidate party support. If Cruz continues to gain altitude, it might lead GOP leaders to rally around Rubio because they dislike Cruz—or because they fear he'd be a much weaker general-election candidate. For now, however, Cruz's rising numbers in Iowa and nationally ought to put to rest the conventional wisdom that Cruz can't possibly win.