This article is from the archive of our partner

For African Americans in North Carolina, attempting to cast a ballot is increasingly a convoluted obstacle course. Ever since the state passed the Voter Information Verification Act in 2012, which made photo ID mandatory and ended Election Day voter registration, the path to the polling booth has become trickier. Now researchers for insightus, a North Carolina-based data analysis nonprofit, have released a new report that adds to our understanding of just how tough it's become for African Americans to vote in the state. Turns out, it takes longer for them to get to the polling booth than it used to, too.
The insightus report finds, for example, that there are actually three more early-voting polling locations in the state than there were in 2012. But despite those additions, early-voting locations are now located farther away from black communities than they were before. The average white voter's distance from the nearest early-voting site increased by just a few yards in 2014, while the average distance for black voters increased by a quarter mile.
Now consider this: An estimated 16 percent of black households in North Carolina do not have access to an automobile, while only 4 percent of white households do not. Blacks who work outside the home are also three times more likely than whites to rely on public transportation. These two charts, from the report, show how such racial disparities play out on a per-county basis in North Carolina.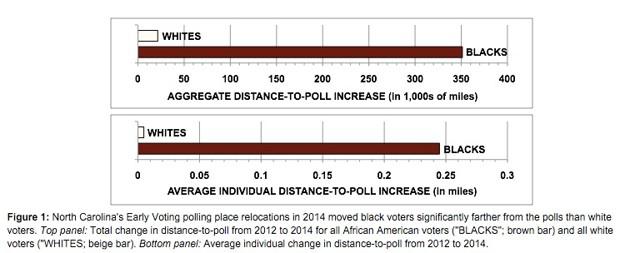 William Busa, president of insightus, calls this difference "electoral apartheid" in his organization's report. The "distance-to-poll" disparity finding suggests a poll tax placed on black voters thanks to the disproportionate burden they carry throughout the state in terms of time and money spent trying to get to the polls.