Speaker Ryan Lays Out a New Vision for the House—and It Includes a Lot More Talking With Members and McConnell
Paul Ryan wants to restore the House to regular order even as a funding deadline approaches.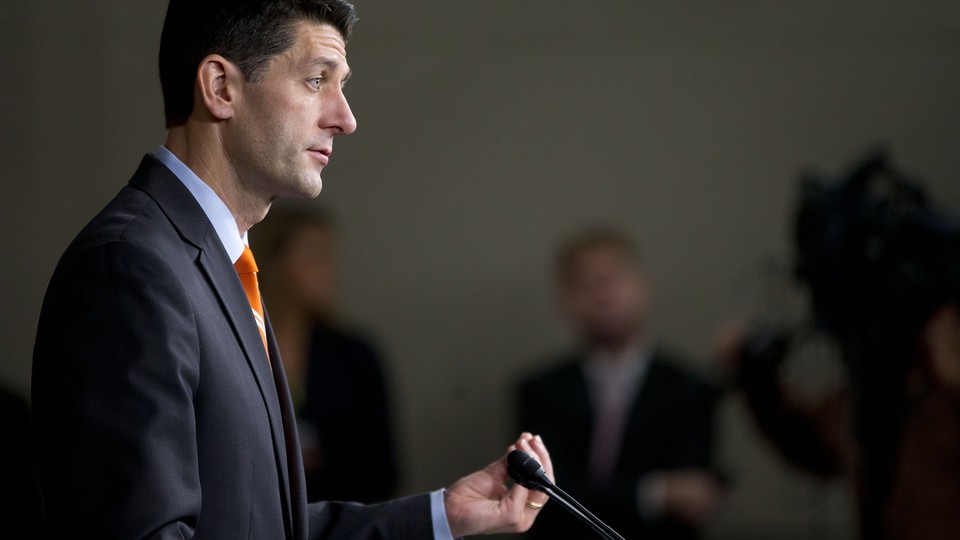 It was a job he did not want, but now House Speaker Paul Ryan says he recognizes "it is an honor" to lead the Republican conference. And he's planning to do things very differently than former Speaker John Boehner once did.
"Instead of having leadership predetermine, pre-negotiate and pre-decide how things are going to go, I wanted to invite our members to discuss how we move forward," Ryan said.
While the honeymoon period may be brief as a funding deadline approaches on Dec. 11, Ryan spoke to reporters Thursday in his first solo press conference and made it clear that he does plan to stick to his campaign promise to restore regular order to the House of Representatives. That is, at least for now.
President Obama signed legislation setting an overall government-spending total for the next two years, but Ryan still must shepherd his conference through a tumultuous process to set detailed funding priorities.
"Normally we wouldn't be talking about this yet—it's November," Ryan quipped, in reference to the old leadership's tendency to push funding battles to the deadlines.
If Ryan, the White House,  and the Senate cannot see eye to eye, the government could still shut down in mid-December. Ryan has already begun discussions with his conference about how to tackle the upcoming deadline. The House has passed six appropriations bills so far, and Ryan announced Thursday that Appropriations Chairman Harold Rogers will conduct a series of executive meetings with Republicans on how to tackle the remaining funding bills for the rest of the year.
"Every member will have a chance to review each bill and give their input on their priorities. We have never done this before, but that is how we should work and from now on, that is how we will work," Ryan said.
Ryan promised that the conference would not be voting on a bill in December that had been negotiated privately as a fail-safe.
"We are going to make this a more open process, and our members are going to have a say-so on how we move forward early in the process," Ryan said.
It's not just spending bills, either, where Ryan will be taking the temperature of the conference. A major supporter of criminal-justice reform, Ryan passed Thursday on promising he would put a bipartisan package of reform bills on the floor.
"It is an issue I think needs attending to, but we are going to have the House work its will," Ryan said.
Ryan also provided a glimpse into how he may handle relationships with his Senate counterpart, Majority Leader Mitch McConnell, and President Obama. Ryan attended a Senate policy lunch Tuesday and said he has invited McConnell to also attend a House conference meeting when the House returns from its break.
When it comes to Obama, Ryan said he has spoken to the president on the phone so far, but he reiterated that he planned to work with Obama even when they may not see eye to eye.
"I am a person who can get along with people. I like people who believe passionately in things, even if they are not the things I believe in," Ryan said.