Some Republicans Are Ready to Work on Prescription-Drug Prices
But the issue still has major opponents within the party.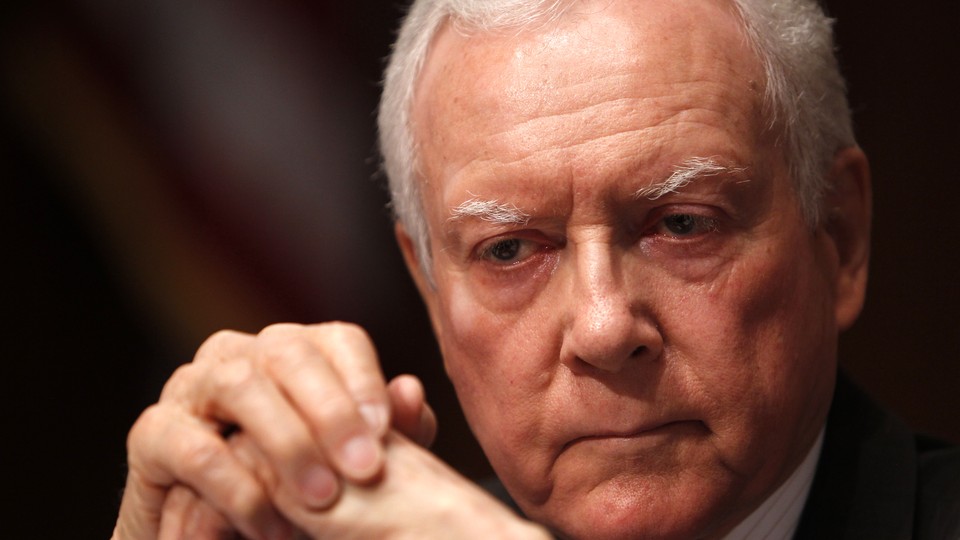 After months of polls showing voters' concerns about prescription-drug costs, members of both parties in Congress are paying attention. But the issue has the potential to split Republicans, who are typically wary of government intrusion into marketplaces.
While some GOP members are open to congressional involvement in drug prices, others aren't budging. Among the latter is Sen. Orrin Hatch, chairman of the Finance Committee, making the issue an almost certain nonstarter.
"You can moan and groan about costs all you want, but if you want life-saving therapies, and you want treatments and or cures, you have to pay the price to get there," Hatch said in an interview.
"I think Congress ought to keep their mitts off, other than to try to have some reasonable approach towards it that spurs on the industries, so that we have these treatments and or cures, and doesn't gouge people," he said. "No matter what you do, it's expensive. No matter what you do. And it isn't the drug companies' fault, normally."
Hatch has also taken issue with the Trans-Pacific Partnership despite being a staunch supporter of trade, saying the deal the administration negotiated doesn't give enough protection to pharmaceutical companies.
Prescription-drug costs have vaulted to a prominent position in the 2016 presidential campaign, with both Hillary Clinton and Bernie Sanders advocating for cost controls such as allowing drugs to be imported from abroad and allowing Medicare to negotiate drug prices. The Obama administration has also taken an interest in the issue. On Friday, the Department of Health and Human Services will host an all-day forum on the topic.
And all that interest can be at least partially attributed to a spike in voter concern. A recent poll conducted by Morning Consult found that a majority of voters in the four early primary states—in both parties—think it's "very important" for a presidential candidate to address holding down the cost of prescription drugs. The poll was sponsored by the Campaign for Sustainable Rx Pricing. A survey conducted by the Kaiser Family Foundation in April found that three-quar­ters of the pub­lic views drug af­ford­ab­il­ity as a "top pri­or­ity."
An Au­gust Kais­er poll found that large majorities of Americans support popular cost-control policies: 86 per­cent fa­vor re­quire­ments that drug com­pan­ies re­lease inform­a­tion to the pub­lic on how they set drug prices, 83 per­cent sup­port al­low­ing Medi­care to ne­go­ti­ate drug prices, 76 per­cent sup­port lim­it­ing how much com­pan­ies can charge for high-cost drugs, and 72 per­cent sup­port al­low­ing Amer­ic­ans to buy drugs im­por­ted from Canada.
These numbers, it seems, are not being lost on some congressional Republicans.
"It is a tough question, because it's probably the No. 1 thing that people are complaining to us about back home when it comes to their health care costs," said Sen. Lisa Murkowski, when asked whether Congress should act to control drug costs. "I recognize that it's expensive to bring new prescription drugs online, but you've got to figure out a way that allows these treatments to be affordable."
Multiple bipartisan congressional investigations into the matter are ongoing. Sens. Ron Wyden and Chuck Grassley launched an investigation into Sovaldi, a drug treating Hepatitis C, last year. And earlier this month, Sens. Susan Collins and Claire McCaskill, chair and ranking member of the Senate Special Committee on Aging, announced an investigation into drug pricing. "The announcement follows a series of media reports detailing dramatic drug price increases—often on older, off-patent drugs—after the acquisition or merger of pharmaceutical companies," an announcement release said.
Meanwhile, the pharmaceutical industry finds itself on the defensive. Leading up to Friday's forum, it has maintained that health care costs should be looked at across the entire system, and that drug innovation has increased both quality and length of life.
The defense is necessary. A June Kaiser poll found that 76 per­cent of the public blames phar­ma­ceut­ic­al com­pan­ies for set­ting drug prices too high. And even congressional Republicans are skeptical of drug makers.
"I would say that one of the reasons why we haven't done much is because of the incredible influence of the drug companies," said Sen. John McCain in an interview. "They have been hugely influential."
And while McCain said he doesn't have a specific remedy to the problem of drug costs, he does think it is an issue that has the potential for bipartisanship. He said he has always supported allowing drugs to be imported from Canada—aligning himself with Clinton and Sanders—and he suggested shortening patent length.
"I think there's a variety of ways to address it," he said. "But I think Americans are right. They're way too expensive."