Senate GOP Coming Around on Reconciliation Bill
Conservatives sound encouraged after hearing details of a measure to attack Obamacare and defund Planned Parenthood.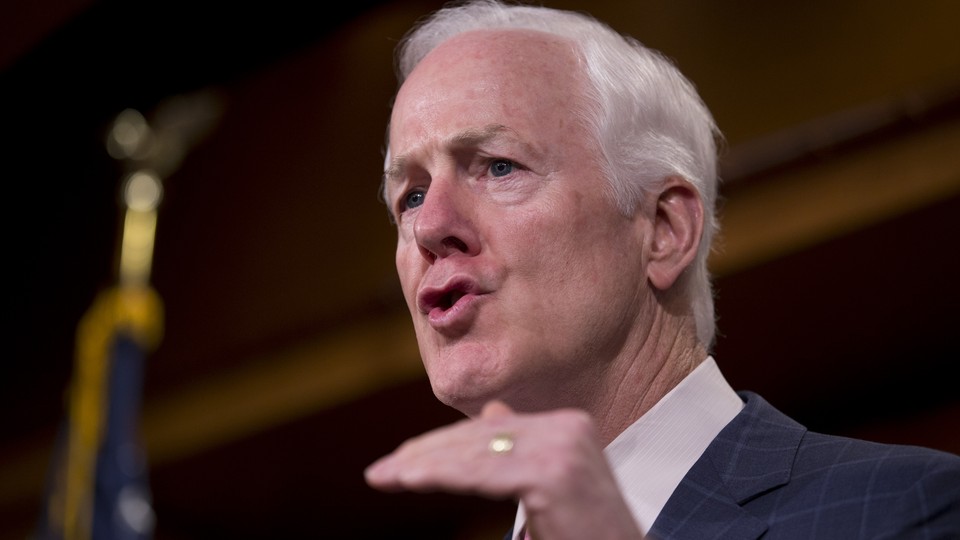 One of Republicans' top remaining priorities—passing a bill that would gut Obamacare—could soon be an item checked off the GOP's list, even though it will surely be vetoed.
On Monday night, Republican senators heard an update on their plan, which uses the budgetary process known as reconciliation to bypass Democratic opposition with a simple majority vote. While the details won't be unveiled until Tuesday, Senate Majority Whip John Cornyn said, the bill will be "bigger and better" than the House-passed version.
"It was really just an exercise in dealing with the Byrd rule here in the Senate," he said, referring to the rule governing when reconciliation can be used, "and then figuring out based on what the House did, could we do more, and we are going to do more, repeal more of Obamacare."
Only 51 votes are needed for passage under the rules of reconciliation, leaving little room for the Senate's 54 Republicans to oppose the legislation. In October, presidential hopefuls Sens. Ted Cruz and Marco Rubio—along with Sen. Mike Lee—announced that they'll vote against the bill because it wouldn't fully repeal the president's signature health law.
"The senator is very encouraged," Conn Carroll, Lee's spokesman, wrote in an email Monday, "but we are waiting to hear from the parliamentarian before we comment publicly."
What changed since late October, Carroll said, was that "the House bill didn't repeal the Medicaid expansion. The Senate substitute does."
And there has been speculation that moderates could be wary to support a plan that would also strip federal funding for Planned Parenthood, sending it to community health centers instead, despite the conservative uproar over videos purporting that the organization is selling and profiting off of fetal tissue.
But after exiting the closed-door meeting Monday night, several senators said it seemed that the bill had the support it needs to pass the upper chamber.
"It's an exercise getting 51 votes," Cornyn said, "and so there were other people that had concerns, and I understand that, but I think we've found a pretty good spot, so I'm optimistic."
"I'm going to support it," Sen. Jeff Sessions of Alabama said. "I think it does a good job. I think it effectively eviscerates Obamacare and will put us in a position to force a new health care bill that will work."
Coming into this week, it was unclear how or if the shooting at a Colorado Planned Parenthood—one that left a policeman and two others dead—would change any of the GOP's reconciliation calculations. While Sen. John Thune, the No. 3 Senate Republican, said the attack was a tragedy, and that the gunman ought to pay the consequences for his actions, it doesn't change the vote.
"I think it's not like the issue is new around here," he said. "It's a vote we've expected to have as a part of this process. The House, it's in their bill, and so my expectation is, unless something changes, that it would still be a part of what the Senate ultimately votes on—and again, it's redirecting funding."
In October, the reconciliation bill soared through the House in a 240-189 party-line vote that saw many far-right conservatives join the rest of the GOP to repeal major parts of Obamacare. The reconciliation bill has faced several hiccups before the upper chamber can vote to send the bill to the president's desk, where it will surely be vetoed.
There's another factor to add into the mix: Parts of the repeal dealing with the individual and employer mandates came under question when the legislation first went to the parliamentarian, causing leadership to rework portions of the bill.
Cornyn said that reconciliation has consisted of constant discussions with the parliamentarian, leaving the upper chamber to repeal as much of Obamacare as it can. This means that reconciliation will get rid of the "architecture of Obamacare," Thune said.
"Whether or not you get every line, every period, every comma, is another issue," the South Dakota Republican said, "but I think in terms of the underlying elements of this bill, will be repealed through the repeal process."
GOP leaders have been saying that post-Thanksgiving is reconciliation time. Because they need to make time to hammer out two more critical issues: A highway bill with an extension set to sunset Friday, and keeping the government funded after the current continuing resolution expires Dec. 11.
Sen. Lamar Alexander said the vote isn't "too complicated."
"The president's for Obamacare, we're against it," the Tennessee Republican said. "Let's vote on it, and get on to education and highways."
---
Alex Rogers contributed to this article