SCOTUS May Sidestep Big Questions in Case on Racial Bias in Jury Selection
Technical details could sideline a high-profile challenge to all-white juries.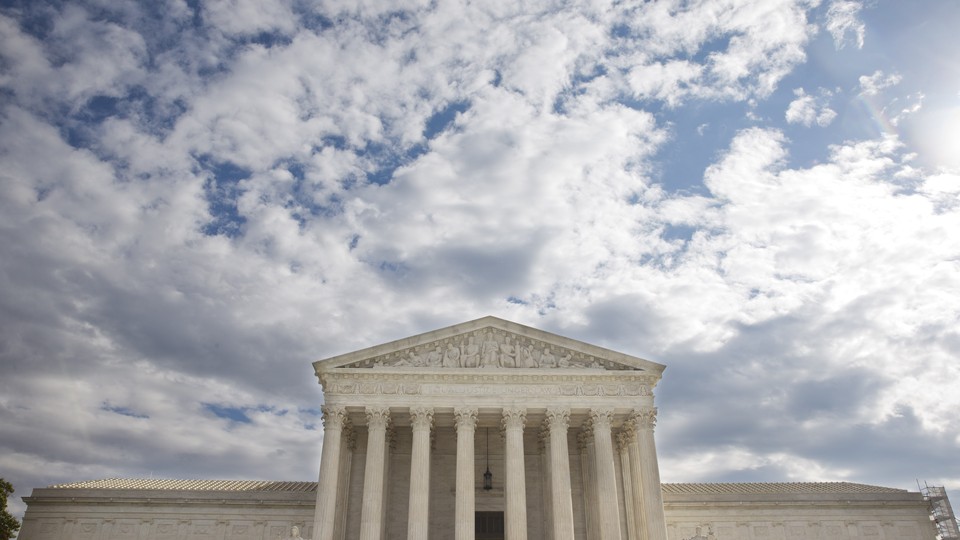 The Supreme Court on Monday considered a mountain of evidence about racial bias in jury selection—and a separate mountain of options to avoid tackling the problem head-on.
Academic studies, and even some former prosecutors, argue that racial discrimination in jury selection is still common, in every state, decades after the Supreme Court ruled that it's unconstitutional.
And on Monday, the attorney for a death-row inmate in Georgia told the Supreme Court that his client's case was a clear-cut example of discriminatory jury selection. The prosecutors in the case had highlighted the names of every black potential juror, and referred to them as "B#1," "B#2," etc.
They compiled a list of "Definite NOs" for the jury—and five of the six people on it were black. Other notes from the trial showed prosecutors comparing the black candidates to each other, in case "it comes down to having to pick one of the black jurors."
"We have an arsenal of smoking guns in this case," attorney Stephen Bright told the Court Monday.
But it's not clear what that arsenal is likely to accomplish, legally. Several of the justices clearly seemed to be approaching the case narrowly, and they might not make a substantive decision at all.
About half of Monday's argument time was a muddle of detailed technical questions the Court added at the last minute, which could give the justices a way to avoid deciding the case on its merits. ("I'm so confused, I can't even …" Justice Sonia Sotomayor said at one point as she tried to hash out a procedural question with one of the lawyers in the case.)
If the Court doesn't find intentional discrimination in this case, given the defense's evidence, then the ban on such discrimination would become "meaningless," a group of former prosecutors said in an amicus brief.
But even a ruling in the defendant's favor could be relatively specific, in part because the evidence of discrimination is so thorough. The justices did not seem to be reaching for a broader principle Monday that would set new parameters for how attorneys exercise their ability to reject certain potential jurors.
If the Court reaches the merits, rather than sending the case back to a lower court for procedural reasons, the Georgia inmate, Timothy Foster, appeared to have the upper hand.
Foster was convicted in 1987 of breaking into an elderly woman's home and killing her. He confessed to the crime, and was sentenced to death. His trial came just a few months after the Supreme Court ruled, in a case called Batson v. Kentucky, that prosecutors cannot eliminate potential jurors because of their race.
The prosecutors' notes from Foster's trial only recently became available, and Foster's attorneys said the notes—the grouping of black jurors, the "definite NOs" list, and other notations—clearly show that prosecutors were looking for an all-white jury.
"Isn't this as clear a Batson violation as the Court is likely to see?" Sotomayor asked the prosecutors' attorney, Beth Burton.
The prosecutors gave a laundry list of other reasons for why they dismissed each black juror in Foster's case, but his attorneys questioned those rationales, and several justices also seemed skeptical on Monday.
Prosecutors said, for example, that they rejected one potential juror because her cousin had been arrested—but it's not clear they actually knew that had happened at the time. One 30-year-old black juror was rejected for being too close in age to the 18-year-old defendant—but eight white jurors closer to age 18 were accepted.
Burton said prosecutors kept different notes about the black potential jurors because they knew the defense would accuse them of racial bias, and they were preparing a defense.
But the Court's liberal justices were not convinced. Justice Stephen Breyer compared the prosecutors' laundry list of objections to a grandchild who says he won't do his homework because he doesn't feel well, and also he's hungry, and also he promised a friend they could play that night—doesn't the laundry list make the underlying goal clearer?
"It's hard to believe that's his real reason," Breyer said.