Scientists Warn Congressional Probe Will Chill Research
Rep. Lamar Smith says he's conducting oversight. Scientists say he could stop researchers in their tracks.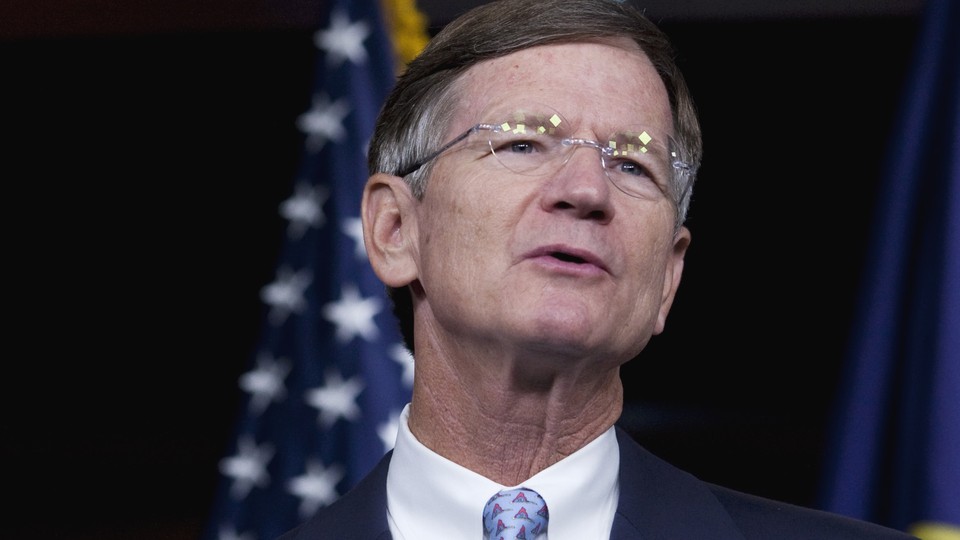 What's the line between investigation and intimidation? When does oversight become an overreach?
That's the question the House Science, Space, and Technology Committee is grappling with as Chairman Lamar Smith intensifies a probe into a federal study on climate change. Smith says that he's just doing the committee's due diligence, using his congressional powers to get answers to "serious questions" about how a government-backed study was conducted.
But critics, including his ranking member, say that probe is a McCarthy-esque witch hunt targeted at the science of climate change. Left unchecked, they say, it could have drastic ramifications.
"What we think is at stake here is the integrity of the scientific process and the ability of scientists to conduct their work free of reprisal," said Christine McEntee, executive director of the American Geophysical Union. "The minute you start interfering in the debate before scientists get to their conclusions, you risk a lot of fear and intimidation."
At issue is a study from the National Oceanic and Atmospheric Administration published in the journal Science this summer that found that there was no 15-year "pause" in global warming—a theory that climate skeptics have often embraced.
Smith, a Texas Republican, has charged that the study relied on skewed data, or that researchers monkeyed with the results, in order to build up support for the White House climate agenda. "It was inconvenient for this administration that climate data has clearly showed no warming for the past two decades," he said in a statement last month, adding that citizens "have every right to be suspicious when NOAA alters data to get the politically correct results they want."
In a letter last week to Commerce Secretary Penny Pritzker, Smith piled on with an allegation that a whistleblower told the committee the study was rushed.
Smith has called NOAA staff and scientists up to the Hill for closed-door interviews, and more controversially, subpoenaed internal communications among the scientists involved in the research.
In an interview with The Washington Post Monday, a spokeswoman for Science rebutted Smith's claims. Ginger Pinholster of the American Association for the Advancement of Science, which publishes the journal, said the paper "went through as rigorous a review as it could have received," one that was even longer than usual.
NOAA's methodology and data is also publicly available, and the agency has said that it is complying with the investigation. What's more, the global-warming "pause" has also been rebutted in other studies. In a statement last week, NOAA chief Kathryn Sullivan said that she was "not engaged in or associated with any 'politically correct agenda,'" and that nobody at NOAA would manipulate science.
But the flare-up is bigger than just one study.
Keith Seitter, executive director of the American Meteorological Society, said in a letter to Smith that seeking internal communications "places a burden on NOAA scientists, imposes a chilling effect on future communication among scientists and potentially disrupts NOAA's critical efforts to protect life and property."
He goes on to quote from his group's "Statement on Freedom of Scientific Expression":
"The ability of scientists to present their findings to the scientific community, policy makers, the media, and the public without censorship, intimidation, or political interference is imperative."
"The signal is that if you write something that's controversial and a political figure is concerned about it, maybe you're next on the list for a subpoena," said Andrew Rosenberg, director of the center for science and democracy at the Union of Concerned Scientists.
While the scientific community is essentially settled on the reality and human-related causes of climate change (97 percent of scientific studies have affirmed it), the debate on the Hill has often careened into a fact-free zone in which members pick and choose the studies and results that back their side. Rosenberg said that Smith's probe takes this a step further by going after the very roots of the scientific process.
Any study, he said, goes through a strict peer-review process, and the data and methodology will be scrutinized. A study that doesn't pass muster, he said, wouldn't make it into print. And while anyone should be expected to explain the scientific backing of any study, he said that doesn't include a researcher's internal discussions.
"What you don't want is when people are exchanging ideas to be thinking about how this would play out in a legal context," he said. "You're saying Congress knows better and Congress can intercede and turn this process of inquiry in a political and legal process."
A committee aide said that the panel was not investigating the peer-review process, but rather NOAA's internal review process before the study was submitted. In a statement, Smith said his concern was "the right of the American people to the facts and unbiased information."
Since taking the reins of the Science Committee in 2013, Smith has increasingly gone after the scientific process. One of his centerpiece agenda items is a bill to address so-called "secret science," which critics have said is just a backdoor way to undo climate-change policy. At the beginning of this Congress, Smith was handed new subpoena powers, which he's used to go after a slew of federal officials working on climate and environment policy.
That already put Smith in the crosshairs of science groups, but the NOAA dispute has thrust the issue into the spotlight. Rep. Eddie Bernice Johnson, the ranking member of the committee, has fired off a series of irate letters, accusing Smith of engaging in an "ideological crusade" and a "witch hunt" against science that he doesn't believe in.
But Smith says Johnson is standing in the way of the committee's work. In a letter Monday, Smith wrote that Johnson has shown she's "not interested in obtaining answers to those important questions" and "willing to let them go unanswered." Smith accused her of acting "as a defense counsel for the administration" who says the committee should "seek fewer documents and ask fewer questions."
As to whether his probe is out of line, Smith wrote: "The request for documents and communications between federal employees serves the purpose of informing the Committee about the reasoning behind why a certain policy decision was made. As it is true that science informs policy, examining the data underlying policy decisions can be very valuable to informing the Committee's actions with respect to legislation that may be necessary."
McEntee, whose group has challenged the investigation publicly, said that while it's true that Congress should study—and even debate—science to inform policy, that can be done with the data and methodology that's already made available. Going any further, she said, puts the whole process into question.
"If we start politicizing science, then the public and policymakers won't have peer-reviewed work and the best information on which to base their policy deliberations," she said. "This article is about climate change, but the next one could be about space weather or the causes of earthquakes or whether fracking hurts water quality. There's not a topic where a report isn't done that someone doesn't agree with. … It's about the integrity of the process."