Sanders Readies "Aggressive" New Climate Proposals
Presidential hopeful claims grassroots support among environmentalists, weighs trip to Paris for U.N. climate talks.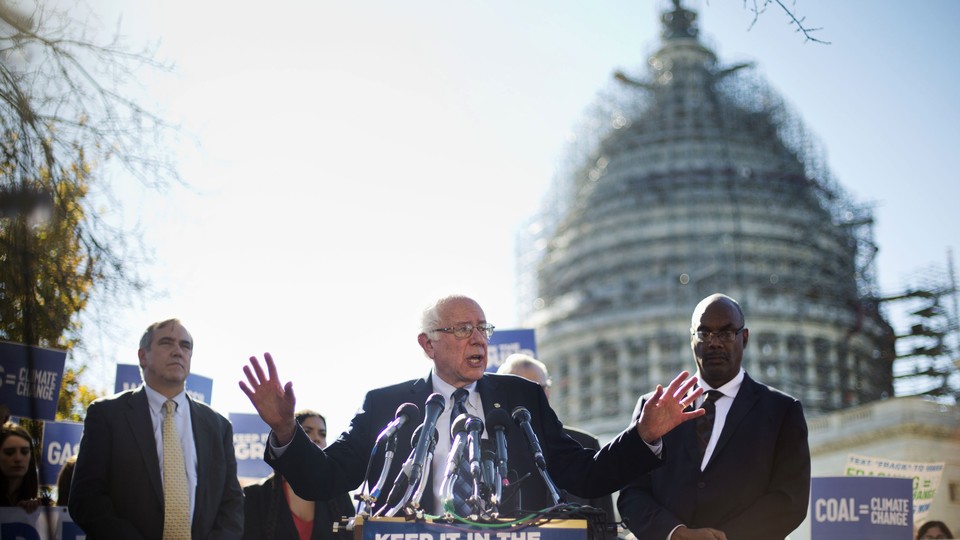 Bernie Sanders says he'll have much more to say on climate change.
The Vermont senator, who is taking on Democratic White House front-runner Hillary Clinton from the left, tells National Journal that he plans to roll out a specific platform.
Sanders says the plan will go beyond his expansive legislative proposals to date, which include a tax on carbon emissions floated with Sen. Barbara Boxer and a recent bill to prevent new oil, gas, and coal development on federal lands and waters.
"We need to be extraordinarily bold in transforming our energy system away from fossil fuel," Sanders said in the Capitol. "We are going to be very aggressive, and we will come out with some very specific ideas."
Asked what's up his sleeve beyond the proposals and policy views he has already offered to date (including support for the fossil-fuel-divestment movement), Sanders replied: "I think you are going to see a greater boldness, to be honest with you.
"I am very proud of the legislation that I introduced with Senator Boxer, but I think what we have seen in the last two or three years is an … indication that the problem is perhaps a lot worse than we had anticipated, which means to me that we have to be even bolder in addressing it," he said.
Sanders spoke to National Journal a day after the League of Conservation Voters Action Fund, which has an expansive political operation, endorsed Clinton, even though Sanders has been more aggressive than the former secretary of State on climate change and green energy.
"With her proven history of leadership, strong environmental record, and a campaign committed to building a clean energy future, Hillary Clinton is without a doubt the most effective leader to stand up to Big Polluters and push forward an aggressive plan to tackle climate change and get it done," said Gene Karpinski, the group's president, in announcing the endorsement.
The move drew criticism from Sanders campaign, and some activists are signaling their displeasure with critical comments and ratings on the League of Conservation Voters' Facebook page.
Sanders wove the group's backing of his rival into a charge that Clinton, who also has racked up endorsements from members of Congress, is an establishment candidate.
"I have a lot of respect for the League of Conservation Voters and their members, but the truth is that I am not the candidate of the establishment, and you will see that here in Congress, Hillary Clinton will get a heck of a lot more congressional support," he said.
"We are taking on the establishment, and we are not going to have that type of support. But I do think you will find at the grassroots level, among the environmental community, we have a whole lot of support," Sanders said.
He pointed to his endorsements from the environmental group Friends of the Earth and high-profile activist Bill McKibben, who has played leading roles in battles over the Keystone XL pipeline and pushing for cities, colleges, and churches to dump investments in fossil-fuel companies.
Sanders also said he may attend United Nations climate talks that begin late this month in Paris, where negotiators for nations worldwide are hoping to craft a final international accord to limit global warming.
"I may," he said. "I am not sure yet, depending on my schedule."