Ryan's Ascent, Budget Deal Force a Message Change for Democrats
The minority is now focused on warning that a functional GOP will be worse for the country than a dysfunctional one.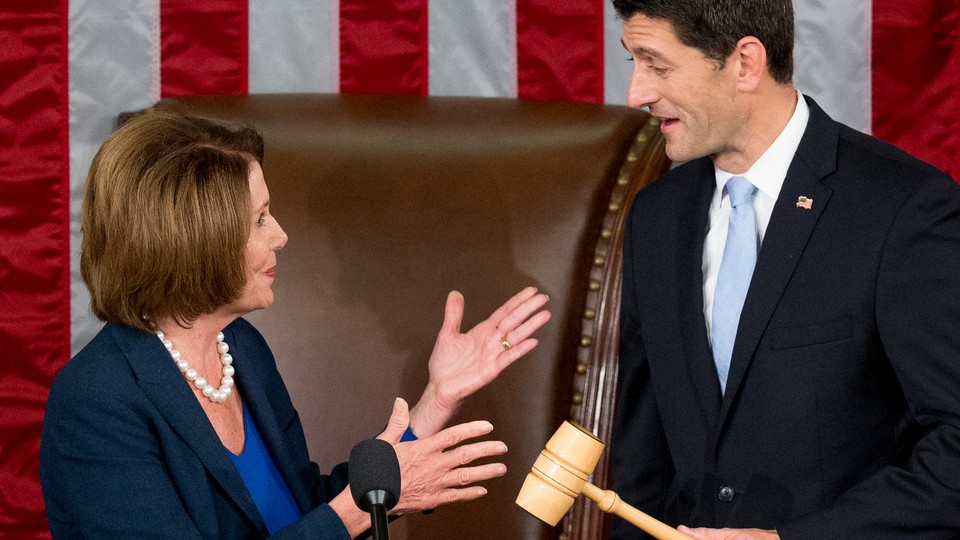 For a long time now, House Democrats' messaging strategy has been a simple one: Point out GOP dysfunction and wonder aloud how a party beset by internal battles could be trusted to run the country.
But with the ascension of Speaker Paul Ryan and passage of a budget deal that raised spending caps and the federal debt ceiling, his opponents are preparing a shift in tone—even if they're not conceding that the days of Republican infighting are over.
Now, Democrats are casting Ryan's rise to the top as a sign that the ultraconservative wing of the GOP has taken over. Instead of mocking Republicans' failure to do things—fund the government, elect a leader, etc.—they're issuing dire warnings about what might happen if they actually enact their own policies.
"It's all going to boil down to a contrast, and the contrast is House Democrats fighting to lift wages and strengthen paychecks and make education affordable, while House Republicans are fighting for bigger tax cuts for the rich and to protect special interests," said Rep. Steve Israel, who runs House Democrats' messaging strategy and helmed the Democratic Congressional Campaign Committee the previous two cycles.
Democrats aren't yet crediting Republicans as a unified bunch, but Ryan's 236-vote backing in the speaker election—along with some early signals of good faith from the conservatives who frequently clashed with former Speaker John Boehner—have at least quelled some of the frantic party soul-searching of a few weeks ago.
Meanwhile, Ryan faces fewer stumbling blocks in the early going, thanks in part to some last-minute "barn cleaning" by his predecessor. The debt limit has been raised, the Highway Trust Fund extended, the Export-Import Bank reauthorized, and budget parameters passed. Democrats are already warning about the potential of another government shutdown with funding scheduled to expire Dec. 11, but assuming Ryan clears that hurdle, he will have some breathing room—at least from the kind of problems that can lead the evening news.
House Minority Leader Nancy Pelosi had taken to calling that series of deadlines a "calendar of chaos," and Republicans' struggles to line up a replacement to Boehner fueled Democrats' message that the GOP couldn't be trusted with control of government.
But while Republicans enjoy a reprieve from the turmoil, Democrats say avoiding GOP infighting will only be to Ryan's detriment. Any steps he takes to appease conservative malcontents will only alienate middle-class families, they argue. "I would not assume that House Republicans will now be a functional group under Paul Ryan," said Rep. Ben Ray Lujan, who succeeded Israel as the chairman of the DCCC. "The House Freedom Caucus is going to continue to demand and extract from their speaker, namely Paul Ryan."
Israel also mentioned the Freedom Caucus, a group of about 40 members that helped force Boehner's ouster. "[Ryan]'s going to consistently be put between a rock and 40 hard places," he said. "The Freedom Caucus is not going to give him the flexibility that he needs. Boehner had a honeymoon period too, but their craziness is their gravity."
For now, their plans to exploit the GOP's rightward pull start with economic policy, the "dinner table" issues that Democrats have pledged to focus on in their efforts to win middle-class voters. Next week, the DCCC will run social-media ads in at least 15 districts targeting the GOP budget, which Democrats say "guts" education. Pell Grants, Head Start, and early-childhood funding will be the areas of focus, according to a DCCC aide.
Of course, attacking the budgets of a Ryan-led GOP is nothing new for Democrats. Since his first days as the Republican numbers whiz, opponents have made his budget plans synonymous with slashing government programs that people depend on. During his 2012 bid for vice president, Democrats portrayed him as insensitive to the plight of working families. During their debate, Vice President Joe Biden played up the contrast on economic issues. "Look, folks, use your common sense: Who do you trust on this?" he asked.
"House Republicans have been forced to take positions and will continue to take positions that alienate them with key voting blocs," Lujan said, adding that Ryan's economic priorities "take an axe to programs that matter to working families."
Republicans don't buy the idea that economic issues will be an advantage for Democrats. "Speaker Ryan has said House Republicans will be the proposition party that puts forward solutions to the challenges facing our country," said Ryan spokesman AshLee Strong. "Republicans will offer the country a bold agenda and alternative that leads to higher wages, more jobs, and greater prosperity. We're ready to roll up our sleeves to improve Americans' lives and we hope Democrats will join us."
And they're not convinced the policy focus will help Democrats' electoral chances either. "They've tried for the past three cycles now to win by using Paul Ryan and his budgets and it's continued to fail miserably," said Katie Martin, the communications director at the National Republican Congressional Committee. "Those attacks have left them with the smallest caucus since 1928."
For all the focus on budget cuts, Democrats aren't done hitting the GOP for inaction either. Ryan's vow not to take up immigration during Obama's presidency, Lujan said, will hurt at least five Republicans in swing districts who have broken with their party to support reform efforts: Reps. Robert Dold, Carlos Curbelo, David Valadao, Jeff Denham, and Mike Coffman. "Paul Ryan's installation basically cuts them off at the knees and means that they cannot fulfill a promise they made to their constituents," Lujan said.
House Democrats have taken swings at the GOP nationally too, with the Congressional Hispanic Caucus calling on Saturday Night Live to disinvite guest host Donald Trump. "It's an attempt to comment on how divisive they are," Israel said. "Every presidential [election] plays a major role in House and Senate prospects."
Amid the talk of presidential policy and conservative policy, Democrats are fully prepared to pivot back to their message that Republicans are plain old dysfunctional. "I suspect that the Republicans will continue a civil war and spending time fighting amongst themselves instead of fighting for hardworking Americans," Israel said. "[Ryan] knows that this honeymoon is going to be very brief."