Rubio Thrives Again in Face of Debate Attacks
Tuesday night's debate highlighted GOP divisions on issues ranging from defense spending to immigration reform.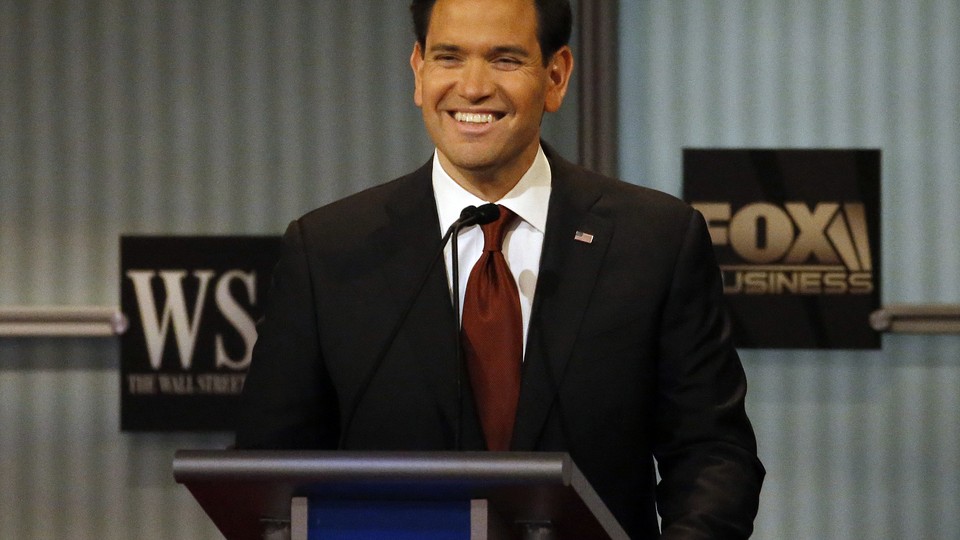 MILWAUKEE—For the second debate in a row, a rival brought the fight to Marco Rubio. And for the second debate in a row, the senator from Florida was the candidate who came out on top.
During the fourth Republican presidential primary debate here Tuesday night, Sen. Rand Paul of Kentucky went out of his way to criticize an ascendant Rubio on foreign policy, much like former Florida Gov. Jeb Bush did with Rubio's attendance record in the Senate two weeks ago in Boulder. But Rubio again appeared unfazed, effectively pushing back on an issue on which he is much more aligned with the GOP base than Paul.
In one of the more memorable moments of a relatively dry debate, hosted by the Fox Business Network and The Wall Street Journal, Paul launched a broadside against Rubio's tax and military-spending plan, calling it "not very conservative." Rubio was quick to retort.
"I know that Rand is a committed isolationist. I'm not," Rubio responded. "I believe the world is a stronger and a better place when the United States is the strongest military power in the world," he continued, drawing huge applause from the audience.
Paul forged on, asking how Rubio could possibly be "a conservative and be liberal on military spending." But even though he got in the last word on their exchange, the crowd's reaction highlighted how Paul is out of step with most Republican primary voters on the role the United States should play in foreign affairs, and how as Rubio rises in the polls and the minds of establishment Republicans, his competitors have yet to prove they can land a clean hit on him this primary season.
The exchange between the two senators was by no means a total loss for Paul. Showing restraint on defense spending allowed the Kentuckian to reassert his libertarian bona fides, particularly at a time when Sen. Ted Cruz of Texas is making a play for Ron Paul's 2012 supporters. But Rubio's hawkish views are more acceptable to a much larger slice of the Republican electorate, and playing that up can only help as he tries to stitch together a broader coalition to win the party's presidential nomination.
The division between Paul and Rubio, as well as most of the other candidates on stage, was one of several that were highlighted in a much starker fashion compared to previous debates. After Paul and Rubio's back-and-forth, Cruz tried to offer "a middle ground that brings both together." But even so, he sided more with Rubio on defense spending.
"We have to defend this nation, Cruz said. "You think defending this nation is expensive—try not defending it."
Earlier in the night, the GOP field's dividing lines on immigration between the establishment and the Right were also exposed, the latest entry in a debate that's likely to continue to play over the course of the primaries.
After Donald Trump, who was much more lively Tuesday than he's been in recent debates, defended his plan for mass deportation of undocumented immigrants and construction of a wall along the Mexican border, Ohio Gov. John Kasich offered a more compassionate response.
"If people think that we are going to ship 11 million people who are law-abiding, who are in this country, and somehow pick them up at their house and ship them out to Mexico—think about the families. Think about the children," Kasich said.
Trump and Kasich proceeded to exchange several barbs—"I have built a company worth billions; I don't have to listen to this man," the real estate mogul said at one point—before Trump invited Bush to join in. "You should let Jeb speak," he said.
"What a generous man you are," Bush replied, before offering an even more polished critique of Trump's immigration plan. While immigration has been a fraught issue for Bush among many core GOP primary voters, he received a positive response Tuesday as he argued that it's "just not possible" to send back as many immigrants as Trump suggested.
"It's not embracing American values. And it would tear communities apart. And it would send a signal that we're not the kind of country that we know America is," Bush said to resounding applause. It was one of the stronger moments of the night for Bush, who was feeling pressure from his supporters and donors to log a better performance after a series of underwhelming debates.
While he opted not to criticize Rubio this time around, Bush scored some points by attacking Trump's views on foreign policy.
"Donald is wrong on this. He is absolutely wrong on this," Bush said. "We are not going to be the world's policemen, but we sure as hell better be the world's leader."
Back on immigration, Cruz tacked in the other direction from Bush. Without criticizing any specific candidate, Cruz warned that the GOP was becoming too similar to the Democrats on the issue, and said he and others who share his views are "not anti-immigrant."
"The Democrats are laughing because if Republicans join Democrats as the party of amnesty, we will lose," Cruz said, a line that also resonated with some members of the audience.
But Rubio, who has taken heat for his past support for a pathway to citizenship for illegal immigrants, was able to sidestep the contentious issue during this discussion, framing his answer in more general economic terms. As he continues to rise in the field, Rubio won't be able to avoid the issue for much longer. Those who choose to attack him on it hope to have better luck than Bush and Paul.