Reviving Detroit by Disrupting It
Millennials who don't remember "Old Detroit" build anew.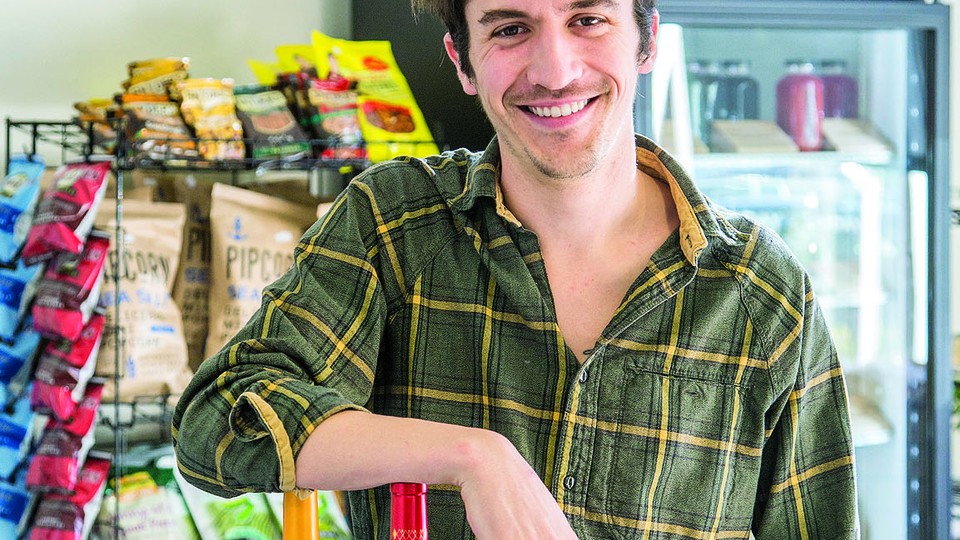 DETROIT—David Kirby was waiting tables in 2013 at Craft Work, a trendy restaurant in Detroit's West Village neighborhood, when he spotted Mayor Mike Duggan across the room and announced to his colleagues: "I'm taking the mayor's table. He's mine."
A few years earlier, the West Village would have been the last place you'd expect to find an ambitious young waiter cornering a big-city mayor. Craft Work is located inside 4,000 square feet of craggy brick building that housed a used-clothing shop until 2012. The gritty east-side neighborhood was filled with vacant lots and storefronts.
By 2013, the West Village was trending hip—a magnet for millennials like Kirby. Grabbing a handful of menus, the 26-year-old raced to Duggan's table and said, "Mr. Mayor, I'm your waiter tonight, but I won't be a waiter forever. I'm going to open a local-foods market, and I need you to promise to come visit my store."
Within two months, Kirby had opened the Parker Street Market, a bodega-style organic grocery two blocks from Craft Work. Tips he earned waiting tables at night were spent the next day on Lowe's shelving units, which Kirby stocked with an inventory bought on consignment. The shelves were so sparse he bought flowers to fill empty spaces.
Kirby immediately turned a profit, a modest one, slightly expanded the market, and quit the restaurant job after realizing he could support his wife and month-old baby by selling food rather than serving it. Duggan, a Democrat, has visited Parker Street Market several times, once with Republican Gov. Rick Snyder.
"I kept my word," Duggan said.
It was the mayor who first told me about Kirby. I bumped into Duggan recently at the second annual "Detroit Homecoming," a joint effort by the political and business communities to enlist "expats" like me into the city's post-bankruptcy recovery. I asked him how the city can keep grinding upward. How does Detroit write a comeback narrative that's real and durable, and not be just another buzzy-hyped brand that goes to hell?
Duggan said the key is to attract and retain young adults: millennials, a uniquely equipped generation of social entrepreneurs who don't trust government. You do that by getting out of their way, he said. Let each young transplant build a life in Detroit while building a better Detroit. "Look," he said, "I've obviously got to make sure they don't spray graffiti on the walls and there's no squatting in homes," Duggan chuckled. "But other than that, have at it. Let them innovate. Let them create. Let them do good things and make a profit."
That's when Duggan told me about Kirby. "The kid walks up to me and says he's going to own the largest chain of local-foods stores in the state of Michigan!" For Duggan, the ex-waiter is a model for a new Detroit, a city slowly rising from the ashes with an infusion of young, civic-minded  strivers. Innovators. Disrupters. Dreamers. Risk-takers. Consensus-builders. Millennials like Kirby (who moved to Detroit in 2013 from hipsteresque Brooklyn) have no patience for institutions that still play by 20th-century rules.
The day after talking to Duggan, I drove 20 minutes from downtown to Kirby's market. The shelves were stuffed with organic foods—local and national brands. The counter was built from a wooden crate, which slid across the worn wood floorboards when I leaned against it.
"Don't worry about that," Kirby said. "Nothing fancy here." He welcomed customers by name as they walked in, and they came in a constant stream. Basic groceries, snacks, fresh juices, beer, and wine in a space the size of a traditional Detroit "party store," though Kirby's prices are higher and the products far better than anything sold via that old business model.
Two years ago, Kirby was taking a walk with his wife when he noticed a "for rent" sign in an abandoned storefront on Parker and Kercheval streets. "The rent was exactly what I had in my savings account: $500," he told me.
The landlord agreed not to collect rent until the store opened.
Kirby found a wholesaler willing to give him inventory that he would pay for out of his first sales.
One of the first things Kirby did was remove the metal bars that had been on the storefront's windows, a long-ago concession to the neighborhood's crime problem. I asked why he took them off.
"Why not?" he shrugged. "I don't have any connection to Old Detroit, the don't-come-down-here-it's-too-dangerous Detroit."
I told him Old Detroit is my Detroit. The son of a riot cop, I was born and raised not far from Kirby's market. When I left the city in 1985, after graduating from the University of Detroit, there were already bars on the windows of West Village.
He nodded and smiled. "It took 20 years get one business in this neighborhood and less than a year to get 20 more." Wise man, this kid. He was reminding me that change comes slowly, then all at once.
After quitting the restaurant, Kirby quickly expanded his inventory by carrying the goods produced by young Detroiters like Lisa Ludwinski, whose pies had such a following that people lined up around the corner during Kirby's first Christmas season in 2013. "Our barrier to entry is low," he said. "Just come in with your product, and I'll take it."
Last year, Ludwinski won a contest for young entrepreneurs and used the $50,000 prize to open a bakery, Sister Pie, across the street from the Parker Street Market. When I visited, the bakery was packed with customers, including a group of women drawn in from the suburbs for the $5 special: a cup of coffee and slice of pie served on elegant china.
Success breeds success. Eight empty storefronts near the market and bakery are about to be filled by local startups.
Most of Kirby's customers are longtime residents of the West Village and nearby Indian Village, economically and racially diverse Detroiters who remember when the corner of Kercheval and Parker housed a series of failed businesses—a hotdog stand (three months), a used-appliance store (six months)—and who embraced his lofty ambitions.
He attributes his success to "a perfect storm of entrepreneurship: Food business owner looking for shelf space and a small market with lots of it." He also credits a business and political community that is working together—for once. (Duggan and Snyder refer to each other in their stump speeches, respectively, as "my partner.")
Kirby is being modest. He is a success because he is fearlessly creative and consultative, a purpose-driven social hacker who thinks anything is possible if it's important enough to change. He is a product of his times—part of a generation shaped by economic tumult, technological surge, and war. He brings success to Detroit by disrupting it.