Republicans May Face Three-Way Fight for Nomination
As its coalition evolves, the GOP presidential nomination fight could fracture between more candidates than usual.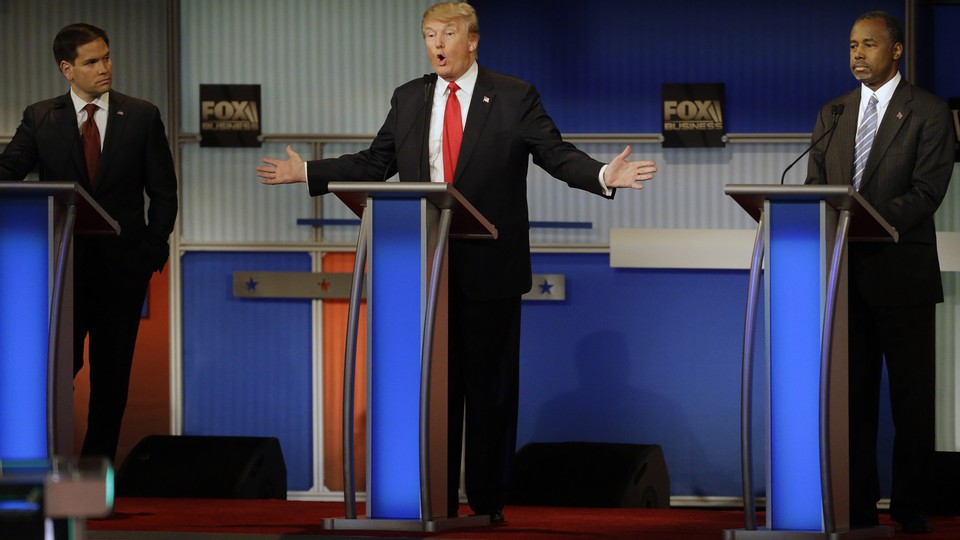 In a measure of the crosswinds buffeting the party, more Republican leaders are bracing for a uniquely fragmented nominating contest that divides the GOP among three viable candidates well into 2016.
Previous GOP primary races have usually consolidated quickly into a two-person choice. In almost every nomination fight since the modern GOP presidential primary era began in 1976, only two candidates generated enough support to carry more than just two states. The sole exceptions came in 1988 and 2008. And even then, the "third man" in the race (televangelist Pat Robertson in 1988 and Mitt Romney in 2008) fizzled quite short of victory. Since 1976, the GOP has never picked a nominee who didn't win either Iowa or New Hampshire, the first two contests.
But many Republican strategists now see a pathway for three candidates to advance deep into the process, each drawing from distinct pools of voters. "Historically we have had two lanes: a center-right lane and an ideologically right lane," said Tom Rath, a longtime New Hampshire-based GOP strategist.  "Now, we seem to have a third lane: the angry, nontraditional lane."
The prospect of a three-way Republican race is rising partly because the party's rules require the states holding early primaries to distribute delegates proportionately, making it tougher for anyone to establish a decisive initial lead. But the odds are growing mostly because the party's biggest groups of voters are diverging in ways that crystallize the GOP's shifting demographic and ideological balance—and the tensions straining its coalition.
The candidates filling the "ideologically right" lane, like Mike Huckabee in 2008 and Rick Santorum in 2012, usually have drawn heavily from evangelical Christians. Evangelical Christians represented about half the total Republican primary voters in both 2008 and 2012, and cast a clear majority of votes in Southern states such as Alabama, Georgia, and Texas, as well as in Iowa, whose kickoff caucus usually anoints the evangelical favorite. Ben Carson established an early lead with these voters, but his recent struggles have created an opening for Ted Cruz.
In a Quinnipiac University Iowa survey this week, Cruz narrowly passed Carson among evangelicals there. Most GOP strategists expect that trajectory to continue and Cruz to emerge as the evangelical favorite in Iowa, the South, and beyond.
The outsider, or nontraditional, lane relies heavily (though not exclusively) on the party's growing bloc of working-class white voters. Particularly as Carson stumbles, Donald Trump is dominating this competition. In this week's national ABC News/Washington Post poll, the blustery billionaire drew a stunning 41 percent of all Republicans who do not hold at least a four-year college degree.
Trump is competitive with evangelical Christians, but as a thrice-married, formerly pro-choice big-city business mogul, his core strength may be those noncollege Republicans who are not evangelicals. Quinnipiac found him clearly leading among those voters in Iowa, with Cruz second. That strength positions Trump to compete well in Rust Belt battlegrounds like Michigan, Wisconsin, and Illinois—high in blue-collar whites but low in evangelical Christians.
Like many GOP analysts, Karl Rove, formerly George W. Bush's chief political strategist, predicts that "no one will dislodge" Trump from his blue-collar base. "The question," Rove said in an interview, "is … how many of them will turn out." The other risk Trump faces is that the increasingly overt xenophobic and racially-infused messaging he is using to consolidate his blue-collar support already appears to be alienating many in the third big group of GOP voters: the party's mostly college-educated, less religiously-devout, center-right bloc. In the national ABC/Post poll, Trump drew only 23 percent of college-educated Republicans. And while both college-educated and noncollege Republicans in Quinnipiac's Iowa poll rated him as a strong leader, far fewer of those with degrees said he shared their values or viewed him favorably overall.
The managerial wing's favorite has usually prevailed in GOP nomination fights—think John McCain in 2008 or Romney in 2012. "The candidate who consolidates the somewhat conservative voters has traditionally won the nomination and will stand a better chance in the general election," Rove says.
But Trump in particular has benefited because managerial voters remain divided. More secular and affluent than Iowa, New Hampshire usually christens the managerial champion; but center-right voters there are closely divided among Jeb Bush, John Kasich, Chris Christie, Carly Fiorina, and Marco Rubio (the candidate most now expect to ultimately emerge from that group). Evangelical favorites like Cruz and Carson usually struggle in New Hampshire, but that centrist splintering could allow Trump to win there by dividing the voters most resistant to him. "The middle must consolidate for there to be a center-right candidate" emerging from New Hampshire, says Rath, who's backing Kasich.
If Cruz wins Iowa and Trump beats a splintered center in New Hampshire, the GOP leadership will approach a collective nervous breakdown. The pressure would enormously intensify on "managerial" candidates to quit and consolidate support behind one alternative to Cruz and Trump. But if New Hampshire doesn't pick a clear favorite among the center-right contenders, that consolidation may not happen quickly—and the chances will improve for Cruz or Trump to seize the nomination, although much of the party leadership still considers them unable to win the general election next fall.