Republican Matt Bevin Wins Kentucky Governor's Race
A year after challenging Senate Majority Leader Mitch McConnell in a primary, the conservative businessman takes the top spot in state politics.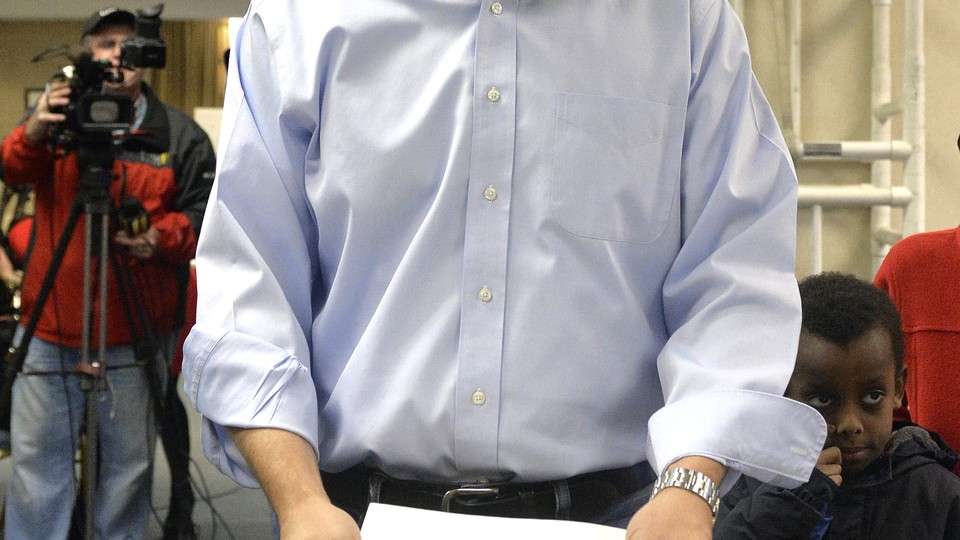 Tea-party-backed businessman Matt Bevin completed a stunning political comeback Tuesday, winning the Kentucky governor's race after entering the campaign at the very last moment earlier this year.
Bevin led Democrat Jack Conway, Kentucky's two-term attorney general, 52 percent to 44 percent when the Associated Press called the race just after 8 p.m. Conway never trailed in a public poll this summer or fall, or during the run-up to Election Day, and Bevin even trailed in his campaign's own internal polling. But the Republican kept the race close and Kentucky's increasingly conservative lean swept him home.
Bevin's victory upends a decades-long trend in Kentucky in which Democrats have seen success at the state level despite struggling in federal races. Bevin leaned on social issues, including Rowan County Clerk Kim Davis's refusal to issue same-sex marriage licenses this summer, to energize conservative voters. Bevin also criticized Conway for not defending the state's same-sex marriage ban in court as attorney general.
And the Republican Governors Association spent millions of dollars on ads tying Conway to President Obama on coal, health care, and other issues, a formula that the group rode to success in other red-state races over the past five years.
In his victory speech, Bevin spoke in broad strokes about how peaceful political disagreement reflects "the strength and the beauty of America" and thanked Conway for running. Bevin repeatedly expressed the hope that Democrats and Republicans could come together as "one Kentucky" after the election, while reminding the crowd, "At the risk of bringing us down, I do want us to remember that the task before us has only just begun."
In an emotional concession speech, Conway said, "It wasn't the result that we had hoped for, but it is a result that we respect." Conway said he wished Bevin well in his call to concede. "It was a cordial phone call," the attorney general continued. "I told him that I remained positive about moving the state forward, and if he ever needed any assistance, this Democrat was at his disposal."
This is the third high-profile race that Conway has lost, following a 2002 congressional bid and a 2010 Senate run against Rand Paul. Bevin, meanwhile, found redemption after attempting to beat Senate Majority Leader Mitch McConnell in a 2014 primary—and losing badly. That race frayed his relationship with many Kentucky Republicans.
Then, Bevin surprised observers by filing to run for governor just before the deadline in 2015 and winning a close primary over two opponents who got bogged down in a last-minute scandal.
Not only does Bevin's win deny Democrats another governor's mansion, it threatens the state's health insurance setup post-Obamacare. Democratic Gov. Steve Beshear created a state health insurance exchange and expanded Medicaid via executive order, but Bevin has pledged to roll back some of those programs and their coverage as governor—a potential test of political consequences for Republicans' long-held desire to repeal and replace Obamacare.
Kentucky wastes no time transitioning between governors old and new. Bevin will take office Dec. 8.