Yet Another Report Excuses Police in Tamir Rice's Death
An independent inquiry commissioned by the Cuyahoga County prosecutor says Officer Timothy Loehmann acted reasonably and says it would be a "tragedy" for him to be punished.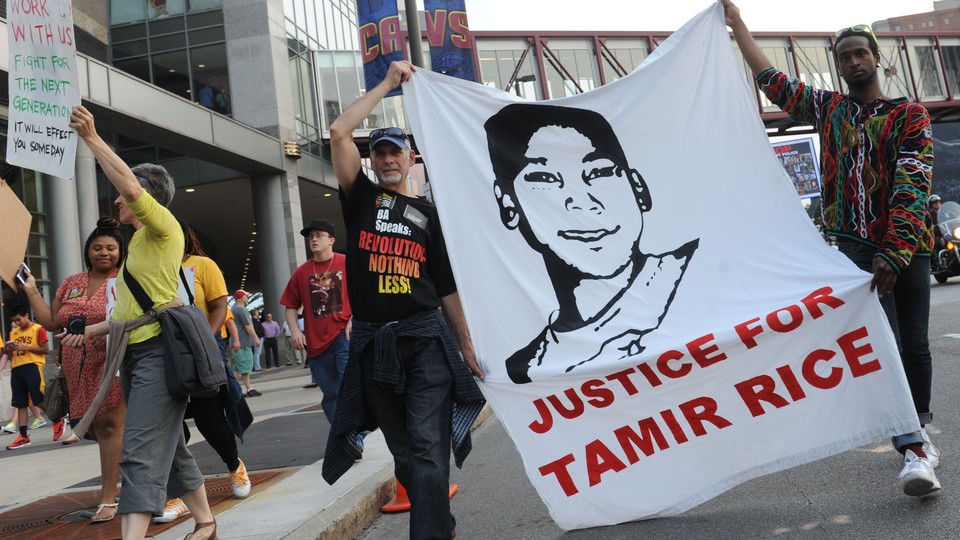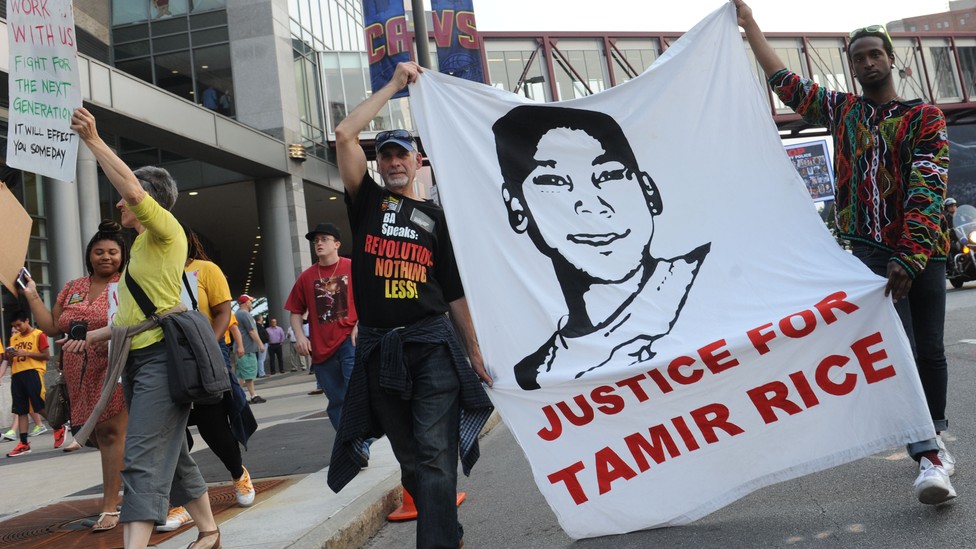 A report commissioned by the Cuyahoga County prosecutor has found that officers acted reasonably in the shooting of Tamir Rice, an unarmed 12-year-old boy whose death was captured on surveillance camera.
The report is the third independent report Prosecutor Timothy McGinty has released. Two previous reports also found that Officer Timothy Loehmann acted reasonably. Activists and Rice's relatives have charged that the reports are being released in an attempt to justify a decision not to charge Loehmann for Rice's death. It has now been nearly a year since Rice's death, but there have not yet been charges.
The new report is by Ken Katsaris, a police consultant and trainer in Florida. Katsaris concludes, in short, that based on what the officers knew and what they could observe, all of the actions they took were within reason, since they had no way of knowing whether the toy gun Rice had was real or what he was doing. Katsaris's report ends with a stunningly ill-chosen linkage of Rice's death and professional consequences for Loehmann, saying both are "tragedies":
This unquestionably was a tragic loss of life, but to compound the tragedy by labeling the officers [sic] conduct as anything but objectively reasonable would also be a tragedy, albeit not carrying with it the consequences of the loss of life, only the possibility of loss of career. But based on the circumstances outlined above, this outcome for the officers would be to judge them by other than the Court decisions on the use of deadly force, the State law, training provided by the State of Ohio, the CPD, and the recognized and accepted National Police Best Practices.
In Rice's case, as in many cases of alleged police brutality, there are two separate planes of discussion. The first is the question of whether officers did was strictly allowed under the rules. Unsurprisingly, reviews by law enforcement tend to lean toward vindicating police decisions. (This is one reason why so few police officers are prosecuted for the many cases in which they shoot civilians—their actions are usually ruled justified.)
The second is whether the actions that are legally permitted are right and just—whether there's a gap between what police deem justified and what citizens find acceptable. For example, when video of Sandra Bland's arrest was released, experts generally said that what Texas Trooper Brian Encinia did was within his rights—but many questioned the wisdom of his approach. Reports like Katsaris's may find officers' actions to be justified, but in doing so they raise the question of whether, as the old expression has it, the scandal is what's legal. Comparing the death of a child to a police officer losing his job isn't likely to help.