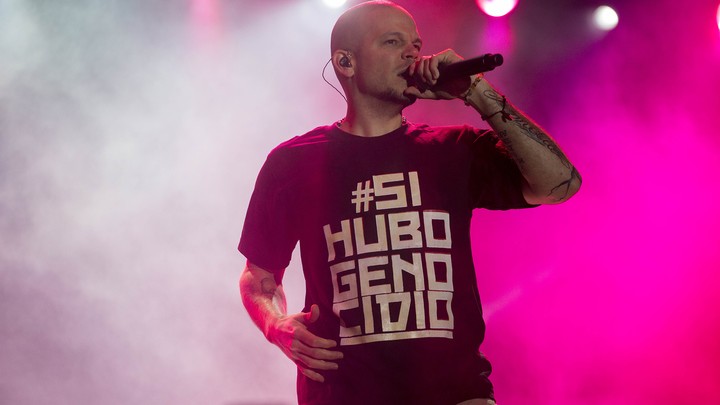 La mitad del dúo puertorriqueño Calle 13, René Pérez, también conocido como "Residente", ha escrito sobre el asesinato por el FBI de un líder de la independencia (una canción de 2005 que lanzó la banda a la fama), colaboró con el fundador de Wikileaks, Julian Assange, y más recientemente denunció la gangsterización de la juventud latina en un video donde él admite que él también una vez, se rindió ante una vida preocupada con el dinero y compró un Maserati.
Ese video termina con Pérez rompiendo ventanas del dicho coche con un bate de béisbol y empujándolo a un precipicio.
Fue por sus letras sobre la desigualdad en el mundo y los marginados que el 15 de noviembre Pérez se convirtió en el primer latinoamericano en ganar el premio cumbre Mundial del Nobel de la Paz, uniéndose a artistas como Cat Stevens, Bob Geldof, Bono y Sharon Stone.
La decimoquinta cumbre Mundial del Nobel de la Paz se celebró el pasado fin de semana en Barcelona, ​​España. Cada año, los premios reconocen una persona que aboga por la paz y crea conciencia sobre temas sociales. Pérez ha trabajado con UNICEF y Amnistía Internacional, y sus canciones han llevado a protestas tras el reciente estreno de "Multi Viral", en la que colaboró ​​con el fundador de WikiLeaks Julian Assange.
Pérez y su hermanastro Eduardo Cabra, o "Visitante", formaron Calle 13 en la década de los 2000.
Los dos se ascendieron a la fama en Puerto Rico antes de lanzar su primer álbum oficial. Un líder local de un movimiento por la independencia de Puerto Rico había sido asesinado por el FBI durante una redada en su casa. Dentro de 30 horas, Pérez escribió y publicó "Querido FBI", una canción cáustica en forma de una carta que insta a los puertorriqueños a ser libres, y llamó cerdos e insectos a los agentes del gobierno federal de Estados Unidos.
Desde entonces, han ganado 21 premios Latin Grammy -- más que cualquier otro artista o grupo -- y tres premios Grammy.
Mientras que el tono de Pérez se ha asentado, los mensajes políticos se han mantenido. Una de sus canciones más recientes, "Latinoamérica", habla sobre los dolores de exceso de trabajo y los olvidados pobres que se sienten esclavizados a los más afortunados.
Cuando él aceptó su premio, Pérez llevaba una camiseta en la que recordó una escena de un video musical reciente . Era un AK-47 con las palabras "educación", escrita en el cuerpo del rifle y "lucha" en el clip de la revista.
La próxima obra de Pérez será su primer proyecto en solitario, ya que este verano él y su hermanastro anunciaron que ya no saldrán de gira juntos.
This article is part of our Next America: Communities project, which is supported by a grant from Emerson Collective.
We want to hear what you think about this article. Submit a letter to the editor or write to letters@theatlantic.com.