Rand Paul's Political Stock Dipping Back Home
In Kentucky, it's hard to find many Republicans supporting Rand Paul's bid for president. And that's making GOP strategists nervous about his future prospects as a senator.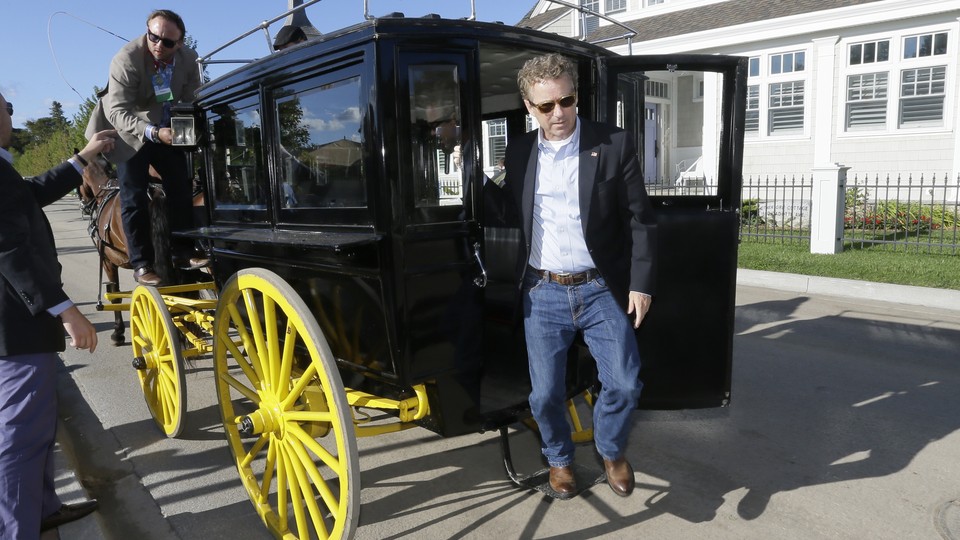 BEREA, Kentucky—At the rustic Dinner Bell restaurant just off Interstate 75, where Kentucky's GOP gubernatorial nominee Matt Bevin fielded questions from several dozen supporters, presidential politics was not far from voters' minds. One of the first people to arrive, Berea city councilman Jerry Little, drove up with a Donald Trump '16 sticker on his pickup truck. A veteran former GOP state legislator, Lonnie Napier, rattled off the names of Mike Huckabee, Ted Cruz, Carly Fiorina, Marco Rubio, and Trump as possible considerations for his vote.
But not a single Republican attendee interviewed by National Journal said they were thinking about supporting home-state senator Rand Paul's bid for the presidency. This, in a rural eastern Kentucky county where Paul dominated in his Senate campaign, winning 57 percent of the vote in the 2010 general election and 60 percent in a competitive Republican primary. Even Bevin, the Republican Party's nominee for governor, infamously told a local radio host in September that Paul wasn't his first choice for president, and that he preferred Ben Carson instead. (Bevin later backtracked from the comment.) Only around 50 people showed up to Paul's rally with Bevin later that week in Frankfort, a lukewarm show of support for an event featuring a presidential candidate.
Paul's struggles in the presidential campaign are no secret, but the bigger long-term challenge for the freshman senator is his depressed political standing back home. With a busy presidential campaign schedule in Iowa and New Hampshire, he doesn't spend much time these days in his home state, and his approval numbers in Kentucky are now at worrisome levels. Local GOP activists are abuzz that Paul missed the Fancy Farm picnic, the state's signature political event, the year that the state's pivotal governor's race is being held. One Paul ally said he saw recent polling showing the senator with unfavorable ratings as high as his favorables. "He's got the same numbers now as Mitch McConnell, which is saying something," the Kentucky-based GOP consultant said.
Ironically, Paul spent valuable political capital to get the Kentucky Republican Party to move their nominating event from a May primary to a March caucus—even though he'll need a major turnaround to even be in the race by then. The move, which cost the state party about a half-million dollars, allowed Paul to run for president and reelection to the Senate at the same time. But many Paul allies worry that if he doesn't make quick inroads in the presidential race, he will face a tougher-than-expected Senate race against one of the few up-and-coming Democratic politicians in the state, Auditor Adam Edelen.
"It's naive for Republicans in the state to simply assume that Rand is a shoo-in for reelection. We have to prepare and expect that Democrats will find a candidate and finance a candidate to see whether he's vulnerable," said Kentucky-based GOP strategist Ted Jackson. "There's some natural pushback from voters for someone running for two offices at the same time. Rand had to work really hard to change the primary process to a caucus, capital was spent, and now things are not going well in the presidential election."
Paul's campaign points to the senator's strong attendance record in the Senate as proof that he's effectively representing the state, and argues that Kentucky voters don't usually focus on Senate races until after the off-year governor's race ends. The campaign referenced four trips Paul has made to Kentucky since mid-July to demonstrate his attentiveness to constituent issues. "Senator Paul's number one priority is doing the job he was elected to do and his nearly perfect attendance record in the Senate is evidence of his unwavering commitment to all Kentuckians," said spokeswoman Kelsey Cooper.
But Paul's reelection is now squarely on the minds of the National Republican Senatorial Committee, which is hoping that the freshman senator refocuses his attention on the Senate race sooner than later. One major concern is that if Edelen wins reelection as state auditor, he could quickly pivot to a Senate race and spend nearly three months criticizing Paul for being absent from the state—a nonideological line of attack that Paul would be ill-suited responding to as a presidential candidate. With the Iowa caucuses and New Hampshire primaries not until February, Edelen could advance a narrative on Paul's absenteeism that could be challenging to reverse. One McConnell adviser feared a worst-case scenario in which Paul would be badly dinged "by a thousand cuts" before he even recommitted his attention to the Senate campaign.  Paul only has $1.4 million in his Senate campaign account; he's not legally allowed to transfer money raised for a presidential race back to a Senate race.
"Rand is a realist. And he is a patriot. And if the results through Iowa and New Hampshire are not favorable, I think he would look at the presidential race differently," said former Jefferson County Republican Chairman Bill Stone, a Paul supporter.
To be sure, Kentucky has become safe territory for Republicans in federal races. The state's deep antipathy to President Obama fueled McConnell's surprisingly comfortable win over Democrat Alison Lundergan Grimes last year, and helped Rand Paul's unconventional campaign coast to victory against Democrat Jack Conway—now the party's standard-bearer for governor—in 2010. Kentucky hasn't elected a Democratic senator to office since Wendell Ford in 1992, and five of the state's six House seats are now held by Republicans.
But there's a long Democratic tradition in the Bluegrass State—Democrats have held the governor's office for 40 of the past 44 years and control the state House of Representatives—and Republican candidates have proven that they can be vulnerable in unique circumstances. Veteran former Sen. Jim Bunning nearly lost to a little-known Democrat in his 2004 reelection due to his erratic behavior on the campaign trail. In a dismal year for Republicans (2008), McConnell only won 53 percent of the vote against a wealthy self-financing Democratic businessman. And Democrats are narrowly favored to win this week's governor's race, even though the environment for the party is as inhospitable as it has ever been. Many establishment-oriented Republicans blame that on Bevin's uneven campaign.
Still, even if it would take incredible circumstances for Paul to lose a reelection bid, Republicans have no interest in spending any money on what should be a slam-dunk race in McConnell's home state. If Conway wins the governor's race, most Democratic strategists in Kentucky expect Edelen to run for the Senate. To Republicans, Edelen is seen as a Bill Clinton-type that Democrats in the state haven't seen in a long time—centrist, politically savvy, and a dynamic speaker. One Republican strategist in Kentucky said he'd potentially be able to connect with working-class voters drifting away from the party, and as a hawkish Democrat, could run to Paul's right on foreign policy.  Interestingly, the one obvious line of attack against him is similar to the criticism of Paul—that he's a young man in a hurry.
"It would be a shock to me if Adam didn't immediately run for the Senate against Rand. For a Democrat in Kentucky, he's really good," said Stone. "He's very talented, intelligent—and a political fraud. Because he has absolutely no intention of serving his second term as auditor."