Progressive Democrats Lay Out Plans to Fight Obama's Pacific Trade Pact
But does their loss in the last trade fight guarantee another failure in the next one?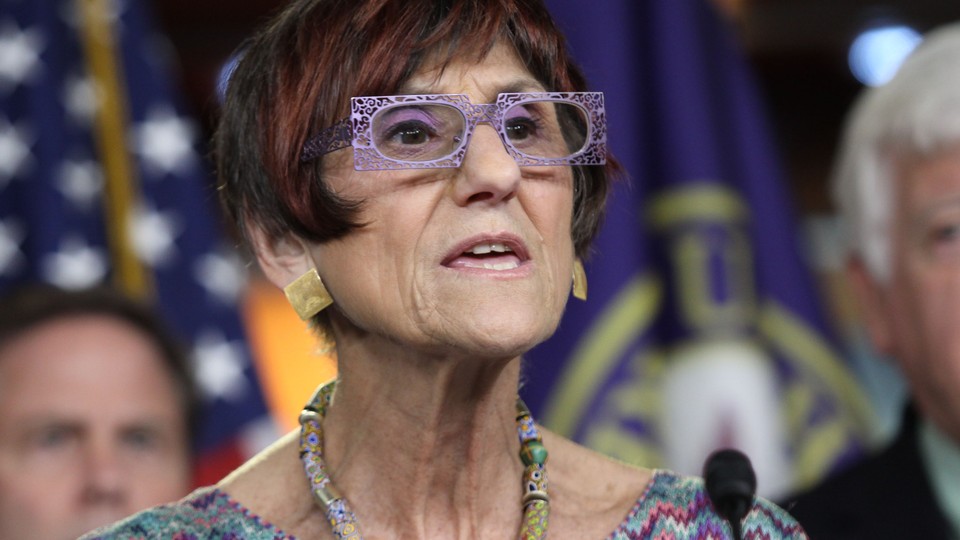 Progressive Democrats are in an unenviable position on trade policy: They just finished losing a major struggle with their own party's president that made it easier to pass major international trade agreements, and now they're tasked with stopping a major international trade agreement.
And on Thursday, with the release of the full text of the Trans-Pacific Partnership, that fight kicked into a higher gear.
Hours after its release, progressive Democrats held a press conference to showcase their opposition and laid out their plans to erode support for the trade pact, which would lower trade barriers between the U.S. and 11 other Pacific nations.
"We're getting people information, we'll do briefings, we'll do hearings, we'll do all those kinds of things," said Rep. Rosa DeLauro, one of the chief Democratic critics of the deal in the House.
But it's an uphill fight. Earlier this year, progressives were unable to stop the House and Senate from passing legislation giving President Obama Trade Promotion Authority (also known as "fast track"), which guarantees that trade pacts get an unamended, up-or-down vote in the Senate.
Now, stripped of the ability to filibuster, progressives would have to convince enough Republicans or centrist Democrats to vote down the deal.
Still, DeLauro said she is confident the deal will be defeated. "I think there are a number of people on the other side of the aisle, in addition to the overwhelming number of Democrats that were in opposition to fast-track authority."
After failing to get even 40 votes against fast-track, that's a tall order. And how much time they have to rally against the cause is an open question. Republican leaders in the Senate have said they expect a vote on the TPP to happen around the final month of President Obama's presidency. DeLauro said the earliest possible vote would occur at the end of March or April.
Opponents of the trade deal are also hoping that political headwinds will stymie its passage. At the press conference, it was noted that three of the top presidential candidates (Hillary Clinton, Sen. Bernie Sanders, and Donald Trump) opposed the TPP.
In addition, Ford Motor Company released a statement criticizing the deal in its current form, according to MarketWatch, a fact which Rep. Debbie Dingell of Michigan highlighted at the press conference.
"The unions and the companies there know that they are getting screwed by this TPP," Dingell said, also telling National Journal that she is going to be talking to the AFL-CIO about raising the profile of TPP and meeting with supplier communities, among other groups, to talk about the trade deal.
A majority of Republicans in the House voted in favor of TPA in June, with only 50 voting against it. (It also passed the Senate with 60 votes.) A majority of House Democrats voted against it—including Minority Leader Nancy Pelosi—with only 28 Democrats voting in favor.