Presidential Campaigns Use Virginia Elections as Opportunity to Qualify for 2016 Primary
Volunteers gathered signatures across Virginia ahead of next month's filing deadline for the primary ballot.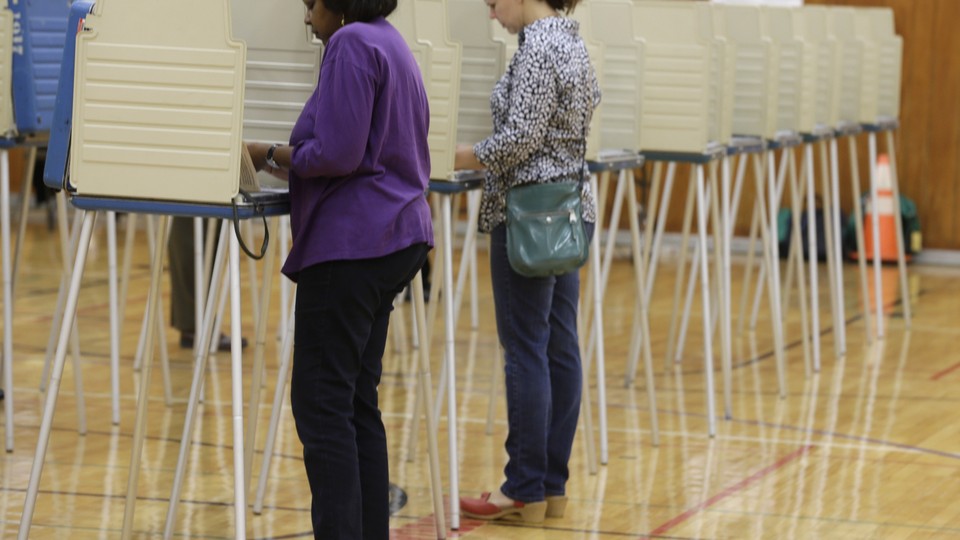 After serving eight terms in Con­gress, Tom Cole­man got used to ask­ing people to vote for him. This Elec­tion Day, though, Cole­man camped out in front of a Vir­gin­ia pre­cinct ask­ing for sig­na­tures on be­half of an­oth­er can­did­ate.
As voters ar­rived at Wash­ing­ton Mill Ele­ment­ary School in Al­ex­an­dria on a crisp fall morn­ing to vote in state and loc­al elec­tions Tues­day, Cole­man greeted them, hold­ing a clip­board with a stack of pe­ti­tions, a pen, and a blue "Kasich For Us" stick­er af­fixed to the back. His job—one that's usu­ally re­served for vo­lun­teers and low-level staffers—was to col­lect as many sig­na­tures as pos­sible to help his one­time House col­league, Ohio Gov. John Kasich, qual­i­fy for the 2016 Re­pub­lic­an pres­id­en­tial primary in Vir­gin­ia.
By 8:15 a.m., Cole­man was an hour in­to his day and had 15 sig­na­tures to show for it. "I had no idea if I'd even get one," Cole­man joked, not­ing he had nev­er done this be­fore.
Though Kasich and oth­er pres­id­en­tial can­did­ates are spend­ing most of their cam­paign time in early-vot­ing states such as Iowa and New Hamp­shire, their cam­paigns are busy meet­ing qual­i­fic­a­tions for the primary bal­lot in many oth­er states across the coun­try. While some states ask only for signed pa­per­work or a fil­ing fee, oth­ers re­quire thou­sands of pe­ti­tion sig­na­tures from re­gistered voters. Vir­gin­ia has some of the strict­est re­quire­ments: 5,000 sig­na­tures, in­clud­ing at least 200 from each of the state's 11 con­gres­sion­al dis­tricts, sub­mit­ted by Dec. 10. In 2012, every pres­id­en­tial cam­paign ex­cept Mitt Rom­ney's and Ron Paul's failed to meet Vir­gin­ia's threshold, which used to be even high­er.
The 2015 elec­tions provided the best op­por­tun­ity left for pe­ti­tion-gather­ers to find crowds en­tirely com­prised of re­gistered voters. So cam­paigns dis­patched vo­lun­teers and field staffers to pre­cincts around Vir­gin­ia, look­ing for voters to sup­port their bal­lot-ac­cess ef­forts.
"You go fish­ing where the fish are," as Cole­man put it.
Just be­fore 9 a.m., Cole­man snared an­oth­er one for Kasich: former Re­pub­lic­an Na­tion­al Com­mit­tee chair­man Ed Gillespie, who is plan­ning to run for gov­ernor in 2017.
"Hey Tom! How're you do­ing?" a sur­prised Gillespie ex­claimed as he ar­rived at the polling place with his wife, Cathy. After ex­chan­ging pleas­ant­ries, Cole­man se­cured sig­na­tures from both Gillespies.
Barely a mo­ment had passed be­fore an­oth­er pe­ti­tion-gather­er ap­proached the couple. This time, it was Karaina Cal­la­han, a re­cent col­lege gradu­ate aid­ing Ben Car­son's cam­paign. She had been at the school since just after 6 a.m., when the polls opened. "We ac­tu­ally did one for Ben Car­son" already, Cathy Gillespie told her.
Had a vo­lun­teer for Lind­sey Gra­ham's cam­paign stuck around just a bit longer, the Gillespies likely would have fielded one more re­quest for their auto­graphs be­fore head­ing in­side to vote.
The vo­lun­teers at the ele­ment­ary school were just one small part of a massive ef­fort by pres­id­en­tial cam­paigns which, Vir­gin­ia Re­pub­lic­ans said, are far more pre­pared than their 2012 coun­ter­parts were. Some cam­paigns began train­ing vo­lun­teers and cir­cu­lat­ing pe­ti­tions as early as Ju­ly, and most have main­tained a con­sist­ent pres­ence at loc­al party meet­ings, county fairs, gun shows, and pop­u­lar res­taur­ants over the past few months. In ad­di­tion, Re­pub­lic­an groups around the state have been pro­act­ive about get­ting can­did­ates' pe­ti­tions in front of act­iv­ists in a way they wer­en't in pre­vi­ous cycles.
"The re­quire­ment be­fore, while it was high­er than it is this year, didn't really pre­vent cam­paigns from get­ting on the bal­lot. The ones who didn't just waited very late to start," said Mi­chael Thomas, the first vice chair­man of the Vir­gin­ia Re­pub­lic­an Party. "The cam­paigns are more aware of it, and a lot of Re­pub­lic­an act­iv­ists and lead­ers see the value of hav­ing as full a field as pos­sible."
The Kasich cam­paign dis­patched roughly 200 vo­lun­teers to all corners of the state Tues­day, cov­er­ing all 11 con­gres­sion­al dis­tricts and 10 per­cent of Vir­gin­ia's total pre­cincts. Bret Coulson, Kasich's cam­paign dir­ect­or in Vir­gin­ia, said he ex­pec­ted to col­lect between 4,000 and 5,000 sig­na­tures on Elec­tion Day alone. He ad­ded that he hopes to file more than 7,500 sig­na­tures with the state elec­tions board, just in case some of them aren't val­id.
Car­son's team sent between 50 and 100 vo­lun­teers around Vir­gin­ia on Tues­day, ask­ing each of them to col­lect around 100 sig­na­tures—a feat that Cal­la­han ac­com­plished be­fore noon in Al­ex­an­dria. Spokes­man Doug Watts said the cam­paign already had 5,400 sig­na­tures filed away. The Car­son cam­paign is also aim­ing for 7,500 total, in­clud­ing 200 per­cent of what's re­quired in each con­gres­sion­al dis­trict, by the Decem­ber dead­line to as­sure that Car­son makes the bal­lot.
"The Elec­tion Day col­lec­tion really sim­pli­fies the pro­cess," said Pa­tri­cia Phil­lips, Car­son's Vir­gin­ia state dir­ect­or. "This will be our big chance."
State party of­fi­cials also ex­pec­ted cam­paigns for sev­er­al oth­er can­did­ates, in­clud­ing Jeb Bush, Marco Ru­bio, Ted Cruz, Carly Fior­ina, and Rand Paul, to have sig­na­ture-gather­ers sta­tioned at polling places around the state.
One can­did­ate who didn't need to worry about mass­ing vo­lun­teers for Elec­tion Day: Don­ald Trump. The real es­tate mogul an­nounced Monday that he had already sub­mit­ted 15,000 sig­na­tures in Vir­gin­ia, a Su­per Tues­day primary state. Next month's dead­line will rep­res­ent a key or­gan­iz­a­tion­al test for oth­er cam­paigns that are ex­pand­ing their op­er­a­tions out­side of the early-nom­in­at­ing states.
"It's an or­gan­iz­a­tion­al ex­er­cise that re­quires a pres­ence in every dis­trict in the state, and that's not something that can be de­veloped overnight," said Chris La­Civ­ita, a Vir­gin­ia-based strategist who's ad­vising Paul's cam­paign. "Hav­ing act­ive par­ti­cip­a­tion and pres­ence is half the ball game."
Most cam­paigns ap­pear to have that in Vir­gin­ia. So with the fil­ing dead­line now just over five weeks away, Re­pub­lic­ans in the state aren't ex­pect­ing his­tory to re­peat it­self.
"I don't think it's go­ing to be the same prob­lem this time to get on the bal­lot," said former Rep. Tom Dav­is, co­chair of Kasich's Vir­gin­ia cam­paign. "For any­body who's got their eyes wide open, this shouldn't be a heavy lift."