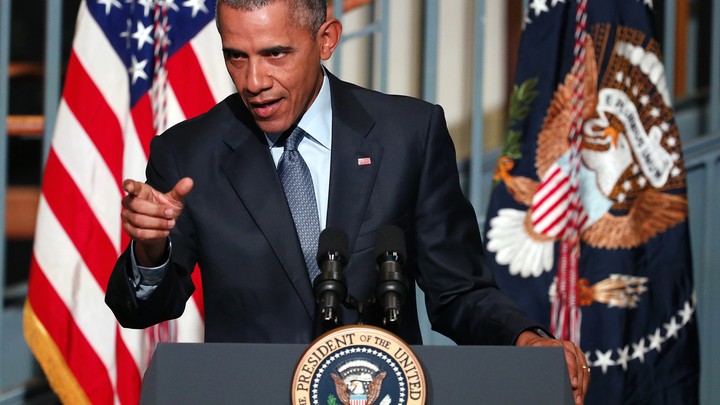 Some artists have a farewell tours when they announce their retirements or when the band calls it quits. President Obama has been on his own version of a presidential farewell tour for more than a year, taking bold stands on issues he has been,  ahem, very political about in his tenure at 1600 Pennsylvania Avenue. In recent weeks, he has all but become uncensored about the need for comprehensive criminal justice reform, starting at the federal level and reaching as far down as local jails.
His latest tour stop was Newark, New Jersey this week, where he announced that he will take executive action to "ban the box for the most competitive jobs at federal agencies," signaling a gradual phasing out of the standard job application question about a person's criminal record. "The federal government, I believe, should not use criminal history to screen out applicants before we even look at their qualifications.  We can't dismiss people out of hand simply because of a mistake that they made in the past," Obama said.
At Rutgers University, accompanied by Chancellor Nancy Cantor, Newark Mayor Ras Baraka, Senator Cory Booker, and Congressman Donald Payne, Jr., Obama made emotional and economic appeals for taking this step in eliminating some of the barriers that "returning citizens" must overcome after they are released from prison.
With the goal of "reforming our criminal justice system to be fairer, to be smarter, to be more effective," Obama has met with  police chiefs, beat cops, prisoners, corrections officers, families of fallen police officers and families of children who were killed by gun violence. Now he seems well-versed in the flaws that plague an institution with an annual budget of $80 billion and a constituency of 2.2 million incarcerated men and women.
"More than 600,000 inmates are released each year.  Around 70 million Americans have some sort of criminal record. 70 million.  That's almost one in five of us. Almost one in three Americans of working age," Obama said. "There are so many Americans who desperately want to earn a second chance." There is no federal legislation at the moment, but a ban-the-box bill is working its way through the Senate, and 19 states have already enacted similar laws. In the private sector, companies including Walmart, Target, Koch Industries and Home Depot have taken action to ban the box.
In New Jersey, Obama confessed that, "I have, at times, despaired about the magnitude of the problem." He was eager to highlight local successes like Integrity House, NJ-STEP, Project HOPE, and the federal ReNew program through the District Court and the U.S. Attorney's Office. He also recognized some individuals who had turned their lives around after being released. "I'm really proud of what you're doing," he told them.
In a moment that harkened back to his days as a professor, Obama explained the socio-economic chain reaction that can be set in motion by investing in individuals and integrating them into the workforce and society. "We want more success stories like these. It's good for everybody. It means less crime. It means less recidivism. It means less money spent on incarceration. It means less wasted taxpayer money. It means police aren't having to arrest the same folks over and over. It means young people are seeing in their community people who are working. That, in turn, creates economies in those communities that are legal and not just illegal, which creates redevelopment for everybody. And now, suddenly businesses have more customers, which means they're hiring more, and you get a virtuous cycle."     
This article is part of our Next America: Criminal Justice project, which is supported by a grant from the John D. and Catherine T. MacArthur Foundation.
We want to hear what you think about this article. Submit a letter to the editor or write to letters@theatlantic.com.