President Obama Launches Effort to "Ban the Box"
It's just one measure in a new campaign to rehabilitate ex-prisoners.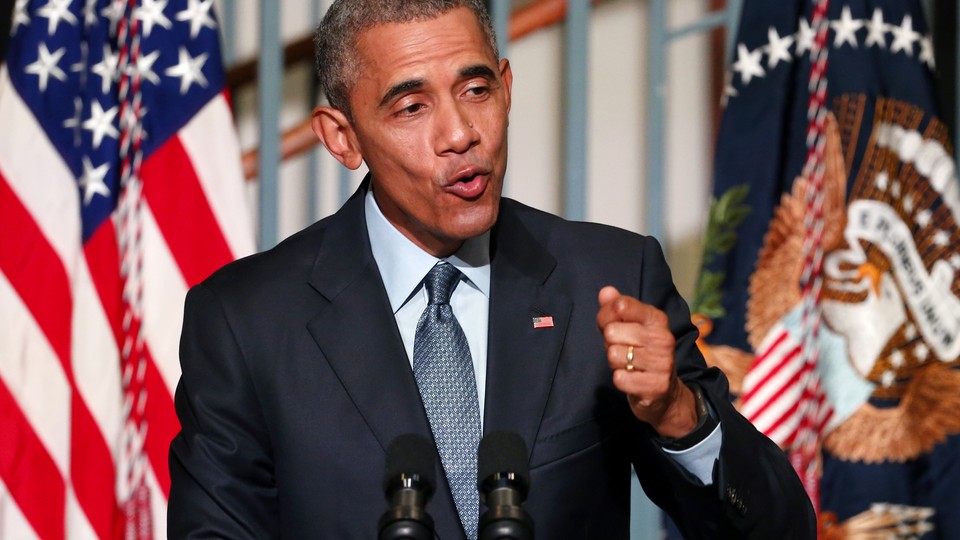 President Obama wants to make life after prison a little easier.
On Monday, he announced a slew of actions designed to help people who have been incarcerated once they leave prison. The plan, which includes an effort to "ban the box" on job applications for federal agencies, focuses on prisoners' rehabilitation and reintegration into society.
"We can't have the criminal-justice system carrying the entire load of solving all of society's ills," Obama said in a speech at Rutgers University–Newark in New Jersey. While investment in economic development, funding schools, and making college more affordable is crucial, he said, after someone gets out of prison, "it's not too late."
"There are people who have gone through tough times," he said. "They have made mistakes. But with a little bit of help, they can get on the right path."
The administration will take steps to remove the question—which is on many applications for federal agencies—that asks whether an applicant has a criminal history. The federal government, he said, "cannot dismiss people out of hand simply because of a mistake that they made in the past." Calling on Congress to pass legislation to "ban the box," he said he hopes that the policy "becomes a basic principle across our society." Still, he acknowledged that knowing an applicant's criminal history is relevant.
"We're not suggesting, 'ignore it,'" Obama said. "What we are suggesting is when it comes to the application, give folks a chance to get to the door" so they can make a case for themselves.
Obama also announced up to $8 million from the Education Department for reentry programs, which will go to nine communities' efforts to help former prisoners get an education. Other measures include training in the tech sector for people with criminal records and establishing a "National Clean State Clearinghouse" that aims to help existing reentry programs with record-cleaning, expungement, and other civil legal services. Though the money is "nowhere near what we need", the president said, it allows the administration "to create more programs that serve as an example of best practices so that it can be duplicated around the country."
Earlier Monday, Obama stopped by Integrity House, a Newark drug-rehab facility, and met with ex-prisoners who live there.
This marks just the latest action in Obama's push for criminal-justice reform. Last month, the Justice Department announced that they would free about 6,000 inmates early in an effort to curb overcrowding. And in July, he became the first sitting president to visit a federal prison, meeting with six inmates at Fed­er­al Cor­rec­tional In­sti­tu­tion El Reno in Oklahoma.