A Planned Parenthood Clinic Shooting in Colorado
3 people died and 9 more were injured after a gunman attacked a facility in Colorado Springs; a suspect is in custody.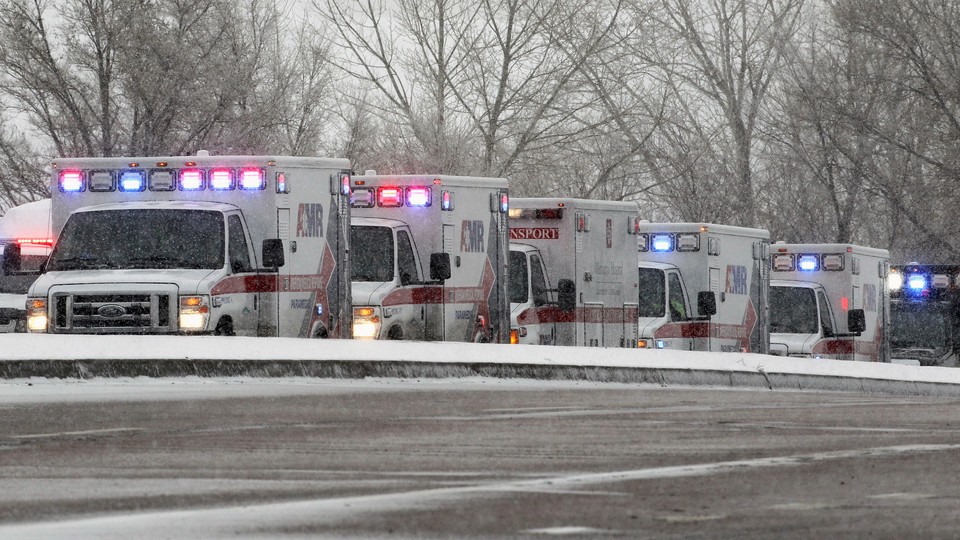 Updated at 12:50 p.m. on  November 28.
A gunman attacked a Planned Parenthood clinic in Colorado on Friday, killing three people, including a University of Colorado police officer, and injuring nine others. Police captured the suspected assailant, 57-year-old Robert Lewis Dear, after a five-hour standoff inside the facility.
A 911 call placed from the Colorado Springs clinic, located about 70 miles south of Denver, first reported a gunman at about 11:38 a.m. local time. Colorado Springs Police Department spokeswoman Catherine Buckley told reporters that the gunman fired the first shots outside or near the building before moving inside. She also noted that Friday was a normal business day for the clinic, with patients and staff inside when the shooting began.
When police approached the clinic after the 911 call, the gunman opened fire on them from within the building, wounding five officers and killing one. The University of Colorado Colorado Springs confirmed in a press release that Garrett Swasey, a UCCS police officer, died in the shooting. The other victims have yet to be identified.
Once inside the building, officers allowed a slow, steady trickle of people to leave as they worked their way through towards the shooter. Police apprehended Robert Lewis Dear, the 57-year-old suspected gunman, at 4:52 p.m. local time after a gun battle inside the clinic. He is currently being held without bond at the local jail as investigators try to ascertain more details about him. Dear reportedly offered no motive for the shooting after his arrest, but Colorado Springs Mayor John Suthers told reporters that people could "[make] inferences from where it took place."
The Colorado Springs clinic is not the first Planned Parenthood facility to come under attack this year. On October 1, an unknown arsonist threw an ignited container of gasoline inside one of the organization's centers in Southern California. The Southern Poverty Law Center identified three similar incidents at Planned Parenthood facilities in Illinois, Louisiana, and Washington in recent months. In September, the FBI warned law-enforcement agencies throughout the country about "lone offenders using tactics of arsons and threats all of which are typical of the pro-life extremist movement."
In an initial statement, Planned Parenthood of the Rocky Mountains, which operates the clinic in Colorado Springs, emphasized its focus on safety measures and stressed that it didn't "yet know the full circumstances and motives" behind the shooting. But it also noted the intensified rhetoric towards Planned Parenthood chapters this year. "We share the concerns of many Americans that extremists are creating a poisonous environment that feeds domestic terrorism in this country," the organization said.
Other abortion-rights advocates directly implicated videos about Planned Parenthood's fetal-tissue research program released by an anti-abortion organization earlier this year. "Since a series of highly-edited, misleading anti-abortion videos was released in July, we have seen an unprecedented increase in hate speech and threats against abortion providers," National Abortion Federation president Vicki Saporta said in a statement on the shooting. "We have been quite worried that this increase in threats would lead to a violent attack like we saw today."
In a statement on Saturday morning, President Obama offered his condolences to the victims' families and linked the attack to the broader struggle against gun violence in the United States.
Colorado previously endured two of the most notorious gun massacres in recent American history. In April 1999, two students killed 13 people and injured another 24 in a school shooting at Columbine High School. In July 2012, a gunman stormed a movie theater in Aurora, killing 12 people and wounding 70 others. It was not immediately clear what kind of weapons the gunman wielded or whether they were obtained legally.
The article will be updated as the story develops.