Paul Ryan's First Tests
He takes over as speaker just in time to have the highway and defense bills "dropped in his lap."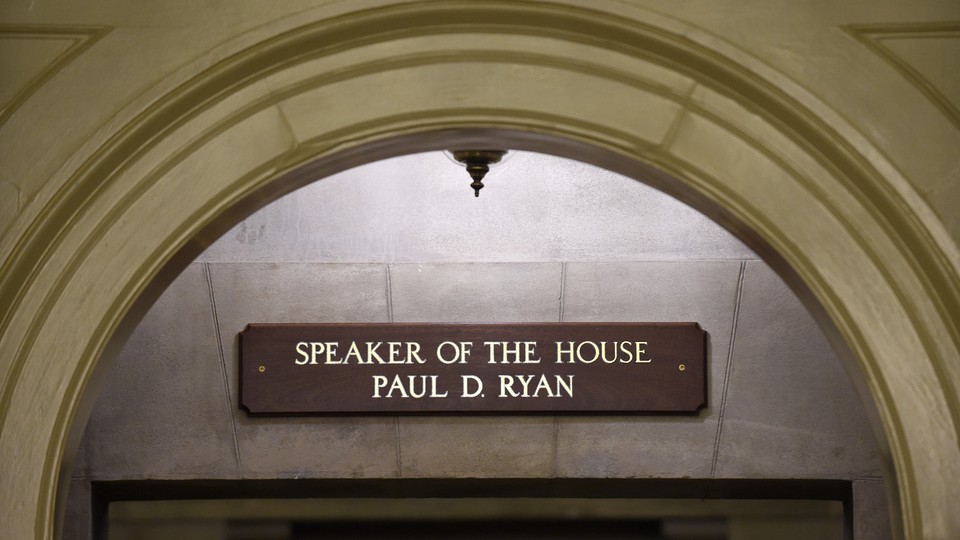 John Boehner may be of­fi­cially re­tired, but the barn is not clean just yet.
Speak­er Paul D. Ry­an gaveled the House in­to ses­sion for the first time Monday morn­ing and read an of­fi­cial no­tice that Boehner is out. But the lo­g­jam of le­gis­la­tion Boehner left be­hind has yet to be fully cleared. First off, the House will take up a six-year $325 bil­lion high­way au­thor­iz­a­tion this week, show­cas­ing Ry­an's vaunted open pro­cess. And the cham­ber may take a second crack at the Na­tion­al De­fense Au­thor­iz­a­tion Act, which Pres­id­ent Obama ve­toed last month.
The bills set up an in­ter­est­ing test for Ry­an: Will the newly min­ted speak­er al­low a massive high­way bill that is not fully paid for to pass? Will he try to change a de­fense bill that in­cludes pay-fors that are al­most uni­ver­sally re­garded as gim­micky?
Ry­an's of­fice said the speak­er is em­phas­iz­ing an open pro­cess above all on the high­way bill, with a de­sire to push the le­gis­la­tion in­to a con­fer­ence with the Sen­ate. The House, however, is es­sen­tially tak­ing up the Sen­ate's bill, sub­sti­tut­ing its own policy, but keep­ing the up­per cham­ber's pay-fors. In ad­di­tion, the Rules Com­mit­tee is set to wade through some 300 or more amend­ments this week. And while not all the meas­ures will be made in or­der, the House floor will likely be busy in­to the even­ings this week with de­bate over trans­port­a­tion fund­ing.
"What I'm try­ing to say is we should open up the pro­cess so that every­one can par­ti­cip­ate," Ry­an said on NBC's Meet the Press.
Fur­ther­more, the Sen­ate's high­way bill reau­thor­izes the Ex­port-Im­port Bank. Al­though le­gis­la­tion re­viv­ing the 81-year-old lend­ing in­sti­tu­tion has already passed the House—and there's more than enough sup­port to ex­tend the bank's charter in the Sen­ate—Ry­an, Sen­ate Ma­jor­ity Lead­er Mitch Mc­Con­nell, and oth­er GOP lead­ers op­pose it.
Ry­an is well fa­mil­i­ar with the high­way bill: The Ways and Means Com­mit­tee, which he chaired un­til last week, is re­spons­ible for half of its jur­is­dic­tion. The prob­lem with the bill for many Re­pub­lic­ans, apart from Ex-Im, is that the off­sets cov­er only half of the bill's six-year life span. For someone like Ry­an who built his repu­ta­tion on fisc­al re­spons­ib­il­ity, the bill is hardly ideal. But while some have painted the bill as Ry­an's first big test, oth­ers cau­tioned that it will hardly be il­lus­trat­ive of how a Ry­an House will work.
"Situ­ations have come up and been dropped in his lap," said a GOP lead­er­ship aide. "Things re­quire ac­tion right away, and it's not the pro­cess he would have pre­ferred, but he's go­ing to deal with it in the best way that he can."
Still, lead­er­ship will have to keep an eye on the pro­cess. With hun­dreds of amend­ments that could drastic­ally change the bill, there is al­ways the po­ten­tial for pois­on pills. Any num­ber of amend­ments could drive away Demo­crats or make the bill a non­starter for con­ser­vat­ives, com­plic­at­ing pas­sage, let alone a con­fer­ence re­port.
Com­mit­tee and lead­er­ship aides have said the House plans to let the amend­ment pro­cess play out and pass the bill with an un­der­stand­ing that Con­gress will find off­sets to pay for the re­mainder of the bill later. Those would still have to pass both cham­bers, but the whole reau­thor­iz­a­tion would not need to be passed again. Ry­an has been a pro­ponent of us­ing re­pat­ri­ation, or re­claimed tax money from off­shore ac­counts, to pay for the re­mainder of the high­way bill, and wheth­er or not he wades in­to the policy from his perch as speak­er will be in­struct­ive as to how he plans to rule.
That is­sue could be es­pe­cially prob­lem­at­ic be­cause Ry­an's po­s­i­tion butts heads with Mc­Con­nell. In Ju­ly, Mc­Con­nell said he's "skep­tic­al" of us­ing cor­por­ate-tax re­form to pay for a long-term high­way bill, pre­fer­ring to tackle the en­tire tax code in a com­pre­hens­ive man­ner.
Mean­while, Re­pub­lic­ans are still fig­ur­ing out how to ad­vance the de­fense-au­thor­iz­a­tion meas­ure. Staff sources said they could take up a veto over­ride as early as this week. But it's un­likely that Demo­crats would vote with Re­pub­lic­ans to over­turn the veto, be­cause that would be viewed as a re­buke of Pres­id­ent Obama, even though many of the is­sues he raised to jus­ti­fy his veto were re­solved with the pas­sage of the budget deal. What is more likely is that the com­mit­tees craft a new bill with largely the same policy, but cut­ting $5 bil­lion from the de­fense meas­ure to put the bill in line with the terms of the budget deal.
---
Alex Rogers contributed to this article