How the 2016 Candidates Responded to the Paris Attacks
The Republican field condemned President Obama's Middle East strategy as the Democratic contenders prepared for Saturday night's foreign-policy debate.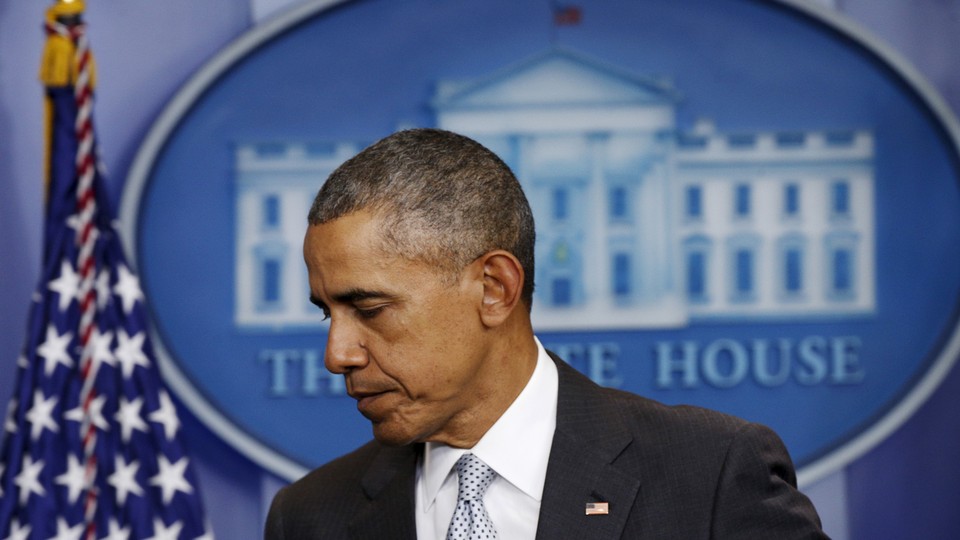 As news bulletins from Paris reported a steadily mounting death toll on Friday night and into Saturday, the 2016 U.S. presidential candidates quickly offered their condolences for victims of the attack that claimed more than 120 lives and wounded upwards of 350 other people. After French authorities pinned the blame on ISIS, the tone of condolence shifted to one of criticism towards the Obama administration's strategy in Syria and Iraq.
Most of the GOP presidential candidates, all of whom have repeatedly excoriated President Obama's military strategy in debates and on the campaign trail, redoubled their criticisms in the attack's aftermath.
President Obama said "ISIL continues to shrink" in an interview just hours before the horrible attack in Paris. He is just so bad! CHANGE.

— Donald J. Trump (@realDonaldTrump) November 14, 2015
Senator Marco Rubio, a Republican from Florida, released a short video in which he called the attacks a "wake-up call" to a "civilizational war against radical Islam." Other GOP contenders echoed the clash-of-civilizations theme in their remarks and statements.
Former Florida Governor Jeb Bush emphasized the military nature of the conflict with ISIS. "It's not a law-enforcement operation and the mindset in our country at least needs to change to recognize it for what it is," he said in a radio interview with Hugh Hewitt. "This is an organized effort to destroy Western civilization and we need to lead in this regard."
Many GOP candidates also reiterated their opposition to admitting Syrian refugees into the United States, alleging that members of ISIS could infiltrate the country despite security checks. "If we're going to be bringing 200,000 people over here from that region—if I were one of the leaders of the global jihadist movement and I didn't infiltrate that group of people with my people, that would be almost malpractice," current Republican frontrunner Ben Carson told reporters after addressing a conservative activists' summit in Florida. The Obama administration announced a plan to accept 10,000 refugees from Syria into the U.S. in September, a far smaller figure than most European and Middle Eastern countries are sheltering.
"We need to immediately declare a halt to any plans to bring refugees that may have been infiltrated by ISIS to the United States," Senator Ted Cruz, a Republican from Texas, said in a statement on Friday. "We need to redouble our efforts to prevent ISIS agents from penetrating our nation by other means." Addressing the military campaign in Iraq and Syria, Cruz also hinted at revising the U.S. military's rules of engagement, saying that ISIS will "not be deterred by targeted airstrikes with zero tolerance for civilian casualties, when the terrorists have such utter disregard for innocent life."
Former Arkansas governor and GOP presidential candidate Mike Huckabee urged the U.S. to "close its borders instead of Guantanamo," saying on his website that "even the far left and politically correct government of France has closed its borders." (French President Francois Hollande said he would close the borders during a televised address to the nation on Friday night, but instead imposed stricter border controls.) Huckabee also wrote that the U.S. should "revoke any agreement with Iran regarding their nuclear capacity" in the wake of the ISIS attack.
On the Democratic side of the 2016 race, the candidates focused on solidarity with France instead of foreign policy or military strategy towards ISIS. "Even in this darkest night, Paris remains the City of Light," said former Secretary of State Hillary Clinton in a statement. "No terrorist attack will ever dim the spirit of the French people or our common commitment to the democratic values we share."
Horrified by the attacks in Paris tonight. My thoughts are with the victims and their loved ones.

— Bernie Sanders (@BernieSanders) November 13, 2015
Clinton, Sanders, and former Maryland Governor Martin O'Malley will gather for the second Democratic presidential debate on Saturday night in Iowa, where the attacks are expected to be at the top of the agenda. As my colleague Russell Berman noted in his preview of the debate, CBS moderators said they would reorient the question topics towards national security and foreign policy in the wake of the Paris attacks.
Away from the 2016 race, one senior congressional Democrat took a more aggressive tone, perhaps signaling increased pressure from Capitol Hill for broader military action. "The fight is quickly spreading outside Iraq and Syria, and that's why we must take the battle to them," said Senator Dianne Feinstein, the top-ranking Democrat on the Senate Intelligence Committee. "It has become clear that limited air strikes and support for Iraqi forces and the Syrian opposition are not sufficient to protect our country and our allies."