Paid Patriotism: I Hadn't Been Cynical Enough
Editor's Note:
This article previously appeared in a different format as part of The Atlantic's Notes section, retired in 2021.
In this new Thread I will revive a string of reader commentary, plus news updates (F-35, A-10, budgets and strategy, veterans' welfare, future strategy), on the themes I dealt with in my Chickenhawk Nation article early this year. The article's official title was "The Tragedy of the American Military." Early this year, before the introduction of our Notes and Threads, I ran more than 20 installments of reader response to it. You can find a compendium of them here, and eventually I'll try to migrate them to this page as well.
***
Let's begin: There is simply no other place to revive this series than with the new report by Arizona's two U.S. Senators, Republicans John McCain and Jeff Flake, called "Paid Patriotism." That's the cover, below. You can read the whole thing in PDF here.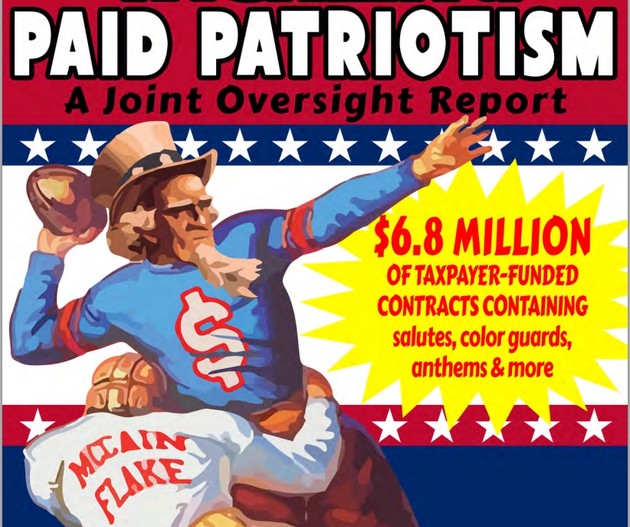 The surprise value of this report, for me, was that neither I, nor Ben Fountain, had been anywhere near cynical enough.
Ben Fountain is the author of the celebrated, widely read, and should-be-read-even-more-widely short novel, Billy Lynn's Long Halftime Walk, which I discussed in my piece. At face value, Fountain's book is remarkably cynical. It is about a little group of U.S. troops serving in Iraq, who are brought back to be featured in a "Salute to the Heroes!" at halftime at a Dallas Cowboys game on Thanksgiving day, and then are shipped right back to the front. All the civilians feel good about their few minutes of congratulating the heroes. Then the civilians get back to real life of making and spending, and they forget about the war, and the troops.
Plenty cynical, right? And I felt cynical for saying that Billy Lynn had captured the spirit of "a country willing to do anything for its military except take it seriously."
What I hadn't imagined, and what Fountain would presumably have added to his novel to darken its mood if he didn't think it would strain credulity, is what Senators McCain and Flake document in this report: that the Pentagon has been underwriting many of these seemingly heartfelt "salutes." Just for one example, the Atlanta Falcons got as much as $300,000 per year for honoring-the-military services like these for the Georgia Army National Guard:

There is more, about a lot of teams in in all the major sports leagues. I encourage you to read and reflect on it. Local-interest note: D.C.-area sports fans usually don't have much to celebrate. But for whatever reason, only the D.C. United soccer team, among local franchises, was involved in the celebration-for-pay program. Not the baseball Nationals, hockey Capitals, basketball Wizards, or our NFL team.
In Pentagon terms, we're not talking about a lot of money — a few million dollars, in an organization that spends more than a billion per day.  But that money has disproportionate symbolic sting.
***
So Ben Fountain had not imagined the full reality, and neither had I. The American public is willing to pause at halftime and think respectfully about the one percent of us involved in carrying out our open-ended wars. As long the Pentagon is footing the bill.