On Foreign Policy, Hillary Clinton Hit from All Sides
Saturday's debate shows that a renewed focus on America's role in the world will create obstacles for Democratic front-runner.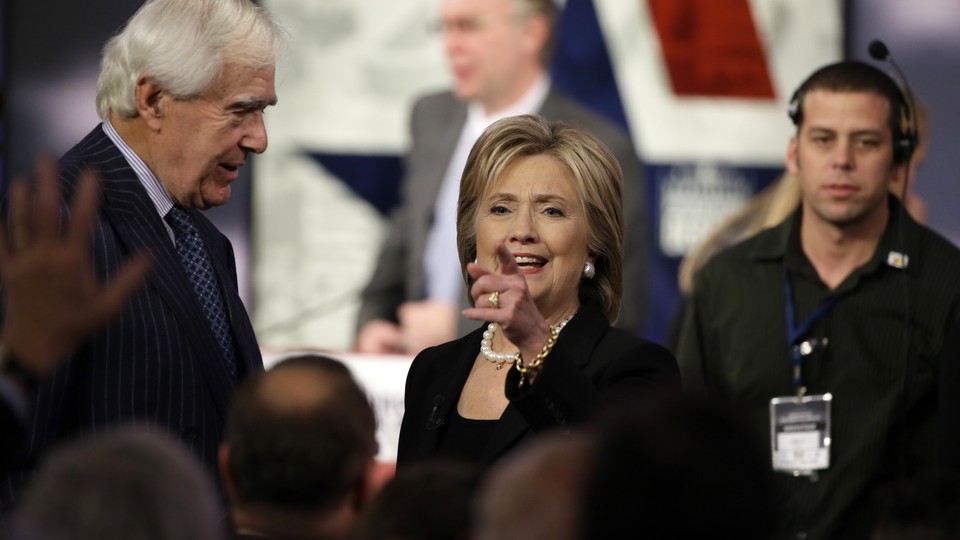 Saturday's Democratic presidential debate was a strong reminder that, after the deadly terrorist attacks in Paris, foreign policy is once again a top issue of the 2016 race—creating fresh problems for Hillary Clinton in both a primary and general election.
The challenge for the likely presidential nominee is to explain a decade-plus record that, in different ways, could alienate Democratic and swing voters alike. Both dilemmas were evident Saturday in Des Moines, when her rivals and moderator John Dickerson scrutinized her support of the Iraq War and President Obama's handling of the Islamic State.
In both cases, her answers Saturday are unlikely to eliminate questions that could linger until next November.
On the Islamic State, Clinton struggled to balance a more hawkish tone while accounting for her own role as secretary of State in the Obama administration. Asked how she planned to combat the militants, Clinton appeared to rebut the commander-in-chief's recent suggestion that ISIS had been "contained."
"It cannot be contained, it must be defeated," she said.
But in a telling exchange, CBS's Dickerson grilled her further, arguing that President Obama's own underestimation of the Middle Eastern militants called into question whether she was now similarly misreading them.
"How do we know if those prescriptions are any good if you missed it in the past?" he asked.
Later, in a clip that Republican presidential candidates are sure to highlight endlessly, Clinton declined to say that after the Paris attacks, the country was at war with "radical Islam."
"We are at war with violent extremism," she said. "We are at war with people who use their religion for purposes of power and oppression.  And yes, we are at war with those people that I don't want us to be painting with too broad a brush."
Of all people, former Maryland Gov. Martin O'Malley, who is running a campaign predicated to getting to the left of Clinton on most major issues, seemed to sum up what could be the Republican argument against Clinton: After eight years of her and Obama's leadership, the world is a "mess."
"Libya is now a mess," O'Malley said. "Syria is a mess. Iraq is a mess. Afghanistan is a mess."
Clinton's lock on the Democratic primary is much firmer than her grip on the general election. So questions that will raise eyebrows among Democratic voters are unlikely to stir as much concern among her campaign and supporters.
But the renewed focus on foreign policy was an opportunity to raise anew questions about Clinton's support for the Iraq War, the issue that more than any other, sank her 2008 campaign. And her foremost rival for the Democratic nomination, Bernie Sanders, used Saturday's debate to link Clinton's support for the invasion to ISIS's rise.
"Well, in fact, I would argue that the disastrous invasion of Iraq, something that I strongly opposed, has unraveled the region completely," Sanders said. "And led to the rise of Al Qaeda—and to—ISIS."