On Climate Change, Faint Lights Fade in GOP White House Race
Candidates who say humans are heating up the planet and want action are vanishing from view—literally.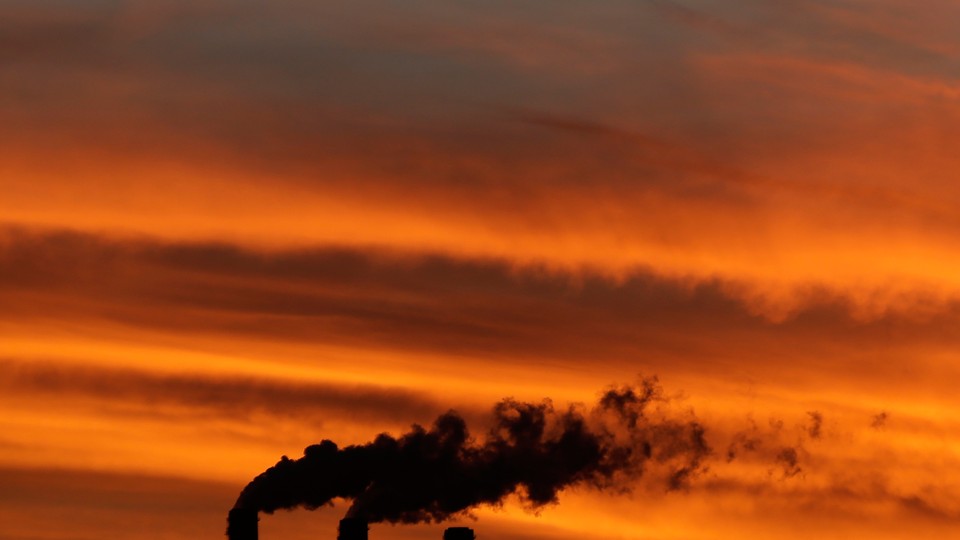 Until the final moments of Tuesday night's Republican presidential debate, nearly everything viewers heard about global warming and energy came during the commercials. The American Petroleum Institute, which is the oil-and-gas industry's lobbying arm, and lefty billionaire Tom Steyer's NextGen Climate group ran dueling ads touting the virtues of drilling versus fighting climate change with renewable energy.
That was a lot more than the brief onstage shout-outs to more oil-and-gas development, and rolling back President Obama's carbon-emissions rules that Republicans almost uniformly call an economic disaster. But in the final question of the night, Fox Business Network host Maria Bartiromo went there: She reminded Senator Rand Paul that he was among among 15 Republicans who voted for an amendment declaring that human activity contributes to climate change.
"President Obama has announced an aggressive plan to cut carbon emissions. At the same time, energy production in America has boomed. Is it possible to continue this boom, and move toward energy self-sufficiency, while at the same time pursuing a meaningful climate-change program?," she asked.
"The first thing I would do as president is repeal the regulations that are hampering our energy that the president has put in place," Paul replied to applause, before singling out Obama's sweeping mandate to cut power-plant emissions.
The Kentucky Republican then took stock of the reality of human-induced global warming with a resounding maybe. "While I do think that man may have a role in our climate, I think nature also has a role. The planet's 4.5 billion years old, we've been through geologic age after geologic age. We've had times when the temperature's been warmer, we've had times when the temperature's been colder. We've had times when the carbon in the atmosphere's been higher. So, I think ... we need to look before we leap," he said.
Bartiromo's question was a flashback to Paul's vote on one of the climate-related amendments that the Senate rejected while debating the Keystone pipeline on January 21. But she didn't ask about the very next vote that day, which was on liberal Democrat Brian Schatz's amendment, one that better summed up what scientists believe by stating that it's "extremely likely" that higher global temperatures stem from human activities and that people contribute "significantly" to climate change.
That one drew just four GOP votes as Paul and most of the other 15 Republicans backed away. One of those four was South Carolina's Lindsey Graham, who, like Paul, is running for president. But viewers were given no clue as to his candidacy Tuesday night. Graham's microscopic polling numbers were too dismal to make even the earlier "kids table" debate that aired at 7 p.m. Also excluded was New York Governor George Pataki, who flatly says humans are heating up the Earth.
"One of the things that troubles me about the Republican Party is too often we question science that everyone accepts," he said at a late October debate. Pataki has even tried to use his climate stance as a way to get traction in the GOP contest, saying over Twitter a month earlier that climate change is real and he would "shout it from the rooftops." It linked to a fundraising page.
Pataki, when he was New York's governor, helped launch a cap-and-trade program for carbon emissions from power plants in northeastern states. In the October 28 debate, however, he emphasized more common GOP themes of encouraging private-sector innovation.
Graham, for his part, spent months negotiating a sweeping bill to limit greenhouse gases in 2010 with then-Senators John Kerry and Joe Lieberman, but then he walked away from the talks, making the bill's already steep climb even tougher without a GOP co-sponsor. It never got a vote. There is plenty of distance between Graham and most Democrats on climate policy—he has voted against EPA's regulation of carbon emissions. But at the late October debate, he made his views on the science clear, noting: "I've talked to the climatologists of the world, and 90 percent of them are telling me that greenhouse-gas effect is real, that we're heating up the planet."
It is, to be sure, awfully hard to imagine that climate change has anything to do with the polling numbers that reshuffled the debate lineups. But the disappearance of Graham and Pataki from the stage, and the demotion of another climate-change acknowledger, New Jersey Gov. Chris Christie, to the lower-tier debate Tuesday underscores how small a role climate change will have in the Republican presidential primary—even as others in the party demonstrate an increasing willingness to discuss the issue.
Republicans are having something of a moment on global warming. In September, 11 House GOP lawmakers introduced a resolution calling for action to address climate change, while three weeks ago New Hampshire's Kelly Ayotte became the first—and thus far only—Senate Republican to support Obama's sweeping power-plant rule.
But when it comes to the GOP race, climate change has been largely an afterthought among the main contenders in the fractious GOP field. Donald Trump flatly rejects global warming, and Ben Carson has questioned evidence of global warming and has said, "There's always going to be cooling or warming going on." Marco Rubio, who is rising in the polls, voted against both those Senate amendments and has been openly skeptical about whether humans are having a substantial effect.
Jeb Bush, who came into the race with a more moderate pedigree, has argued that humans play some role but says it's unclear how much. Ohio Gov. John Kasich, also on the more moderate end of the field, told National Journal through a spokesman this summer, "We know man has an im­pact, and we know we need to do something."
But Bush and Kasich have nonetheless downplayed the issue during the campaign. And both have unveiled energy-policy platforms that call for rolling back Obama's plans and expanding domestic drilling, with low-carbon energy addressed more obliquely via support for efficiency and basic research into green energy. Neither plan mentions climate change or global warming, but Bush's plan explicitly references the topic in calling for repeal of "Obama's Carbon Rule."
On Tuesday night, Bush did, however, offer his own answer to the climate question that went to Paul. He heralded the role of natural gas—which produces fewer carbon emissions than the coal it's displacing in power production—in lowering U.S. greenhouse gases and argued more broadly that "high growth is the path to lower carbon and more jobs."
That was more on the topic than Ted Cruz got a chance to say. The Texas senator tried to jump in, but Bush had already begun talking. But he will get another chance. Cruz, who flatly disputes the existence of global warming, has got the money and poll numbers to stay firmly in the mix.