Obama's Ex-Speechwriter Has Advice for Hillary Clinton
"There's a lot of caution there," Jon Favreau says.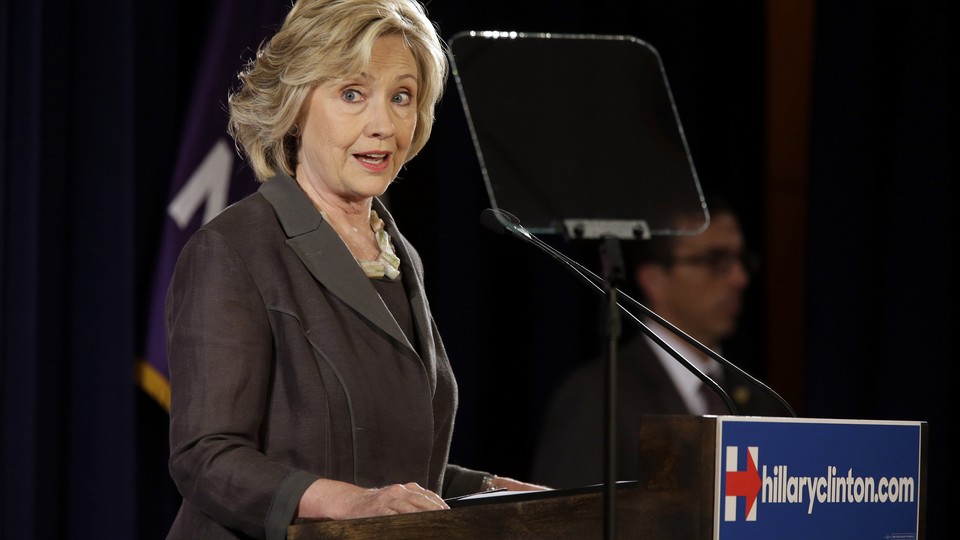 The man who helped President Obama craft his biggest speeches has a few ideas for making Hillary Clinton into a better orator.
Jon Favreau critiqued Clinton at the urging of David Axelrod, formerly Obama's top political adviser, during an episode of Axelrod's recently launched podcast.
The short version of Favreau's advice: Just let it rip, and channel some of what you bring when forced to speak spontaneously at debates and hearings.
Axelrod noted that Clinton is "not a great speech maker," and asked Favreau whether it's because she's cautious. Favreau agreed. "I think it's the caution," Favreau said on the podcast posted this week. "It's funny, too, because when she speaks about individual policy issues, she is a better speaker, because she sort of digs in."
"She feels comfortable in that … that's her terrain," Axelrod replied.
"I think it's stringing it all together in terms of the big-vision stuff, and it was very striking to see her both in the debate and the Benghazi hearings, because she was so skilled, and so good at that in that forum," Favreau responded, referring to Clinton's marathon appearance last month before the House Select Committee on Benghazi, which was widely praised.
"But that's also a forum where she is being challenged, and whenever she is challenged, she is excellent at responding," Favreau said.
"If someone told her, like, just go speak now, she might be better than [with] all the preparation she does, because I think there's a lot of caution there," he said.
Favreau then riffed more widely on the pitfalls of caution in political speech.
"Look, she has been in public life for so long. The reason that, I think, politicians have that caution is because they have been burned so many times before, and at some point you have to say to yourself, fear of committing the gaffe has to be less than fear of appearing wooden and inauthentic. There's risk to whatever you do."
"You have got to say to yourself that the bigger risk is not revealing your true self and who you are," he said.
The dissection of Clinton is part of a wide-ranging interview between the former colleagues. Axelrod, since leaving the White House, founded the University of Chicago Institute of Politics, which hosts the podcast.
Favreau was a top speechwriter for Obama during his first presidential campaign and his first White House term. He then founded the communications and PR company Fenway Strategies with Tommy Vietor, a former longtime spokesman for Obama.
He and Axelrod reminisce about a number of moments on the campaign trail.
In one touching portion about the formation of Obama's victory speech on Election Night in 2008, Favreau recounts the decision to describe the life of Ann Nixon Cooper, an African-American woman who, at age 106, had voted in Atlanta. Obama's speech lauded Cooper, who died in 2009 and had been active in the civil-rights movement, using her life to tell a wider story about the U.S.
Favreau remembers calling Cooper on the phone as the state-by-state results were coming in to say that Obama would be mentioning her in the speech. Cooper, he says, asked if the speech would be on television. Favreau said yes. Cooper asked, "What channel?"
"I said, 'It will be on all the channels.' And then she started crying and I did too, and she said, 'I am so happy, I am so proud, finally.' And then, right then they called Ohio [for Obama], and everyone is cheering, and I am still on the phone with her. That is the stuff that you remember," Favreau said.