Obama's Climate Envoy: 'Now is Our Time'
Todd Stern can't bear to think about failing to strike a climate change deal in Paris next month.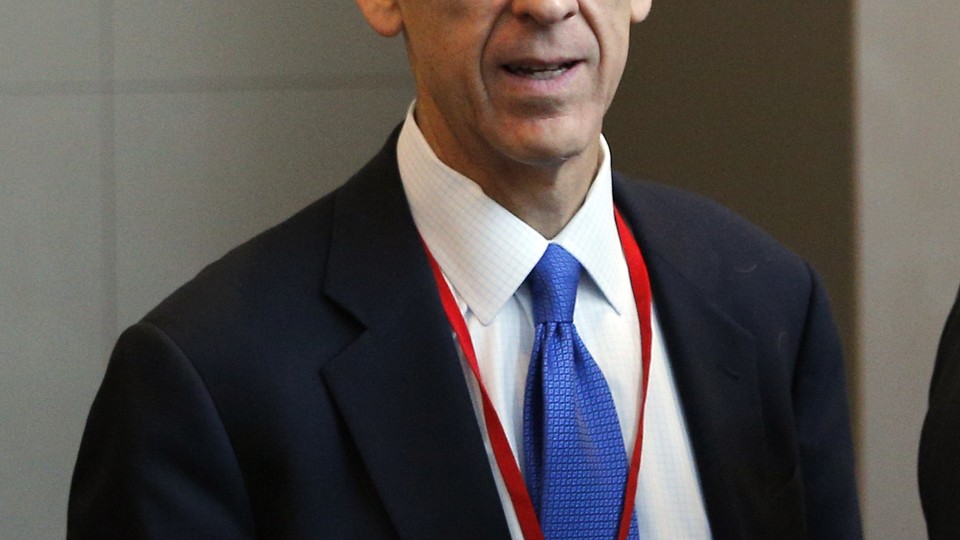 Todd Stern, the soft-spoken diplomat who has labored for years to craft a global climate accord, flatly admitted that he would not answer the last question.
Stern, at a press conference Tuesday, was asked to imagine what would happen if a final pact doesn't come together in looming talks in Paris, and whether the current momentum could be recaptured.
"I am not going to indulge in thinking about the downside of Paris," Stern, the State Department's special envoy for climate change. "I am going to prefer to focus on the upside. What I will say is this: The stars are more aligned right now to reach agreement than I have ever seen happen before. We have a real opportunity."
Stern knows very well what it looks like when the stars don't align.
It looks like Copenhagen, where six years ago, chaotic United Nations talks nearly dissolved before nations salvaged a loose interim deal that prevented negotiations from collapsing outright.
Stern noted that heading into Paris, roughly 170 nations have already submitted their national pledges to curb greenhouse gas emissions over the next 10-15 years, and said there's momentum.
"We know countries are interested in getting this done. The situation right now bears no comparison, for example, to the most recent major moment which is 2009, when people were heading into Copenhagen, and I have been around long enough that I was actually there. We have this opportunity. We have this moment," he said.
He cautioned that countries must depart from their "fixed positions," but said that has already been happening and expressed confidence in getting a final deal.  "I am not," Stern said, "going to think about the alternative."
Negotiators will face a suite of thorny questions about the architecture of the pact, the strength of language to ensure that countries' emissions-cutting actions will be accurately reported and verified, and much more.
Stern's press conference comes ahead of the opening of the U.S. talks scheduled for November 30 through December 11, which President Obama will attend early on. And Stern spoke to reporters at a time when Capitol Hill Republicans who oppose the potential deal have been stepping up their efforts to undercut the Obama administration at the talks.
In one case, they're vowing to reject a White House request to fund the first $500 million of the Obama administration's $3 billion pledge to the Global Climate Fund, a multilateral effort to help developing countries cut emissions and deal with the unavoidable effects of climate change.
Stern said the U.S. has "every intention" of making good on financial pledges. But he also noted that climate finance pulls in a wide array of participants and must going forward beyond 2020. In 2009 negotiators set a goal of mobilizing $100 billion annually by 2020 from an array of public and private sources to help developing countries tackle climate change.
"We are looking for a world going forward, a post-2020 world, where the class of donors, the group of donors, starts expanding," Stern said. "The good news, it already is," he said, noting, for instance, that a number of developing countries have begun contributing to the Green Climate Fund.
"It is going to be a world where the base of donors is going to expand, the donors that are already there are going to continue to provide robust financing, and the specifics and dollar numbers and all of that will be part of these negotiations," Stern said.
There's almost no chance that the hoped-for pact will, on its own, be enough to meet the international goal of preventing a global temperature rise of more than 2 degrees Celsius above pre-industrial levels, a target aimed at preventing the most dangerous climatic changes. Recent analyses estimate that nations' pledges to the U.N. thus far would lower the amount of temperature increase, but would not hold it below that level.
But Stern and others see the best chance in a long, long time to put global carbon emissions on a more sustainable path, and Stern has emphasized that an important part of the deal will be a mechanism for countries to toughen their actions over time.
Tuesday's web-based press conference found Stern, who has a workmanlike style in public that often eschews soaring oratory, willing to speak in sweeping terms about the upcoming talks.
He warned against accepting a "minimalist" deal that kicks major decisions down the road.
"Now is our time," Stern said. "This is the moment, and we want to seize it."