Obama Tries Again to Right the Ship
Still searching for the proper tone in the wake of the Paris attacks, the president held his third press conference in eight days.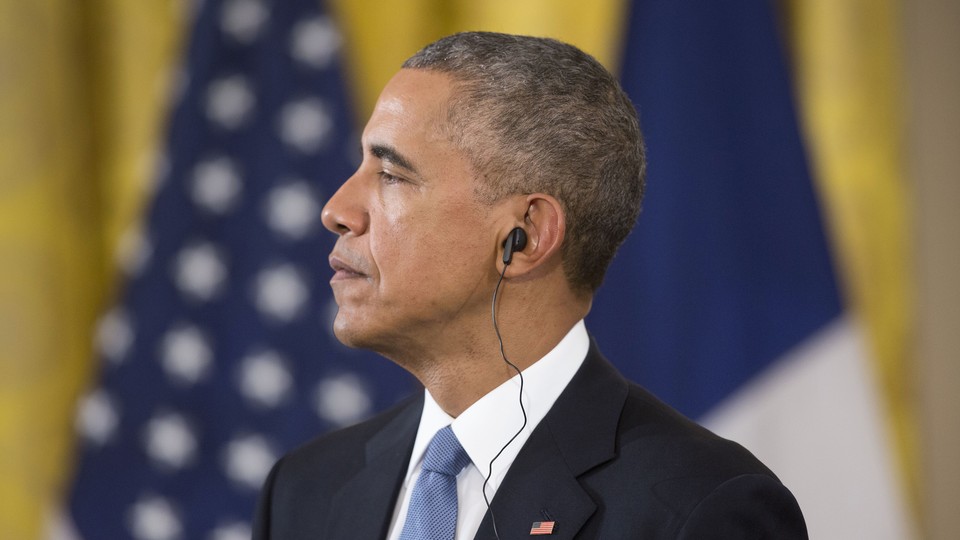 With the country shaken by the bloodshed in Paris, nervous about attacks at home, and concerned about an influx of refugees from the Middle East, many presidents would take to the airwaves for a prime-time address to reassure an anxious nation. But that is not President Obama's preferred way to use the bully pulpit.
Instead, after a week out of the country and out of sight for most Americans, Obama on Tuesday used his third press conference in eight days to persuade Americans it is safe to follow their daily routines and to reassert his command of the war against terrorism.
Basking in praise from visiting French President Francois Hollande, who stood at an adjoining lectern in the East Room, the American president found himself playing catch-up in the wake of the multiple assaults in Paris and the rising intensity of the political criticism coming from Republicans on the campaign trail. So it was not surprising that Obama prefaced his opening statement by explaining that it "will be a little longer than usual. I have been traveling, and this is an important moment for our nations and for the world."
He easily could have added: It is also an important moment for his presidency and his legacy.
It is unusual for any president to use so many press conferences in such a short time to try to right the ship. And the exercise did not start out auspiciously for him. His meeting with reporters in Antalya, Turkey, on Nov. 16 was widely panned, as most critics saw a defensive and testy president. By the time he next took questions six days later, the president had more than found his equilibrium.
Meeting reporters in Kuala Lumpur on Sunday, he was sure-footed and almost eloquent, talking of the "beautiful, wonderful lives" lost in Paris, flexing the muscle of a 65-nation coalition, and appealing to the nation to rise above "prejudice and discrimination." His theme was powerful: "We do not succumb to fear." That, he said, is "the primary power that these terrorists have over us. They cannot strike a mortal blow against the United States, or against France. ... But they can make people fearful. And that's understandable. ..."
The big problem for the White House is that almost nobody in the United States saw this more confident president—the press conference took place 9,500 miles and 13 time zones away in Malaysia. It was 1 a.m. on a weekend in Washington when the president spoke.
So Tuesday's press conference was the president's third attempt to get it right, to explain why his approach to defeating the Islamic State terrorists is the way to go. That he opted against a prime-time address is not surprising. According to numbers kept by presidential historian Martha Joynt Kumar of Towson University, it has been a year since his last prime-time address to the nation. That came on Nov. 20, 2014 from the Cross Hall of the White House, and dealt with immigration.
"He can use other forums, such as 60 Minutes, where he has a large audience, particularly if he does it in the football season," said Kumar. Also, she noted, using a morning press conference allows him to reach an international audience outside of the United States, where there are doubts about the allied strategy against ISIS as well. "He will be seen in Europe in the early evening, and they wanted to reach that audience as well," added Kumar. "Since he is the leader of the coalition of allies, he needs to speak to that audience as well as the American one that is keen to hear from him now that he is in the United States."
George Edwards III, presidential scholar at Texas A&M University, told National Journal he is not surprised that Obama shunned the flashy prime-time show in this instance. "The president knows what works. He is not going to convince a lot of people going on prime time. There would be high expectations and low impact." Prime time is more conducive for presidents trying to sell specific actions.
"Here, the president doesn't have a dramatic plan to offer," said Edwards. "He is not going to announce he is sending the 82nd Airborne in to clear out ISIS. He is not going to announce that, so it would be pretty incremental stuff, and that is more difficult to explain."
But Edwards said the president still needs to find a better way to rally support for his antiterrorism policy and to address a nation rattled by the Paris attacks. "Reassurance is useful, and that's what people are looking for right now regarding terrorism," he said. "They are nervous. They are skittish. And they are looking for reassurance. I don't think it would hurt him to offer the reassurance of how the government is protecting its people."
And neither press conferences in Turkey and Kuala Lumpur in the dark of the night nor one in Washington before noon reached big enough audiences to truly answer the questions about the administration's response to Paris. So the White House is left with the daunting challenge of finding more ways to talk louder than the anti-Obama cacophony coming from the Republican campaigns, and to answer the quieter questions of so many Americans.