Obama: The Nation's Security Is Under Control
"We know of no specific and credible intelligence indicating a plot on the homeland," the president said Wednesday.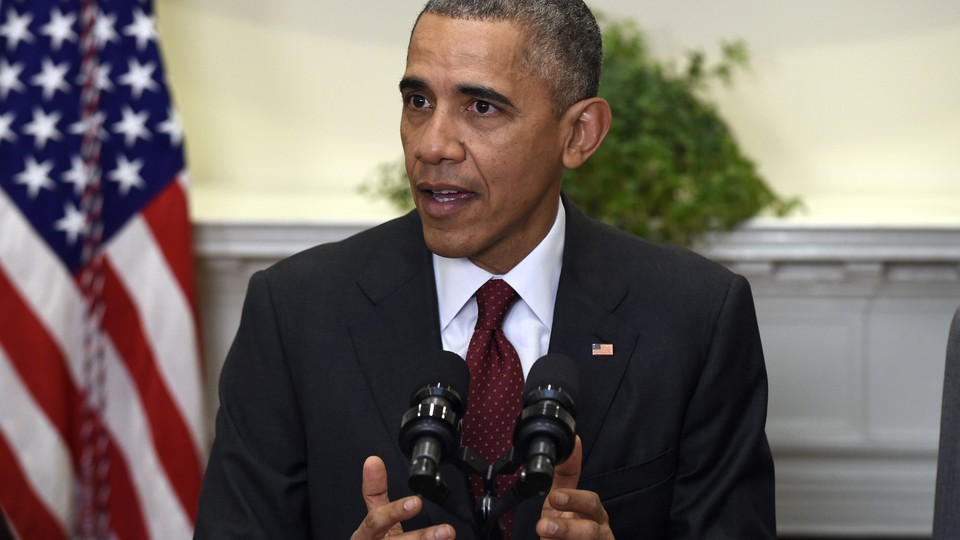 In the wake of deadly attacks in Paris and terror threats around the world, President Obama on Wednesday reassured the American people that the nation's security bureaucracy is putting in overtime to keep the country safe.
"Right now, we know of no specific and credible intelligence indicating a plot on the homeland," he told reporters in a short statement from the White House's Roosevelt Room. "Counterterrorism, security, and law-enforcement professionals at every level are working overtime, and they are continually monitoring threats at home and abroad, continually evaluating our security posture.
"They are constantly working to protect all of us," he continued. "Their work has prevented attacks. Their efforts have saved lives. They serve every hour every day for the sake of our security security. They did so before Paris, and they do so now."
He delivered the statement fresh off a briefing from his national security team on the nation's homeland security in the wake of the November 13 terrorist attacks in Paris. U.S. counterterrorism operations, he said, are going after the Islamic State, the terror outfit that claimed responsibility for the deadly attacks on the French capital, "wherever they hide." The 65-nation coalition to fight the group has conducted airstrikes in Syria, along with taking out key leaders and cutting off the group's financing and supply lines.
"We are stepping up the pressure of ISIL where it lives," Obama said, using an acronym for the terror group. "And we will not let up."
The statement coincided with the kickoff of the busy holiday travel season, and the president urged the American people not to raise the alarm.
"We do think it is useful for people as they are going about their business to be vigilant," he said. "But otherwise, Americans should go about their usual Thanksgiving weekend activities, spending time with family and friends and celebrating our blessings. While the threat of terrorism is a troubling event of our age, it is in the face of our being resilient, and in the wake of those who are protecting us from harm."
Should there be a "specific credible threat," Obama promised that "the public will be informed."
A coterie of his top national security advisers flanked him, including Attorney General Loretta Lynch, National Security Adviser Susan Rice, and Homeland Security Secretary Jeh Johnson.
The statement comes just one day after Obama hosted French President Francois Hollande at the White House to reaffirm the leaders' "unity of purpose" in defeating the Islamic State. In a joint press conference Tuesday, Obama told reporters that the group "poses a serious threat to all of us."
Tuesday's was Obama's third press conference in the span of eight days as he sought to strike the right tone in the wake of the terror attacks in Paris.
"It cannot be tolerated," he said Tuesday. "It must be destroyed, and we must do it together."