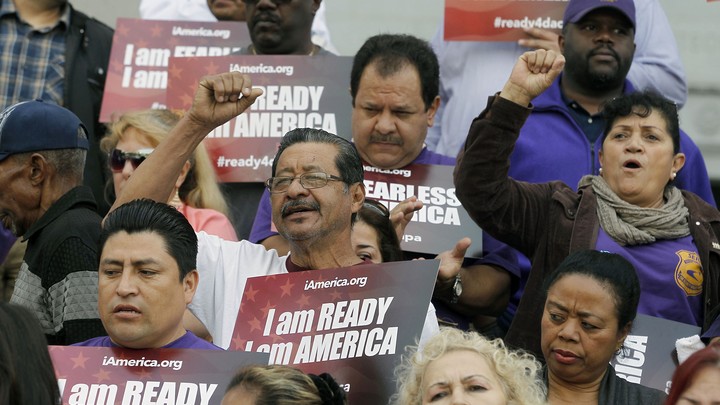 President Obama filed a petition today with the U.S. Supreme Court, asking justices to review recent court rulings that have blocked the implementation of his deportation-relief program for undocumented children and their parents.
A federal appeals court in Texas blocked the expansion of President Obama's executive order on immigration earlier this month, disheartening immigration advocates and moving the program one step closer to the U.S. Supreme Court.
A panel of three judges from the Fifth U.S. Circuit Court of Appeals in New Orleans upheld the February ruling of a Texas district court, further delaying deportation relief for about 5 million undocumented immigrants and their parents.
The ruling blocks an expanded version of Obama's 2012 Deferred Action for Childhood Arrivals and a separate program, Deferred Action for Parents of Americans and Lawful Permanent Residents. Obama announced the new deportation program a year ago to sidestep congressional inaction on immigration reform.
Texas and 26 other states sued the United States soon after to block the executive order.
The Obama administration will likely appeal the latest ruling, setting up groundwork for a potential battle in the U.S. Supreme Court.
Though the ruling came as no surprise, immigration advocates expressed frustration over the further delay.
"It will prevent countless immigrant families from remaining safely together in the United States," Jeanne Atkinson, executive director of the Catholic Legal Immigration Network, said in a statement. "While this political and legal battle is being played out, real lives are at stake and families continue to be torn apart."
On Twitter, Democrats and immigration-reform activists voiced their frustration with the hashtags #DACA and #DAPA:
5th Circuit will not decide final fate of #DACA & #DAPA. We'll take this fight to #SCOTUS.

— Linda T. Sánchez (@RepLindaSanchez) November 10, 2015
The legal battle on #DACA & #DAPA is not over! La Lucha Sigue! #SiSePuede

— Lydia Guzman (@LydiaGuzman) November 10, 2015
.@whitehouse is right to appeal #DAPA, #DACA to SCOTUS. We're one step closer to protecting millions of New Americans from deportation.

— Martin O'Malley (@MartinOMalley) November 10, 2015
At this point "immigrant contributions" don't even matter. Despite all the monies made from #DACA, implementing #DAPA is an uphill battle.

— ANGY (@AskAngy) November 10, 2015
"For too long, people have lived in the shadows of this country & it's time we fixed it." @MMViverito #DAPA #DACA https://t.co/h69NDV9a2j

— NYC Council (@NYCCouncil) November 10, 2015
This article is part of our Next America: Communities project, which is supported by a grant from Emerson Collective.
We want to hear what you think about this article. Submit a letter to the editor or write to letters@theatlantic.com.
Alexia Fernández Campbell
is a former staff writer at
The Atlantic
, where she covers immigration and business. She was previously a reporter at the
South Florida Sun-Sentinel
and the Spanish-language newspaper of
The Palm Beach Post
.