Obama Plows Forward with Green Legacy In Hostile Political Climate
The president is taking steps on climate change that a Republican successor might find hard to undo.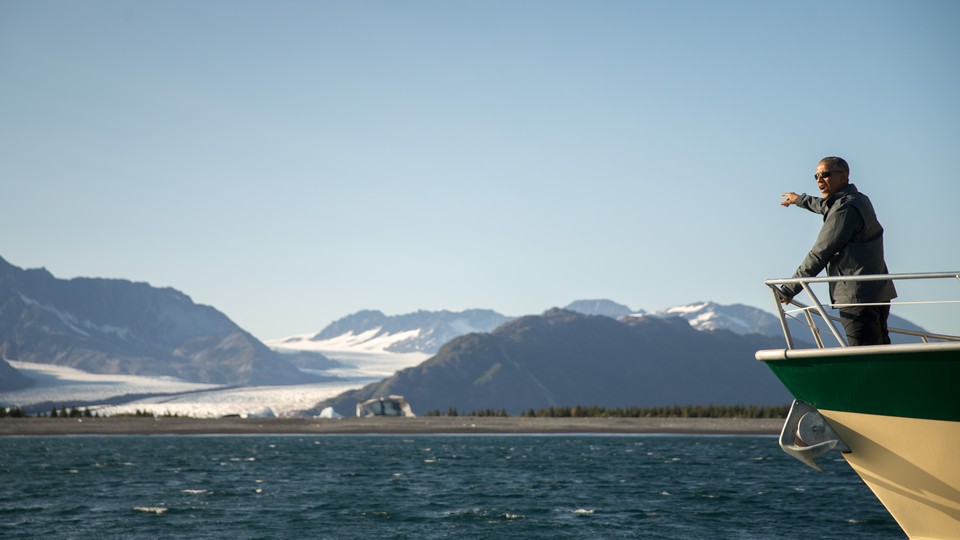 For President Obama, the battle over climate change has grown into a two-front war. Internationally, he is poised for a breakthrough at the next global conference on climate change, which will convene in Paris in November. Domestically, his initiatives are facing unrelenting resistance from Republicans and some red-state Democrats that will extend beyond his presidency.
These diverging dynamics have re-framed the political struggle over the leading environmental debate of our time. For years, the principal barrier to international action was resistance to carbon-emission reductions from industrializing countries, particularly China and India. Now, the center of opposition has shifted to politically conservative states in the United States, which are fiercely contesting Obama's climate plans in Congress and the courts. The central question has become: Will the international progress undermine the conservative domestic opposition—or vice versa?
Although many hurdles remain, a path to international agreement on climate action in Paris has emerged. The breakthrough came in June 2014, when Obama proposed Environmental Protection Agency regulations to slash carbon emissions from U.S. power plants. That commitment helped break a stalemate with China, now the world's largest carbon emitter, over which country would act first. Last November, Obama and Chinese President Xi Jinping agreed that China would "peak" its carbon emissions by 2030, while the United States would reduce its overall carbon emissions by about one-fourth by 2025. At the White House this September, Xi pushed further by announcing that China would impose a nationwide "cap and trade" system in 2017 to limit carbon emissions. With the United States and China committed, other key nations—notably, India—have followed with their own reduction plans.
It will take close monitoring by the international community to ensure that the nations represented in Paris implement the reductions they are promising there. And even if those pledges are fulfilled, they won't reduce emissions enough to contain the gravest risks of a warming climate. That will require more cuts later.
But unmistakably, these announcements are a jump-start for the often-stalled international process. "We shouldn't expect Paris will put us on a safe trajectory," said Fred Krupp, president of the Environmental Defense Fund, but "the announcements in the run-up to Paris give us momentum and reason to be hopeful."
The domestic opponents of Obama's initiatives arguably pose the biggest obstacle to an international agreement. Right after the EPA published its final regulation last week to limit power-plant emissions, 26 states—led by Texas—filed a lawsuit to block it. Twenty-three of those states have Republican attorneys general, and 21 have Republican governors.
Obama faces other opposition in Washington, where congressional Republicans are advancing a "resolution of disapproval" to overturn the EPA regulation. Obama can count on enough votes to sustain his inevitable veto. But his opponents hope that majority votes in both chambers against the EPA action, if insufficient to override a veto, would combine with the 26 states' legal challenge to chill the Paris talks by raising doubts about the durability of Obama's commitments. "Without question, Obama's credibility in touting this regulation in Paris is undermined by the lack of domestic support," says Robert Henneke of the Texas Public Policy Foundation, a leading critic of climate action.
The regional and ideological divide over climate issues in the United States is deep and dense. When the Pew Research Center recently surveyed 40 nations, it found that 42 percent of American respondents described climate change as a serious threat, just below the median result in all countries polled. But among U.S. Republicans, only 21 percent described the threat as serious, about the same share as the overall public in the most skeptical countries, including Russia, China, and Pakistan.
In the U.S. debate, economic interest reinforces ideology. The conservative states most philosophically dubious of federal regulation also tend to rely the most on fossil fuels: In 18 of the 26 states suing Obama, per capita carbon emissions exceed the national average.
These factors help to explain why every leading GOP presidential candidate, and virtually every Republican senator, opposes Obama's EPA rules. But several Republican governors pointedly refused to join the lawsuit; they represent not only blue states (Illinois, Maryland, Massachusetts) but red states (Idaho, Tennessee) and swing states (Nevada, Iowa) as well. Michigan Republican Gov. Rick Snyder wouldn't join his state's Republican attorney general in contesting the rules and, instead, said he would continue working to comply with them. This week, New Hampshire's Kelly Ayotte became the first Senate Republican to back the regulations.
Those are only splinters in the high wall of partisan and regional opposition that confronts Obama. His critics hope that domestic defiance will impede international action.
But the reverse is equally possible—that progress internationally will erode domestic defiance. Already, 15 blue states are legally intervening to support the EPA climate rules. Almost all congressional Democrats back them, too. Opinion polls show rising public concern about climate change, particularly among the young. With his EPA regulation on power plants and a possible international climate agreement, Obama is creating facts on the ground that even a Republican successor in 2017 might find difficult to entirely undo.