Obama Goes to Asia With Paris On His Mind
Obama finds himself in a relatively strong position compared to his last two trips to Asia, but Friday's terror attacks hang over everything.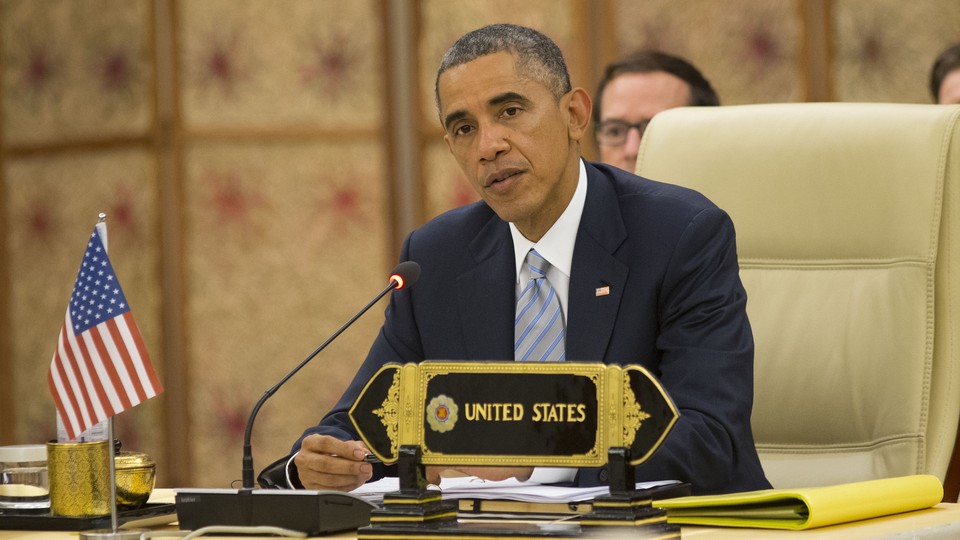 The stunning terrorist attack in Paris will not change President Obama's travel plans. After a hastily scheduled meeting of his National Security Council meeting Saturday, he'll still participate in a week of international summitry in three countries with more than 50 other leaders. But the global revulsion at the bloodshed on the streets of the French capital has overshadowed other topics and moved terrorism to the top of the agenda.
By week's end, the pres­id­ent will have traveled 23,000 miles to three coun­tries to at­tend four sum­mits—the G-20 Sunday and Monday in An­t­a­lya, Tur­key; the Asia Pa­cific Eco­nom­ic for­um Tues­day through Thursday in Ma­nila, the Phil­ip­pines; As­so­ci­ation of South­east Asia Na­tions and the East Asia Sum­mit Fri­day, Sat­urday, and Sunday in Ku­ala Lum­pur, Malyasia. While in Tur­key, the pres­id­ent also was scheduled to meet with the oth­er lead­ers of what is known as the Quint—the United States, Bri­tain, Ger­many, France, and Italy—an in­form­al group­ing of the most power­ful lead­ers of the European Uni­on and the United States, cur­rently con­cerned with the situ­ations in Ukraine and Syr­ia. But French President Francois Hollande will not be there, instead keeping in close contact with Obama and the other leaders by phone.
Even before the French attack, the worsen­ing situ­ation in Syr­ia, the grow­ing con­cern about the Is­lam­ic State ter­ror­ists, and the des­per­ate refugee situ­ation was expected to receive high-level attention even though the G-20, which in­cludes coun­tries with 85 per­cent of the world's gross do­mest­ic product, usu­ally fo­cuses only on eco­nom­ic is­sues. To have so many world lead­ers right on Syr­ia's bor­der forces the is­sue. In Ma­nila and Ku­ala Lum­pur, the fo­cus swings to Obama's re­bal­an­cing ef­fort and the con­cern among U.S. al­lies of an em­boldened China. Many of those al­lies have been par­tic­u­larly wor­ried about China's buildup of a sub­merged reef in the South China Sea and its claim of sov­er­eignty. To the re­lief of the al­lies, the U.S. Navy chal­lenged that claim in late Oc­to­ber by send­ing the USS Lassen with­in 12 naut­ic­al miles of the reef in what is known as a "free­dom of nav­ig­a­tion" ex­er­cise.
It was "wel­come in the re­gion be­cause it was long over­due," said Mi­chael J. Green, a seni­or mem­ber of Pres­id­ent George W. Bush's Na­tion­al Se­cur­ity Coun­cil staff and now seni­or vice pres­id­ent for Asia at CSIS. It showed, Goto told Na­tion­al Journ­al, that the United States "is able to push back on what the Chinese are put­ting for­ward. That's the big dif­fer­ence between two years ago when Obama was a no-show." It comes at a time, she said, when the Chinese "have demon­strated not only more ag­gres­sion in the South China Sea but, more broadly, that it is provid­ing an al­tern­at­ive vis­ion for coun­tries in the re­gion."
Prior to the news from Paris, the White House had seen the week of summits as a chance to push the president's diplomatic "pivot to Asia" and had hoped to build on the momentum from the suc­cess­ful com­ple­tion of the Trans-Pa­cific Part­ner­ship trade ne­go­ti­ations and a show of force in the South China Sea that was broadly wel­comed by Amer­ic­an al­lies in the re­gion. They also were aware of the contrast with attempts to sell the pivot at summits the last two years.
In 2013, Obama's re­bal­an­cing suffered a blow when a budget im­passe forced a gov­ern­ment shut­down and kept the pres­id­ent from at­tend­ing sum­mits in In­done­sia and Brunei. Then, in 2014, do­mest­ic polit­ics again weakened his hand, as he headed to China a week after his party was drubbed in midterm elec­tions and left him viewed in Asia as a mar­gin­al­ized play­er too dam­aged to be able to de­liv­er either on TPP or on his com­mit­ments to the re­gion.
As Paris reminded all, big chal­lenges re­main, in­clud­ing Syr­ia, an em­boldened Is­lam­ic State, a rap­idly mil­it­ar­iz­ing China, hu­man-rights ab­uses in sev­er­al coun­tries, and the polit­ics of get­ting TPP rat­i­fied in many of the par­ti­cip­at­ing 12 coun­tries. But the U.S. pres­id­ent is no longer viewed as mar­gin­al­ized or un­able to provide more than lip ser­vice to Asia, even though he is a lame duck en­ter­ing his fi­nal year in of­fice.
"They still re­mem­ber two years ago when we had the budget show­down and he couldn't go. That really was a low point in the en­gage­ment in Asia," said Shi­hoko Goto, a seni­or North­east Asia ana­lyst at the Wilson Cen­ter's Asia Pro­gram. "It showed the United States as un­able to fol­low through on its com­mit­ment. Now, by show­ing up, he is show­ing that he really means what he says."
Mat­thew P. Good­man, who was in charge of plan­ning for these Asi­an sum­mits when he was on the Na­tion­al Se­cur­ity Coun­cil staff in Obama's first term, said the pres­id­ent is also strengthened by the ro­bust growth of the Amer­ic­an eco­nomy. "The pres­id­ent is head­ing out on this whirl­wind trip in a very strong po­s­i­tion," he said. "The U.S. is the only coun­try, really, in the G-20 that is on a pos­it­ive growth tra­ject­ory."
Ern­est Z. Bower, who holds the Sum­itro Chair for South­east Asia Stud­ies at the Cen­ter for Stra­tegic and In­ter­na­tion­al Stud­ies, said the pres­id­ent is in sur­pris­ingly good shape. "If you had asked me what the pres­id­ent needed to do be­fore he traveled to Asia, I would have said get the TPP done, no­ti­fy Con­gress, and do the (Free­dom of Nav­ig­a­tion) ops in the South China Sea. They've done it," he said, ob­serving, "The White House is really feel­ing its oats."
At the White House, they are just re­lieved to be able to plan Obama's travels without gov­ern­ment shut­downs and elect­or­al de­feats. "I'm mind­ful of the Woody Al­len max­im of how much of life is show­ing up," said Ben Rhodes, the deputy Na­tion­al se­cur­ity ad­viser. "And in Asia, it really mat­ters to at­tend these sum­mits at the level of the lead­er." He ad­ded, "We want the United States to be at the table at the Asia-Pa­cific in shap­ing the fu­ture of the re­gion and sig­nal­ing that we're go­ing to be present." To laughs, he told re­port­ers at the White House, "When we're not at the table, we're on the menu."
On Wed­nes­day, the pres­id­ent will meet with the lead­ers of the 11 oth­er coun­tries who signed the TPP, the first time they have been to­geth­er since the con­clu­sion of the ne­go­ti­ations. Obama may face some ques­tions there about the out­look for the pact in the U.S. Con­gress. But, with all the lead­ers fa­cing their own rat­i­fic­a­tion pro­ced­ures, the ses­sion will be more cel­eb­ra­tion than any­thing else.
Even with his stronger hand, Obama may face ques­tions from the oth­er lead­ers about his suc­cessor, es­pe­cially with Asia policy and tough talk about China com­ing up so of­ten in the Re­pub­lic­an can­did­ates' de­bates. "I think they're go­ing to be very curi­ous about the oddit­ies in this elec­tion cycle," said Green, who said he is find­ing many seni­or polit­ic­al lead­ers in Asia rais­ing the cam­paign to "nervously ask for re­as­sur­ance that everything's go­ing to be OK."
While on the trip, the pres­id­ent will hold one-on-one meet­ings with sev­er­al of his coun­ter­parts, in­clud­ing the newly elec­ted lead­ers of Canada and Aus­tralia. No such meet­ings are planned with either Xi Jin­ping of China or Vladi­mir Putin of Rus­sia, des­pite on­go­ing dis­putes with both lead­ers. The na­tion­al se­cur­ity ad­viser, Susan Rice, said the lack of a sched­uled ses­sion with Putin is not troub­ling, stat­ing, "We fully ex­pect they'll have ample op­por­tun­ity for dis­cus­sion" on the side­lines of the sum­mits.