Obama Could Take Executive Action to Close Guantanamo Bay Prison
Press secretary Josh Earnest said the president "would not take anything off the table" to close the prison.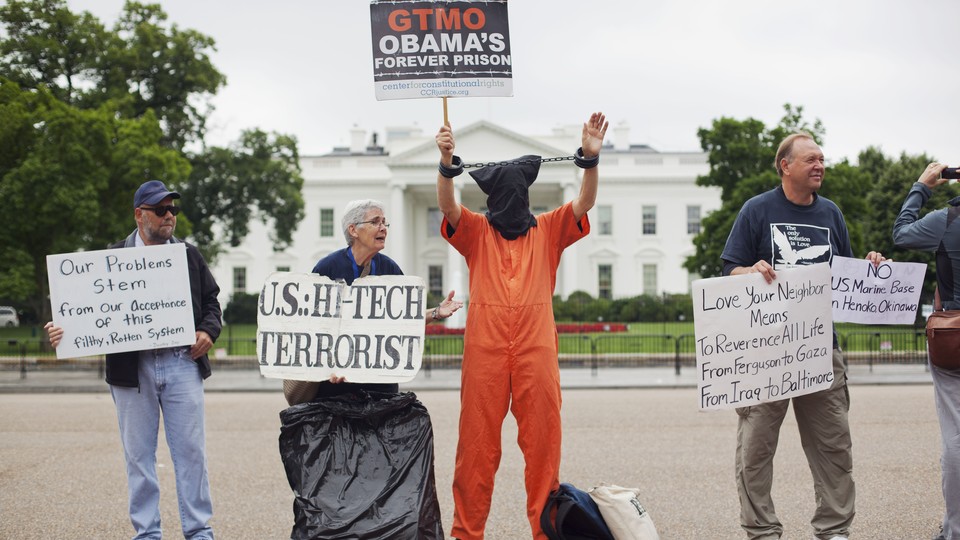 President Obama promised on the campaign trail in 2008 to close the prison at Guantanamo Bay. He vowed to do it again on his second day in office. And he's reaffirmed the pledge many times since. Now, with the prison still open, and the president's time in office waning, he may take unilateral action to make it happen himself.
"We would like to work with Congress where we can," White House press secretary Josh Earnest told reporters Wednesday. But if the administration's plans "continue to be rebuffed," he said, "I wouldn't rule out the president using every element of his authority" to close the prison—including executive action.
The president vetoed the National Defense Authorization Act last month partly because it would have restricted the transfer of detainees held at Guantanamo. The latest version of the legislation, a crucial defense bill, maintains that language. While Earnest stopped short of promising another veto, he said the White House has concerns about the bill's obstacles to closing the prison.
Though the administration wants Congress' support on the effort, Earnest said, the president "would not take anything off the table" to close Guantanamo. And Earnest railed against Congress "playing politics" with what he called a "significant threat to national security.
"What's the political benefit that the president expects out of this? The president isn't playing politics with this," Earnest said, urging lawmakers to do the same. "Let's set aside partisan politics when we consider it."
Earnest also declined to provide a timeline for when the plan to close the prison would be released, despite his claim back in July that it was in the "final stages."