Obama: Climate Summit is "Rebuke to Terrorists"
He and French President Hollande on Tuesday reaffirmed the U.S. and France's "unity of purpose" in defeating the Islamic State.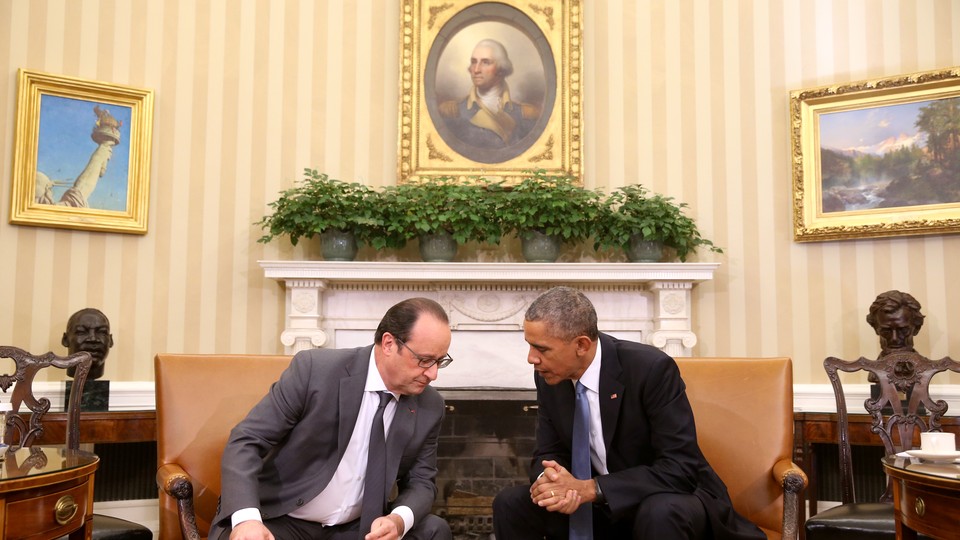 A meeting of world leaders to tackle climate change next week will prove the world's mettle in the face of terrorist threats, President Obama said Tuesday.
"What a powerful rebuke to the terrorists it will be when the world stands as one," he said, "and shows that we will not be deterred from building a better future for our children."
Eleven days after deadly terrorist attacks ravaged Paris, Obama met with French President Francois Hollande at the White House to reaffirm the two nations' solidarity in the campaign against the Islamic State, the terrorist organization that claimed responsibility for the strike.
The Islamic State "poses a serious threat to all of us," Obama said. "It cannot be tolerated, and it must be destroyed, and we must do it together."
Hinting at opposition—from both Republicans and Democrats—to allowing Syrian refugees to resettle in the U.S., Obama praised France's move to welcome 30,000 additional refugees into the country over the next two years. And he implied that the U.S. should follow France's model of "humanitarian duty."
"Another part of being vigilant, another part of defeating terrorists like ISIL is upholding the rights and freedoms that define our two great republics," he said, using another name for the terrorist group. "And that includes freedom of religion. That includes equality before the law. There have been times in our history, in moments of fear, when we have failed to uphold our highest ideals and it has been to our lasting regret. We must uphold our ideals now."
Hollande said that in their meeting before the news conference, he and Obama decided to scale up U.S. and French strikes in Syria and Iraq. They also pledged to strengthen their intelligence sharing. While it's difficult to determine whether attacks like those in Paris could have been prevented, Obama conceded that "we can do a better job coordinating between countries."
Obama heads to Paris on Sunday for the international climate-change summit, but Hollande, a self-described wartime president, wanted to meet with him before then to urge him to cooperate with Russia in efforts to destroy the Islamic State.
The White House is loath to engage in any coalition with Russia as long as Moscow continues to support the regime of Syria's Bashar al-Assad, whom the U.S. and France have insisted must be removed from power. But Obama did leave open the door for working with the country.
"Russia is welcomed to be part of this broad-based coalition that we have set up," he said. "The challenge has been Russia's focus on propping up Assad rather than focusing on ISIL."
Both leaders declined to offer a time frame for when Assad would be deposed, though Hollande declared "it must be as soon as possible."
Complicating Hollande's efforts to broker a coalition among France, Russia, and the U.S. was the news Tuesday that Turkey had shot down a Russian warplane. While Turkish officials maintained that the jet violated the country's airspace along its border with Syria, Russian President Vladimir Putin called the incident a "stab in the back."
Obama said the U.S. was "still getting the details of what happened." But he asserted that like every country, Turkey "has a right to defend its territory and its airspace." His top priority, he said, was making sure the situation didn't escalate.
He also offered expressions of support for the French people, saying that by his bed in the White House residence he keeps a photo of himself with first lady Michelle Obama sharing a kiss in Paris's Luxembourg Gardens.
"So when tragedy struck that evening, our hearts broke, too," he said. "In that stadium and concert hall and those restaurants and cafes, we see our own. In the face of the French people, we see ourselves. And that's why so many Americans have embraced the blue, white and red, and that's why Americans had candlelight vigils, have joined together to sing 'La Marseillaise.' We've never forgotten how the French people stood with us after 9/11, and today we stand with you."
On Monday, Hollande met with British Prime Minister David Cameron in Paris, and he is scheduled to travel to Moscow after his meeting with Obama. He also has plans to meet with the leaders of Germany, Italy, China, and Canada.
But of all the world leaders, Hollande noted that Obama was the first to call him after the terrorist attacks, around 2 a.m. in Paris.
"It is true that [after] 9/11, we all felt American," Hollande said. "But after the 13th of November, Americans felt French."